Whether there is a dragon that needs taming or a kingdom that needs protecting, you'll surely want a knight, or better yet, several, to keep the lands safe. And, it's very important to have a supply of squires, willing and eager to learn the skills necessary to become a knight. This tutorial has 3 parts:
Part 1 – Getting Started (below)
Part 2 – Crafting the Knight
Part 3 – Crafting the Squire 
MATERIALS NEEDED for each pair of Knights and Squires in Black/Red, Brown/Green or Gold/Blue Knights and Squires:
100% Wool Felt
Light Gray – (ash) 1 piece – 8″ x 12″
Dark Gray – (shale) 1 piece – 8″ x 12″
Color A – 1/2 piece – 8″ x 12″
Color B – 1/2 piece – 8″ x 12″
Floss to match felt
Lt gray
Dark gray
Color A
Color B
Rope Dolls
1 – large – 5.75″ tall
1 – small – 4.25″ tall
IMPORTANT: Rope dolls can vary from manufacture to manufacture. It is highly recommended you "try" on the pattern first by cutting out pieces on inexpensive felt or non stretchy fabric to make sure they "fit" properly. Take 1/8″ seams into consideration. Adjust the pattern until it fits your rope doll.
Pipe Cleaners:
1 – 3" piece
Additional supplies needed:
Embroidery needles
Pipe cleaner
Crafting glue (optional)
Paint (optional for gloves, boots, sleeves, socks and face)
Fine tip marker (optional)
PATTERN
READ ALL INSTRUCTIONS BEFORE YOU BEGIN TO PREVENT MISUSE OF MATERIALS
IMPORTANT: When sewing pieces together, whether using a running, blanket or whip stitch, seam should only be 1/8". If you make seams larger, the clothes will not fit. The small seam allows the clothing to lay better on the dolls. If you want to make the seams a little larger YOU MUST CUT THE PATTERN PIECES OUT A LITTLE BIGGER. You might want to experiment by making a pair of pants out of inexpensive felt and try sewing them on a doll before you cut out all your pattern pieces. 
TIP: When cutting out items that require 2 pieces like the squire's hood, shield and sword blades, cut them out together. Click HERE for tips on Cutting Out Felt Like a Pro. When cutting out shield lay a piece of the black, brown or gold felt on a piece of gray felt then cut out together.
Make a copy of the PATTERN, lay out all pattern pieces FIRST for proper placement and cut out felt as follows:
Light gray – knight helm, knight tabard, satchel, satchel belt, shield handle, (1) shield, (2) sword blade
Dark gray – knight shirt, knight pants, knight belt
Color A (black, brown, gold) (1) shield, (2) squire hood, squire pants
Color B (red, green, blue) squire shirt, sword handle, shield piece
Straighten Out Rope
When you purchase rope dolls, they aren't usually bent. Take the time to position the arms and legs until they are even and balanced.
Painting the "Skin" (optional)
Many people like to keep the natural wood tone when working with rope dolls, however, if you want to give the knight and squire's skin color, do it now. If you keep the paints watered down you will still see the wood grain through the paint. Because people's skins are not all the same I suggest you use several different skin tones. You may also want to try to match the color of your child's skin so they can relate to their dolls better.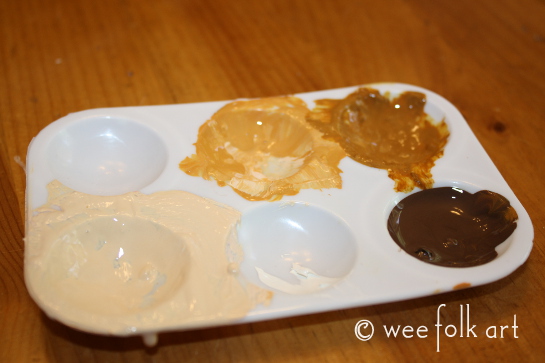 You can see that if you water down the paints you can still see the grain of the wood through the paint even with darker colors.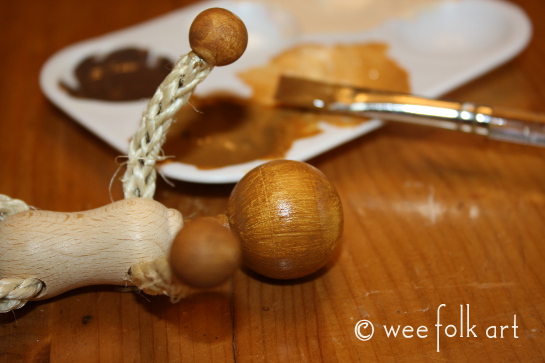 Face (optional)
Whether or not you draw a face on your knight and squire is totally a matter of choice. If you leave the face blank, children can assign the emotions they want their doll to have. However, some children may feel unsettled with faceless dolls. If that is the case, certainly draw a face on using a fine tipped permanent marker.
If you would like to paint a face on your knight and squire, do it now. In the unlikely event you "mess up", you can sand off the face and begin again. That is much harder to do if the knight or squire are dressed.
If you feel unskilled in drawing, keep it simple. Even the simplest of lines denotes a face. Probably the biggest mistake people make when adding a face is to misplace the facial features. Just follow this simple trick and you should be fine. Think of a face as a round circle. Now, draw 2 intersecting lines through the circle creating 4 equal quarters.
Most people tend to place the eyes too high on the face. Draw your eyes directly in the center, on one the horizontal line. It may seem like it is too low, but it isn't.
Then, simply use the center vertical line as a guide for distance of eyes. Although you are going for symmetry, remember this… human faces are not completely symmetric, so your dolls' faces can be off a bit, too 🙂
Here are some samples of simple faces:
Using a pencil, mark a horizontal and vertical line on the front of the doll's face. (Yikes… my camera settings were wrong and I didn't notice til everything was well put away. Sorry 🙂
Now, using your pencil, draw in facial features. You can simply erase if you are not happy with the results. When you are happy, go over the pencil marks with a fine tipped, waterproof permanent marker.
Wait until the marker is thoroughly dry, then erase all pencil marks.
When you slip on the hood or helmet, you will find the face to be in the perfect location!
Painting Boots and Gloves (optional)
Again, this is an optional step. I rather like the look of painted boots and gloves. Not only does it make it look like they are wearing the item of clothing, I also paint up the ropes an inch or two, in case the pants or sleeves do not completely cover the rope, it is less conspicuous.
You are now ready to begin dressing your knight and squire!
All photos, text and patterns are copyright protected. You may not copy, reproduce or redistribute any material found on WeeFolkArt.com without written permission. Wee Folk Art retains all rights.