Working with Mosaic Knitting Patterns
The Horizontal Chain Pattern is the first block in the mosaic pattern section. Mosaic knitting is an easy way to use multiple colors in a pattern because you are only working with one color at a time. Unlike traditional knit color-work, you do not have to carry your second color yarn behind your working color. You don't need to twist yarns or worry about long loops of yarn on the backside of your piece.
Instead with a mosaic knit pattern you only work with one color at a time, alternating colors every other row. You simply leave the second color at the edge, knit across with the first color, slipping the stitches that you don't want worked with your current color. When you get to the end of the row, work your way back knitting (or purling) the exact same stitches and slipping the unused ones. Switch colors when you complete the second row.
There are a few things that you will want to keep in mind when working with or designing your own mosaic patterns.
Make sure you always knit the first and last stitch of a row even if it would normally be a slip stitch. You need to have a locked stitch on the edges.
Your row can end anywhere in a pattern. You don't have to make your piece be an exact multiple of your pattern repeat as long as you follow the rule above and always knit the first and last stitch.
You should never slip more than a few stitches right after each other. Mosaic patterns will add in mini-patterns in between larger designs to fill empty spaces. You should never have long stretches of a solid color.
Mosaic patterns are usually designed with two colors but you can always add in additional colors. Often this is done by working one main color and swapping out the second color. A fun way to add additional color to a mosaic pattern is to use a variegated or self-striping yarn for your second color. The yarn will do all the color changing work for you.
Working with the Horizontal Chain Pattern
The horizontal chain is a fun mosaic pattern. After a few rows the pattern becomes very easy to see. It would make a great blanket design worked up on a larger scale. This pattern looks great when done with two colors with a lot of contrast.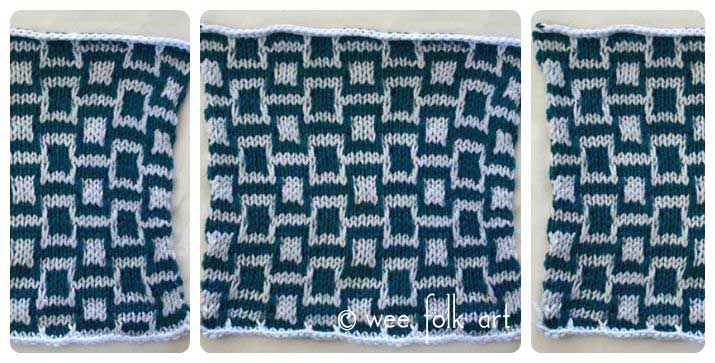 More Blocks in the Series
Learn to Knit Afghan Project
This series covers several different knitting stitches using the Learn-to-Knit Afghan book by Barbara Walker. Whether you are a true beginner or an intermediate knitter, you can take your knitting to the next level working through the blocks in this book. About once a week I will be adding one new block to the blog with some of my notes. If you would like to knit along with us please feel free to leave your comments, questions, suggestions, and links to photos in the COMMENT section. You can also add a photo to our Flickr group or tag a Tweet with #WFAlearn2knit. If you are just joining us you might want to start with the introductory post.
Getting Started Knitting
If you are completely new to knitting you can learn the basics of getting starting with our Newbie Knitting series. Once  you have tackled the first few lessons there, you will be ready to begin your afghan.