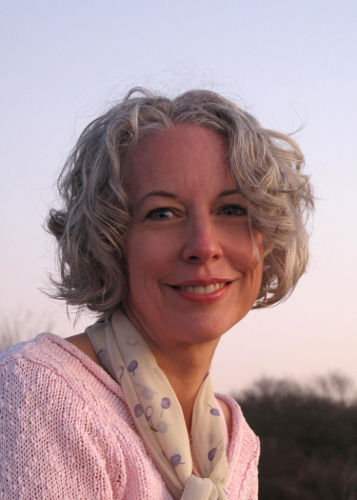 When a child's basic needs are met, i.e., food, clothing, shelter and love, they are free to explore the world around them with confidence. Artistic expression is a natural outpouring of this assurance. Today we are talking again with the ever charming and wise Sarah Baldwin; Waldorf educator, and owner of Bella Luna Toys. Tomorrow we will announce a fitting and exciting give away. So… read, learn, enjoy, and come back tomorrow to take part in a fabulous give away!
Kimara: There is often confusion as to the meaning of "artistic expression." Will you explain the difference between "process" and "product"?
Sarah: One of the first things that drew me to Waldorf education was hearing that artistic activity is incorporated at every age and into every subject studied. Throughout the years, children in a Waldorf school regularly practice drawing, painting, handwork, modeling, woodworking and more.
In Waldorf education, the emphasis of artistic activity is on process and not the finished product. To give you an example, when we practice wet-on-wet watercolor painting in Waldorf kindergarten, the goal is to give children an experience of pure color — experiencing the qualities of each of the primary colors, discovering what new color appears when two colors "play with each other" on the page, and watching the fluid colors flow and blend on the wet paper. Our goal is not to paint a picture "of" something, but rather to discover what the colors have to say.


In the early years children are allowed total freedom of expression in their drawings and paintings, though the teacher will model how to hold and use the paintbrush, or model drawing with beeswax block crayons.
In the later years, form and artistic technique are introduced, giving children the tools to express their ideas artistically. While the advanced drawings of older students can be quite sophisticated and may appear to be about "product," yet throughout the years teachers recognize that it is the "process" that is important – what is happening inwardly for the child as she creates a drawing, painting or sculpture? What thoughts and feelings arise for her? How do her hands connect with her head and heart as she creates?
Kimara: Share your thoughts on the importance of parents modeling and embracing their own artistic pursuits with their children.
Sarah: Making art and sharing creative activities together with one's children is an incredible gift for both parent and child! Parents have the opportunity to model for their children that art and creative endeavors are part of what it means to be human, and that creating art and working artistically with our hands is a lifelong activity that brings joy and satisfaction no matter our age. Children shouldn't grow up with the idea that art is only practiced at school!
But perhaps more importantly, when we stop and take time from our busy lives to make art with our children, we not only give children the priceless gift of our presence and attention, but we also give a gift to ourselves by taking time to slow down and engage in artistic expression. Artistic practices such as drawing, painting and modeling can aid in our own process of self-discovery.
Again, it's not about the product, and one needn't consider oneself an artist in order to take time to make art. Rather, we become much more important examples to children when we model our own striving.
Kimara: Ideally, what supplies would an artistically supportive household have available for children?
Sarah: I imagine that most people's homes are already full of supplies to make art! Glue, paper, scissors, buttons, yarn, thread, ribbon, fabric scraps and so on. Or parents and children can go out for a walk to collect items from nature with which to make a collage. Art supplies can be found all around us!
While one needn't spend a lot of money on the "proper" supplies, I think it is nice to have a few well-chosen, good quality art supplies on hand.
In a Waldorf school, even in the earliest years, we provide the children with high quality materials – paints, paper, crayons, 100% wool felt and yarn, and so forth. Why is this? It's because of the satisfaction that comes by creating something truly beautiful, made with beautiful materials.
I liken it to learning to play music. My two children and I are musicians and have spent years taking lessons. I've learned through experience that the better quality instrument one has, the more one will want to play and take pleasure in practicing. People too often think, "Oh, he's just a child, we'll just start with a cheap instrument. If he sticks with it and improves, then we'll get him a better quality instrument."
Well, what happens is that the child is likely to get frustrated when, no matter how hard he tries and no matter how good his technique, his instrument fails to sound the way he wants. It's impossible to get a poorly made instrument to produce a beautiful tone. If, however, we provide the child with a good quality instrument at the outset, he will be more pleased with the results and will want to progress and keep playing!
It's the same with art supplies. Anyone who was to compare a typical preschool painting made on cheap newsprint with tempera paints, alongside a wet-on-wet Waldorf watercolor painting painted with highly pigmented, quality watercolor paint on heavy-weight, artist-grade watercolor paper, would be struck by the difference.
A parent might feel obliged to keep the tempera paintings out of a sense of sentiment or obligation, but in truth, they have a disposable quality.
On the other hand, it's hard to imagine a parent who would dream of throwing away a child's wet-on-wet watercolor painting painted with quality paints and paper. The colors appear alive and luminous, and the brightness of the paper shines through. I still have many of my children's wet-on-wet paintings from their early years. Over the years we used many of them to make beautiful cards and gift tags.
So with that introduction, here is a list of items that I suggest having at home for children of all ages. Some are free or inexpensive; others are more of investment, but with care will last for years.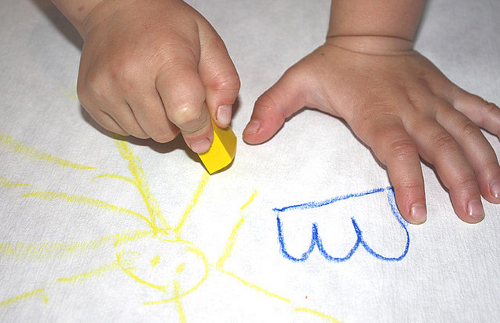 Ages 3 and Up
• Beeswax Crayons – sticks and blocks (unlike paraffin crayons which are petroleum-based, beeswax is all natural and non-toxic)
• Drawing Paper
• Watercolor Paper (I recommend 40 lb. weight)
• Watercolor Paints (in jars or tubes – not the dry sets sold for kids)
• Watercolor Paintbrushes (1-inch wide)
• Natural or Organic Play Dough (great ones for sale, but so easy to make your own!)
• Modeling Beeswax (warm it up in your hands before modeling)
• Assortment of Pretty Papers – For collages: tissue paper, origami, etc. (Great variety available here.)
• Jar of Wooden Beads for Stringing
• Child-Safe Glue
• Child-Sized Scissors (Fiskars children's scissors are especially recommended for developing a child's fine motor skills)
Additional Items for Children 5 and Older
• Wool Yarn for knitting or fingerknitting
• Wooden Knitting Needles
• Sewing Box equipped with needles (embroidery needles have large eyes which are easier to thread), thread and small embroidery scissors
• Wooden Embroidery Hoop
• Fabric Scraps
Equipped with these items in your home, you and your children will be able to create all manner of beautiful things, and never be at a loss for things to do on a rainy day!