A few days ago we shared the Black Bird Applique Block that Kimara designed. I wanted a bird, and this little guy was perfect.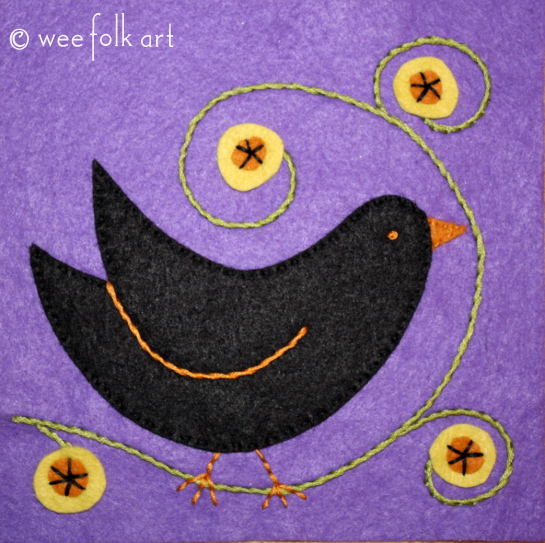 My plan was to make some Faux Etched Glass Candle Holders. I thought a bird was a perfect choice to use. I simply have to change out the color of the votive candle, and the holder can go from a spooky Halloween black bird, to a chirpy, spring yellow birdie. The technique is simple, and once you've made one, you'll find many other ways to use this technique!
DIRECTIONS FOR THE FAUX ETCHED CANDLE HOLDERS
Materials:
Frosted Glass Spray Paint (we used Rustoleum brand)
Contact Paper (preferably white or another solid color)
Pattern sized to fit (we reduced the
Black Bird Applique Block
42% for our votives)
Fine Point Marker
Newsprint or Butcher paper to cover work surface
Scissors
Clear Glass Candle Holder
Clean your glass candle holders. Be sure to get off all oil and sticker residue. Hot water and dish soap works well. You can use glass cleaner or vinegar as well. Allow your glass to dry completely.
Print out your pattern to size. Our votives were 2 inches tall so I printed my pattern to be 1.5 inches tall (42%). If you plan to make several candle holders you may want to print your pattern on card stock for durability. Cut out your pattern.
With the fine point marker, trace your pattern onto the paper side of the contact paper. This is the back of the contact paper so keep in mind that your image will be reversed. I choose to have a few birds pointing in each direction for variety.
Cut out the contact paper with a pair of sharp scissors. Be sure to cut out a thin line to define the wing shape.
Peel the backing off of the contact paper and carefully place it on your votive. Smooth out any bubbles paying close attention to the edges. They need to be smooth. Any bubbles near the edge could allow paint to seep under.
Cover an outdoor work surface with the newsprint or butcher paper. Place the votives upside down on the work surface (so no paint drips on the inside) several inches apart so you can spray around each without hitting the others. Or alternatively only paint one at a time.
Following the directions on your bottle of paint, shake up your can of paint and hold the can approximately 10-12 inches away from the candle holder. Spray a light coat of paint all around the candle holder. You do not need to cover the bottom.
Let the first coat dry for 5 minutes (or more depending on the directions that came with your paint) then complete a second coat. When the candle holder has dried completely, about 5-10 minutes, carefully remove the contact paper pattern.
You now have fun, personalized, candle holders. These are great for holiday decorations, wedding favors or gifts. The paint we used is not intended for food items. There are paints on the market that can be heat set in your oven and are then dish washer and microwave safe.
https://www.weefolkart.com
Copyright © Wee Folk Art 2008 – 2012. All rights reserved.
All photos, text and patterns are copyright protected. You may not copy, reproduce or redistribute any material found on WeeFolkArt.com without written permission. Wee Folk Art retains all rights. Read our FAQs found HERE for specifics or contact us at weefolkart@yahoo.com if you have any questions.