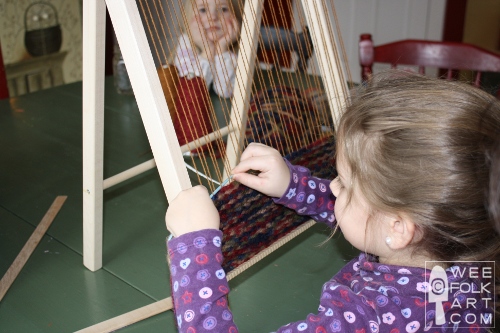 In another life I must have been a man, because I hate to stop and ask for directions… (I'm never lost, I always know where I am… in my car!) and I insist on trying to figure things out for myself before I turn to instructions. So, the other day, when I put our new loom together, I decided to dig right in. Sure, next week there will be a stack of weaving books on my nightstand, but for right now, I just want to touch and feel and experiment. Later, I'll learn technique and truly appreciate the advice of experienced weavers. But right now… it's all about sensations.
We bought a simple table top loom… very suitable for children. I can't use any technical terms yet, because I don't know them, but suffice to say, Michelle and I successfully strung the loom (see what I mean… I have no idea of what the correct terminology is) and set to weaving. I am sure we are doing many things wrong… like, do you start the weaving right at the bottom, or do you leave space? And what is the best way to stop and start new fibers? There will be time to answer all those questions. For the time being, this is about process, not product.
The kids weren't very interested in the loom construction. The girls were off playing with their spoon dolls, and Bug was somewhere saving the world. So, I sat down and started weaving. I brought down a stash of weaving yarn I had received by mistake many, many years ago (I have a blog written about THAT already) but after making several passes back and forth, and squinting to check my work, Michelle disappeared. She returned with a large ball of extra chunky yarn. "Here", she said, "try this."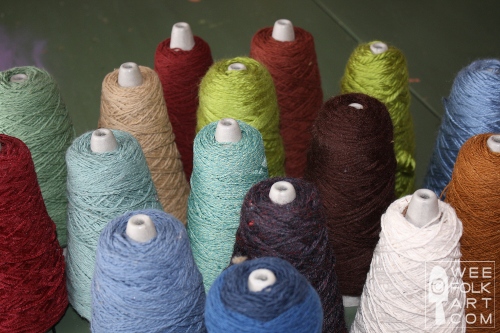 WOW! With a few more passes I felt like I was on my way. Okay… so I'm often about immediate gratification and this chunky yarn gave me a feeling of accomplishment. Thank you, Michelle! About this time, Fairy and Pixie came into the room with their entourage of spoon dolls. Fairy watched me make a couple passes, them promptly climbed on my lap and wanted to give it a go! She immediately fell in love with weaving! Her fingers worked the threads adeptly… maybe more so than mine… and she only needed to be shown something once before she incorporated it into her technique! So, for the next hour we wove, gammy and granddaughter, guiding each other's hands and equally delighting in the beauty of the creation that was unfolding before us.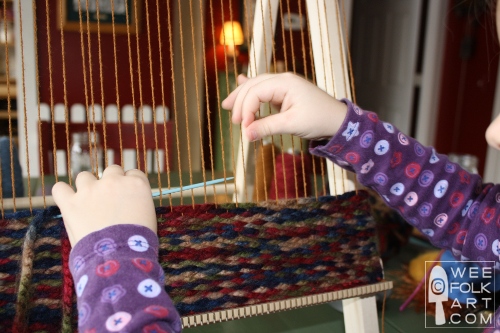 I can guarantee you that you will be hearing much about weaving over the next couple of months. We will show you how to make a couple of quick, inexpensive looms that will get you and your children started weaving. And, as we learn, we will share our triumphs and our tribulations. I'm excited!