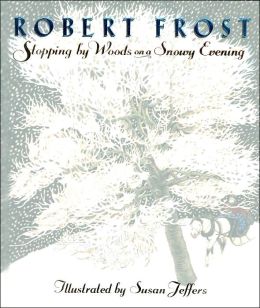 I must admit as a young child I did not read much poetry. Oh, sure, I had learned most of the nursery rhymes by heart and marveled at lines like "Mary, Mary, quite contrary" and "Peter, Peter pumpkin eater" and would say them over and over again, enjoying the sensation of the words dancing over my lips, but it wasn't until I was in 8th grade and had an English teacher that believed poems nourished the soul and should greedily be devoured that I fell in love with poetry. I memorized my favorites, and whenever I found myself in mundane situations that required my presence, I leafed through my stockpile of poems, and could while away the time, "reading" poetry in my mind, as if in a book, and no one around me was the wiser!
One of my favorite poets was Robert Frost. I suppose I embraced his love for nature and his willingness to travel down the road less taken. Of all his poems, my very favorite was Stopping By Woods On A Snowy Evening.
Whose woods these are I think I know.  
His house is in the village though;
He will not see me stopping here
To watch his woods fill up with snow.
My little horse must think it queer
To stop without a farmhouse near
Between the woods and frozen lake
The darkest evening of the year.
He gives his harness bells a shake
To ask if there is some mistake.
The only other sound's the sweep
Of easy wind and downy flake.
The woods are lovely, dark and deep,
But I have promises to keep,
And miles to go before I sleep,
And miles to go before I sleep.
I adore this poem not only because of the mental imagery it generates, but because I can relate to the man in the poem. He is a busy man with promises to keep and miles to go before he sleeps, YET, he does take the time to stop and marvel at the beauty around him. He slows down long enough to nourish his soul, and when he continues on his journey, I believe he can do so with a lightened spirit and renewed gusto.
As we approach the "darkest evening of the year" we can become overwhelmed by all the festive preparations that need doing. So much to do, so little time to do them. My wish for all of us is that we snatch moments here and there and simply watch the woods fill up with snow!
BTW… If you've never seen it before, check out the book Stopping by Woods on a Snowy Evening by Robert Frost, illustrated by the extremely talented Susan Jeffers. It is simply breathtaking!
~Kimara~
FYI – We are an Amazon Affiliate.