Project Three : Block-work Hat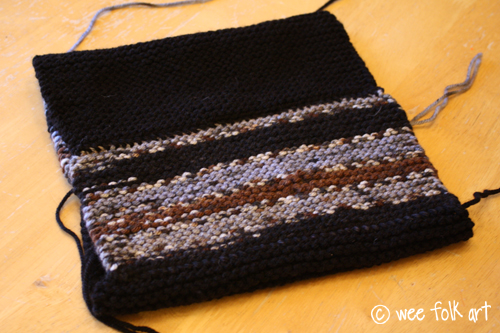 I designed this hat project to help us review everything we have learned so far. This hat requires you to complete casting on, knitting, binding off and seaming multiple times. For this project you will need to make 4 rectangular blocks. Two will be completed in a solid color yarn, two in a multi-colored yarn. The picture shows the hat before it has been finished… we will complete it in a couple weeks when everyone has finished their 4 blocks.
Materials:
One skein Deborah Norville Collection Everyday Soft Worsted Prints Yarn and
one skein Deborah Norville Collection Everyday Soft Worsted Solid Yarn in a color to match
or 2 skeins of worsted weight yarn
size 8 needles
Yarn needle
Directions:
Cast On 40 stitches.
Knit 4 and 1/2 inches.
Bind Off. Leave yourself a 18-24″ tail for seaming later.
(make 4 total, 2 solid color, 2 multi-color)
When you have completed all 4 blocks, sew them long sides together in a solid, multi, solid, multi pattern. Then sew the outside two seams together to form a complete a circle. We will discuss how to finish the top of the hat in a couple weeks. We will be making pom-poms using the Susan Bates easy wrapper pom-pom maker.
Just so you know, after we complete the Block-work Hat we will be learning the Purl Stitch.
---
Additional Projects
I know that a few of my students will finish their hats early, while others will need the full 4 weeks to complete them. So I search the web for some other patterns that can be completed with the knitting skills that I have taught so far. These patterns are all from the Lion Brand website. They are free but you may need to register on their site to view them.