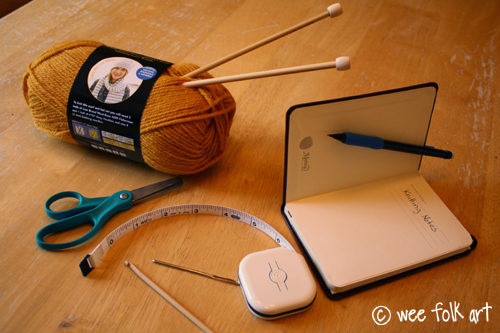 As promised, I will be starting my Newbie Knitting classes this week. For those of you who would like to join in, here is a materials list to get you started.
All of the projects designed for the beginner Newbie Knitting series can be completed on 9″ long size 8 (5mm) needles. I recommend Clover Bamboo as a good starting needle. They have a nice feel and are not expensive. You also need a yarn needle and some worsted weight yarn (our first project will be using a yellow/gold).
Other supplies you may want to have is a small tote bag (any will work – I often use my reusable grocery store bags) to keep your projects together, a soft dress makers measuring tape, a small pair of blunt end scissors, and a pencil (potentially a small notebook). A crochet hook (size H/8) is also helpful to have on hand when you need to fix mistakes.
Ok… now that you have all your supplies gathered… you are ready to get started. Lesson one, Casting On will be posted tomorrow. Stay tuned!
Newbie Knitting Lessons
Introduction: Materials List
Lesson One: Slip Knot
Backwards Loop Cast On
Lesson Two: Knit Stitch
Project One: Begin Little Birdie
Lesson Three: Binding Off
Project One: Finish Little Birdie
Project Two: Easy Headband
Lesson Four: Making Pom-Poms
Project Three: Block-Work Hat
Lesson Five: Purl Stitch
Project Four: Knit and Purl Wash Clothes