Working with the Woven Tweed
Woah! You might be saying if you have been paying attention. Where is block sixteen? Well, I skipped it. Actually I shunned it after having to rip it out twice. The pattern doesn't repeat itself in an easy to memorize/anticipate way, so you really have to count rows. I'm not really a fan of counting rows. After the second time of losing track of where I was and having to back track I had a bit of a tantrum and decided to move on and come back to it. I was also a bit tired of the "mosaic" blocks. So now I have found myself ten blocks ahead but somehow the blog caught up to me. I forgot to come back to block sixteen, I have however begrudgingly put it on my to-do list for this week and I'm being sulky about it. 😉 If  you have completed the Double Scroll block, please let me know what you thought of it. I always find it interesting to compare notes, especially when I had issues with a piece.
As for the Woven Tweed block, I don't have much to say about it (no notes in the margins), which means it happily flew off my needles. It is the first block in a series of fancy slip stitch blocks. It works up into a nice thick fabric with a classic look. I will say that the edges do want to curl, even after being blocked. The reverse side is appealing as well and could potentially be used as the front of a piece. I can image the Woven Tweed being worked up into a masculine scarf with a garter stitch border to stop the curling or maybe a dark, woodsy colored vest. Be sure to read Barbara's notes at the end of the pattern for some tips on slipping the stitches.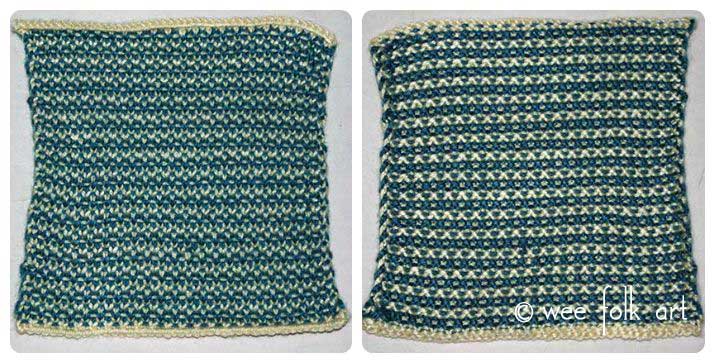 More Blocks in the Series
Block Sixteen: (coming soon)
Block Eighteen: (coming soon)
Learn to Knit Afghan Project
This series covers several different knitting stitches using the Learn-to-Knit Afghan book by Barbara Walker. Whether you are a true beginner or an intermediate knitter, you can take your knitting to the next level working through the blocks in this book. About once a week I will be adding one new block to the blog with some of my notes. If you would like to knit along with us please feel free to leave your comments, questions, suggestions, and links to photos in the COMMENT section. You can also add a photo to our Flickr group or tag a Tweet with #WFAlearn2knit. If you are just joining us you might want to start with the introductory post.
Getting Started Knitting
If you are completely new to knitting you can learn the basics of getting starting with our Newbie Knitting series. Once  you have tackled the first few lessons there, you will be ready to begin your afghan.