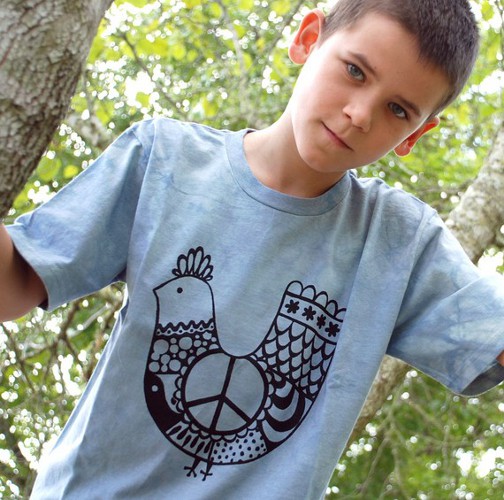 EDIT: This giveaway is now closed. The winner can be found HERE.
Several weeks ago, when I was wandering the aisles of Etsy, I stumbled upon a new shop that I feel in love with. It was Jupiter's Child. On Facebook, I shared a beautiful Waldorf Inspired Wooden tree. I thought it would look incredible on a nature table.
Anyway, one thing led to another, as it often does on the Internet, and before I knew it, Beth agreed to sponsor a giveaway on Wee Folk Art. THANK YOU, Beth! We decided to giveaway something totally different than anything we've done before on WFA. The giveaway is for this totally awesome, totally funky, organic youth t-shirt. I LOVE, LOVE, LOVE, this design… and, of course, who doesn't love an incredibly soft, organic, tee? Here is the description from the site:
This is an organic tee-shirt, hand dyed and hand-screenprinted with a peace chicken design.
I started drawing the chicken design for this t-shirt, and somehow a peace sign appeared where the wing should be. And then I though, well, chickens are peaceful creatures, aren't they? The strut around minding their own business and making quiet little noises.
This t-shirt is hand-dyed a lovely grey-blue color using water-based procion dyes and our special scrunch technique which gives a nice marbled effect to the fabric.
Then we hand-screen-printed the chicken design on the front in black using water-based ink.
Rabbit Skins organic cotton tee.
Youth sizes small (ages 7-8), medium (ages 9-10), and extra-large (ages 13-14). Sorry, we are temporarily sold out of size large. Sizes are approximate; when in doubt, order a size larger than the child's age.
She also carries baby onesies, for the smallest person in your life. You can choose from a lavender, green or blue print, in sizes 12 or 18 months. Here is the description from her site:
This is an organic cotton baby onesie with our original "Peace Chicken" design, hand screenprinted by us.
(Peace) Chicken (design) on a natural-colored onesie.
We start with a super soft Rabbit Skins onesie, 100% certified organic. Then we screenprint our designs using eco-friendly, water-based inks.
Your little one will love it!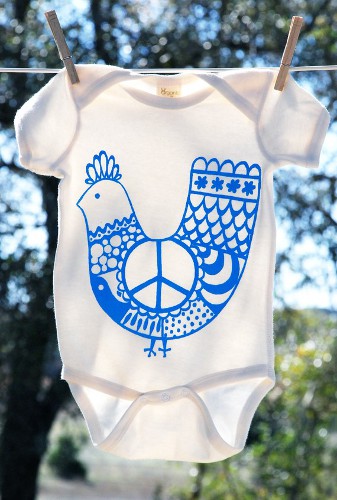 So, obviously, we ALL want one of these, t-shirts, right? Michelle asked if she could enter this giveaway. Sorry, Michelle, we are just going to have to buy ours for the wee ones. But YOU have an opportunity to win one, and pick the size you would like. To enter, simply visit Jupiter's Child. Look around. Take in the sights. Then come back here and tell Beth how great her shop is, and let us know who you would give the t-shirt to if you won. Also, include the size (and the color if you pick a onesie) you would like.
The giveaway runs from today, through Monday, July 5, at 9:00 pm EST, when a winner's name will be drawn. The winner will have 1 week to contact us with their snail mail address or a new winner will be selected. So, readers, meet Beth at Jupiter's Child… Beth, meet our readers. Hopefully, you'll all become good friends.
Thanks, Beth, and good luck to one and all 🙂