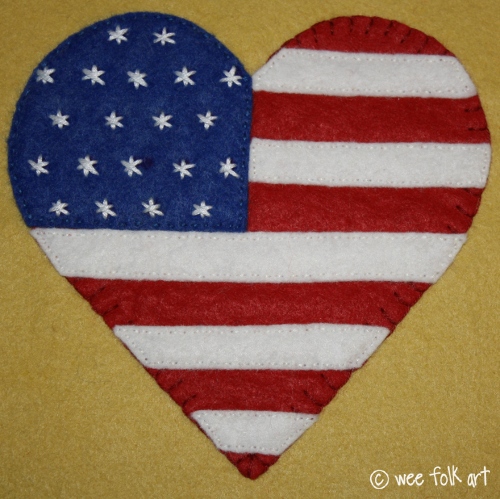 With the 4th of July just days away, here in the USA, many streets and buildings proudly display our flag and many flag based decorations. Today we are sharing our version of the flag… an applique with lots of "heart" for our nation 🙂 My plan was to turn this into a wooden plaque to hang off a seasonal rod I have in my house. But, alas, I didn't get to it this year. Perhaps next. As with all our appliques, this was designed to fit on a 6" x 6" block but it can be enlarged or reduced to meet your needs. The pattern for the Patriotic Heart can be found HERE. Enjoy 🙂
NOTE: When cutting out this applique, you will notice that you are suppose to cut 3 long strips of white felt. They have not been cut to fit the heart because they can stretch and because you might not place them exactly. To attach the stripes, pin a long stripe to the heart following the placement of the pattern. Allow it to overhang at either end. Sew the stripe on. The carefully cut the strip to fit the heart being careful not to cut the heart or the blanket stitch below the stripe. You will need 1 full strip for the center stripe, but you should get two stripes from the remaining 2 strips.
https://www.weefolkart.com
Copyright © Wee Folk Art 2008 – 2011. All rights reserved.
All photos, text and patterns are copyright protected. You may not copy, reproduce or redistribute any material found on WeeFolkArt.com without written permission. Wee Folk Art retains all rights.