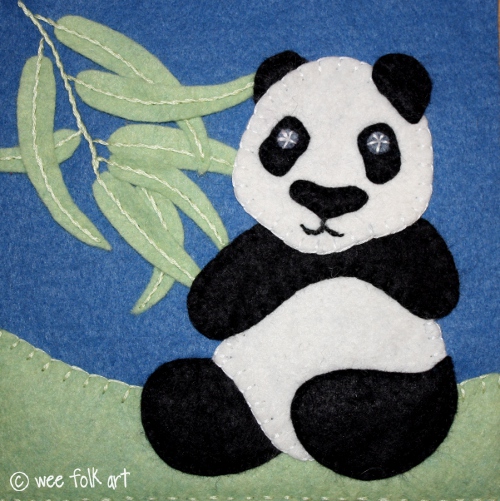 So… here's the low down on the panda… Michelle, you know Michelle, my lovely, talented daughter and partner in crime here at Wee Folk Art? Well, she comes to me a week ago and said:
"I have a request. Can you make a panda applique? I need to make t-shirts for the kids for camp next week, and the theme is pandas."
I really don't have time. Really I don't. But I make the time, because this is Michelle asking for an applique block. I ask ya, if I can't design an applique block for my own daughter, what kind of mother would I be? So I do. And he's cute as a bug's ear.
So, I'm uber busy this week. My mom had surgery, and the whole week has been spent coming and going with her. As the week wears on, I'm thinking… "Where are these t-shirts that Michelle was suppose to make the kids?" So I ask her, "Uh, where are the t-shirts?" And, she looks me right in the eye and said, "I didn't have time to make them."
Take a deep breath and count to 10, right? Well, I hit 73 in about 4 seconds. "Didn't make them? After asking ME to design a panda when I was so busy, and you didn't even use my applique?" And she replies rather sheepishly, "Well, you can still use them on Wee Folk Art, right?"
Truth be told, I really wasn't angry… actually found it more amusing. My craft closet is full of supplies I bought to make a specific project that never got made… like the bear costume for a 3 year old Drew or a quilt I was making for a wedding gift. It happens. But I must admit I was feeling a little deflated. Then, I received this request from one of our readers:
IS THERE ANY WAY POSSIBLE….
Submitted by Amanda on Tue, 08/02/2011 – 22:26.
I absolutely love all your applique blocks! I have spent the better part of the day printing them and pinning them on pinterest so that I can find them in a jiffy. I love the butterfly, and was wondering if there was any way you could make a ladybug applique block and/or a panda bear applique block if/when you have a chance? My sister has cerebral palsy and loves ladybugs and pandas…her room is filled with everything my mom, my little sister, and I can find. She changes her ladybugs and panda bears out daily. I would love to be able to make her something for her room with one of your blocks. Thank you so much for sharing your talent! It is truly inspirational!
How serendipitous is that? So, I'm doing a little dance, feeling oh so thrilled that Michelle asked me to design a panda. I was able to tell Amanda to check my post on Friday. BTW… I have 3 ladybug designs that have been sitting in journal for 2 years. If I get a chance in the next couple of weeks, I'll share 1 or more of them, too.
As always… the block was designed to fit a 6″ x 6″ block. It can be enlarged or reduced to meet your needs. The pattern for the Panda can be found HERE.
And, Amanda… hope your sister loves the design. Let us know what you wind up making. Love to see pics 🙂
BTW… panda's have dark eyes, which you wouldn't be able to see… I'm not sure I love the "twinkle", but I also didn't want to make them white. I didn't have enough time to try something different. Anyone have any better ideas or do you like the twinkles?
https://www.weefolkart.com
Copyright © Wee Folk Art 2008 – 2011. All rights reserved.

All photos, text and patterns are copyright protected. You may not copy, reproduce or redistribute any material found on WeeFolkArt.com without written permission. Wee Folk Art retains all rights.