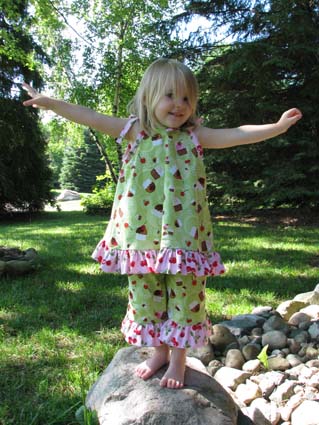 Fresh off my sewing table, Pixie had to share her Cupcake Outfit. She insisted I took photos of her once she had it on. Who am I to say no?
Obviously this is not another Eight Panel Skirt. After the first year of having two girls I quickly realized that I did not like dressing them in matching outfits. Coordinating, yes. Matching, no. Poor Pixie would outgrow her dress only to fit into Fairy's and was seemingly always in the same outfit. So instead of the skirt, she got a ruffled shirt and capri pants modified from the Simplicity Pattern 9786.
This is a super easy pattern that I have made in the past (check out this link to see Fairy wearing the top). I added a ruffle to the bottom of the shirt pattern. Then for the pants, I cut out a size 2 but trimmed the length of the pant legs at the 1/2 size hem line and then of course I added ruffles to make the pants capri length.
I have a very happy Pixie now!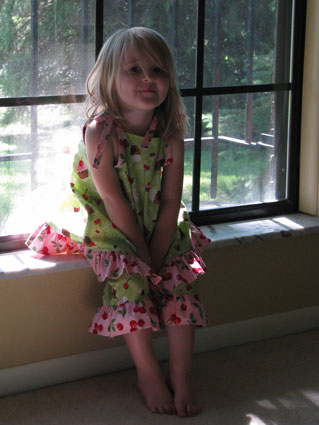 Hey Gammy…. How about some matching barrettes?! 😉