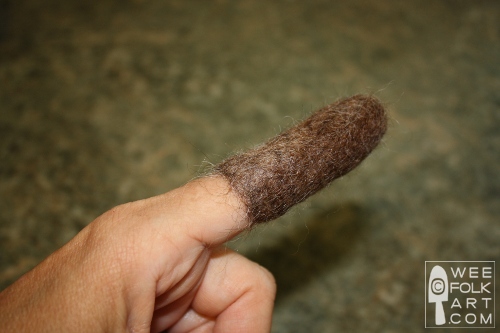 To begin making our little finger puppet mice for our Book Nook Book – Noisy Nora, I made 5 little bodies. Below are the directions. Before I get to that, however, I want to introduce everyone to a super cool lady and her outrageously cute alpacas! I "met" Maple of North Star Alpacas, when I first started Wee Folk Art. I am SOOOOO glad I did. I love working with alpaca roving, and Maple has the best I've ever worked with. I love how long alpaca fur is, making the roving and yarns supple and smooth and super easy to felt. She has beautiful colors and sells many of her rovings variegated. I love it! (BTW… I use the dyed alpaca roving to wrap around the branches in my gnome home to simulate foliage!)
I contacted Maple the other day after I had made the bodies. I just had to sing the praises of her roving yet again. Since I was going to feature her alpaca roving in this project, I asked her if she'd like to give our readers even more incentive to pay a visit to her Etsy shop. She generously offered for all first time customers 25% all yarns (they are gorgeous) and 15% off everything else in her shop. Trust me, you want to stock up. If you are interested in getting some great roving, don't delay. Her stock changes frequently, and if you see something you like, she might not have the same blend again. If you place an order, mention Wee Folk Art at check out and she'll Paypal you the savings as a refund. We've added her button under our Featured Sponsor so it will be easy to get to her shop.
Having said all that, time to move on to making the little mousey bodies. I used one of Maple's variegated rovings, with brown, gray and off white. So fun. Make the bodies so they reach at least below your middle knuckle, but they can be cut down later. I placed the finished bodies on pencils to dry. Make sure they dry thoroughly before you begin step 2… needle felting.

Materials:
roving (see comments above)
Break off about a 6″ length of roving.

Pull apart the roving so it is thin.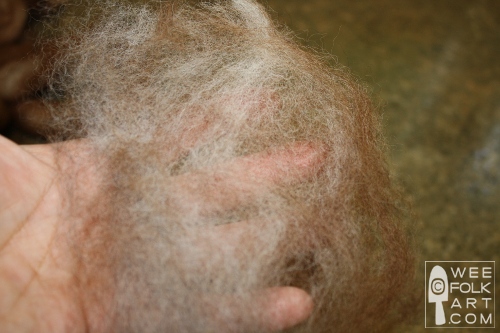 Pull off pieces and wrap around your index finger, making sure to cover your finger tip well. It works best to always wrap in the same direction. It is better to use many very thin pieces of fiber instead of dense pieces.

Wet your finger with warm water and squirt with liquid dish soap.

Begin squeezing and rubbing your finger, agitating the fibers, to create felting. Add more soap and water as needed.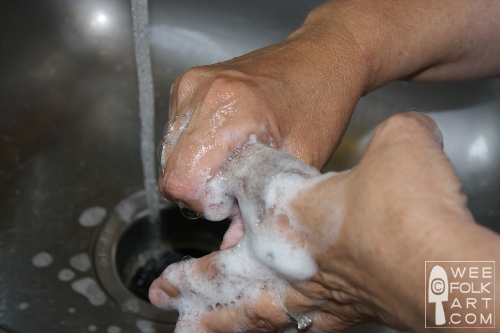 Before long the fibers will felt. You will know it is done when the fibers feel dense, hug your finger and have an almost sticky feel to them. Rinse your finger.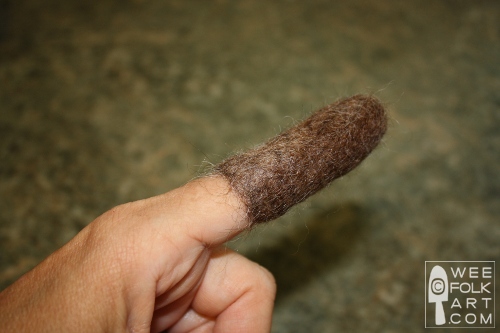 Place on a pencil and dry upright. This will probably take 24 hours.

BTW… I just started needle felting faces. Here's a little peek. That will be covered in Part 2!