For a long time now I've been meaning to turn some of our applique blocks into coloring pages. Well, today when Michelle and the wee ones were over, Pixie was looking for something "crafty" to do, as Pixie often does, and I thought this week's Primitive Angel Block would be a great place to start.
So I took the pattern, enlarged it, took off the stitching lines and wreath, and added some fun new lines. Pixie and I grabbed our water color pencils and got started. I think the results are beautiful! Of course you don't need to water color the pictures; markers or crayons would work just fine. Here are our directions. Enjoy!
Materials:
Copy of Primitive Angel Coloring Page

Permanent Water Proof Marker to extend lines (I love Micron's Archival Ink)
Water Color Pencils
Water Color Paper cut to 8 1/2″ x 11″
Paint brushes and Water
Download the pattern HERE. I suggest you print it first on a piece of regular paper before you print on water color paper to make sure it is printing correctly.
I was able to cut a piece of water color paper to 8 1/2″ x 11″ and run it through my printer. The lines will not go all the way to the edges, so before you start coloring, extend the lines using your marker.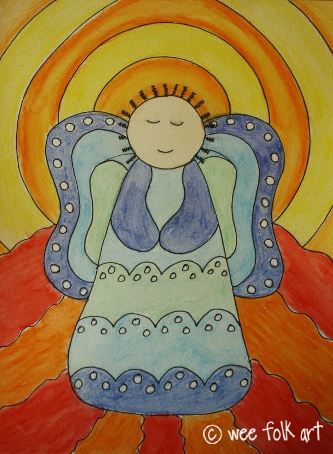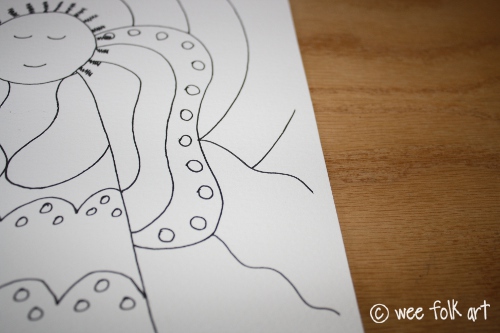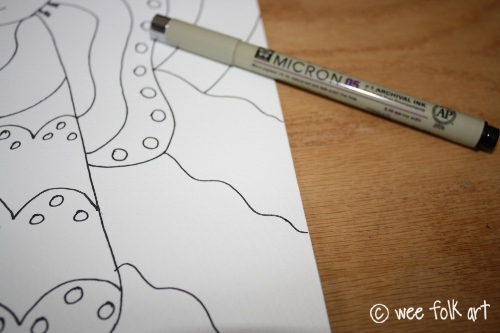 Color your picture with water color pencils.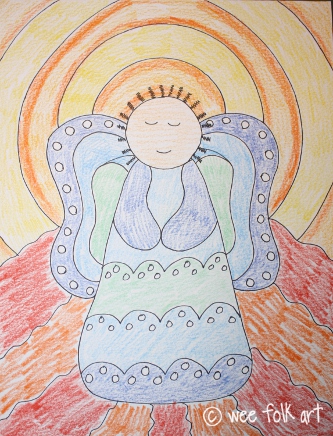 When finished use water to paint over the entire picture. You want to use a wet brush but it should not be dripping. Paint like colors at the same time and clean your brush well each time you change colors.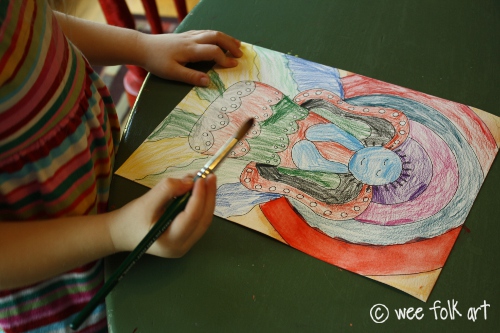 Allow to dry completely. You may need to weight the paper after it is dry to help flatten your work.
PLEASE NOTE: Coloring pages are copyrighted designs and are meant for personal use only. They cannot for duplicated nor can  projects made from the patterns be sold without our permission.
https://www.weefolkart.com
Copyright © Wee Folk Art 2008 – 2010. All rights reserved.
All photos, text and patterns are copyright protected. You may not copy, reproduce or redistribute any material found on WeeFolkArt.com without written permission. Wee Folk Art retains all rights.