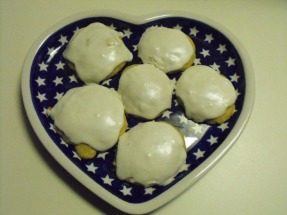 Do you have a favorite recipe using pumpkin? Tis the season to spread pumpkin cheer far and near! If you would like to share a recipe, just follow these guidelines:
Email the recipe to weefolkart@yahoo.com .
Include a little anecdotal background.
Attach a photo.
If you have a blog and would like us to stop by and say "hi", make sure to include your URL. We will include a link to your blog when we post.
We will be sharing pumpkin recipes until Thanksgiving. We will try to feature all recipes we receive. Please understand that by sharing your recipes, stories and photos, you are giving us permission to use them on our blog.
All contributors can grab our "My Recipe Was Featured on Wee Folk Art" button, too!

Here is a recipe from Melanie at Homestead and Bread for Pumpkin Pie Cookies. They sound so yummy. Make sure you pay Melanie a visit. It's always so much fun discovering new blogs. Thanks, Melanie!
"I posted this recipe last year on my blog, it's a Family, husband & friends & neighbors & co-workers favorite :)"
PUMPKIN PIE COOKIES
Ingredients:
3 cups all-purpose flour
1 teaspoon baking powder
1 teaspoon baking soda
3 teaspoons pumpkin pie spice
1/2 teaspoon salt
1/2 cup butter, softened
1 1/2 cups white sugar
1 cup fresh or canned pumpkin puree
1 egg
2 teaspoon vanilla extract
Frosting:
2 cups powdered sugar
3 tablespoons milk
2 tablespoons melted butter
1 teaspoon vanilla extract
Directions:
1. Preheat oven to 350 degrees F. Combine flour, baking powder, baking soda, pie spice and salt.
2. In a large bowl, cream together the 1/2 cup of butter and white sugar. Add pumpkin puree, egg and vanilla and beat until creamy. Mix in dry ingredients. Drop on cookie sheet by tablespoonfuls.
3. Bake for 12-15 minutes in the preheated oven. Let cool.
Frosting:
Combine confectioners' sugar, milk, 2 tablespoons melted butter and 1 teaspoon vanilla. Add sugar or milk as needed to achieve desired consistency.
Some like to drizzle the cookies, I prefer a frosting consistency.
Many Blessings,
Melanie