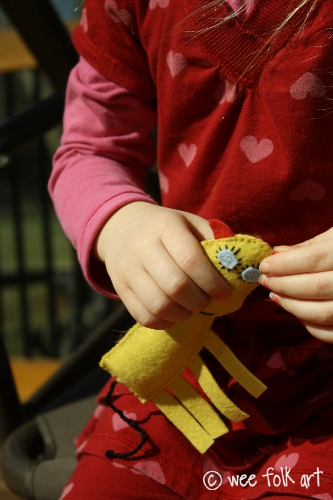 Yesterday Pixie was busy drawing a picture. When she was done, she proudly showed it to me.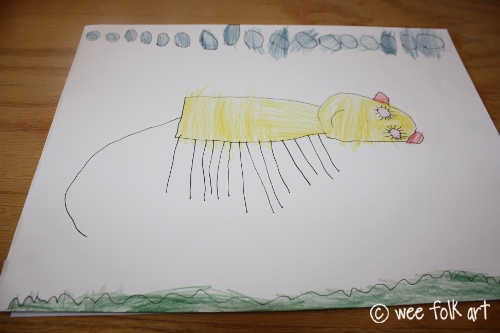 Gammy: Come sit on my lap and tell me about your picture.
Pixie: This is the grass, this is the sky, and this is the kitty.
Gammy: That looks like a very happy little kitty. (I made this assumption because of the smile on its face.)
Pixie: Oh, no, Gammy. It's a very sad kitty.
Gammy: Why is the kitty so sad?
Pixie: Because she lost her mommy and her daddy and she'll never see them again. They got lost and she can't find them anywhere.
Gammy: Well, with all her legs maybe she can zoom fast and run and find them. (On the word "zoom" I quickly "zoomed" the paper through the air.)
Pixie: (Taking the picture away from me.) There's no zoom, zoom. She's just a baby kitty. Baby kitties don't zoom, zoom.
Obviously THIS was NOT the ending Pixie had in mind!
Gammy: Well, if she's lost, why is she smiling?
Pixie: Because I found her. (With that she gave her picture a hug.)
Well, it's fine to hug a picture, but more fine to hug a stuffie! With the help of the photo copier and Pixie, we had her little kitty ready to be hug for real in no time!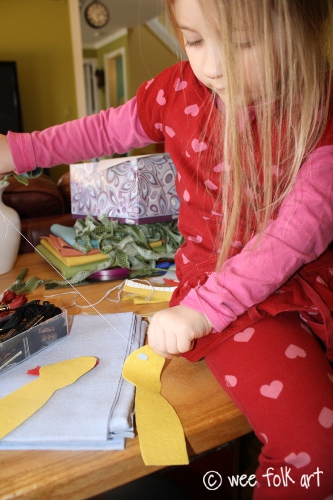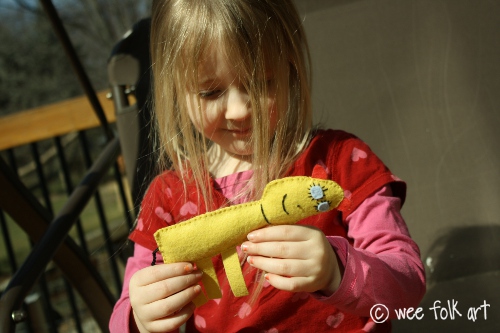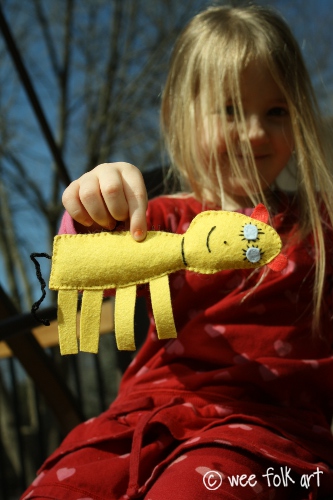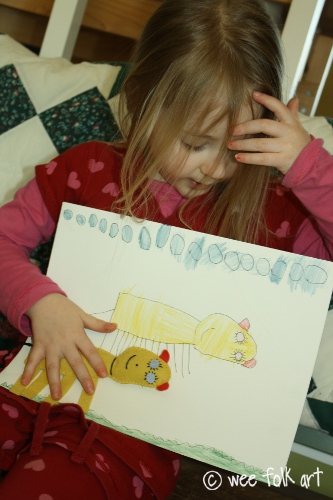 Directions:
To turn your child's artwork into a stuffed friend simply make 2 or 3 copies of your child's picture and use the copies as patterns to cut out fabric. If you are making it out of felt you do not need to add a seam allowance, but if you are making it out of woven fabric, add a 1/4″ seam allowance. When you are cutting out extensions like the ears or legs, add 1/2″ to pieces where they touch the body.
Before sewing your project together applique and embroider the detail. Then sew it together adding stuffing as you go. We used wool roving. Make sure you remember to add your ears, legs and tails as you go along.
NOTE: Working with felt makes this project super easy since you don't need to add seam allowances. It is also easier for children to work with felt. Have fun!