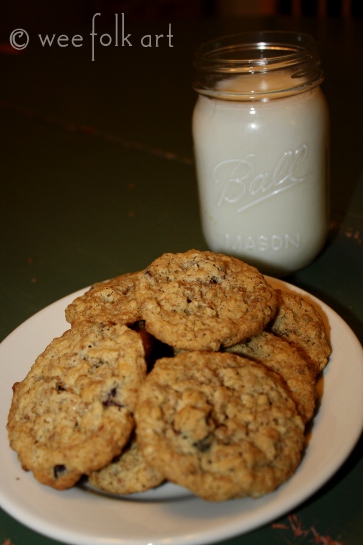 It seems like the autumn winds are finally picking up, pushing the last of summer into our memories. It's a magical time of year, when you can gather pumpkins, watch flocks of geese flying south, and gather bouquets of colored leaves to bring indoors. And what could be better when you come in from an afternoon of frolicking outdoors, than to smell fresh baked cookies coming out of the oven?
Nothing beats that smell, or the sensation of eating a warm cookie with a tall glass of cold milk. Because of that, I usually only bake as many cookies as we plan to eat right away. Then, I form the rest of the cookies into balls, place them close together on a cookie sheet, and freeze them. When frozen, I throw them into a Ziploc, pop them back in the freezer, and remove just a few at a time when our stomachs are in need of a little tickling 🙂 And while they are baking, sit back and enjoy the intoxicating aroma of fresh baked cookies… better than any scented candle you'll ever light 🙂 For more on freezing cookie dough, read our article, The Magic Cookie Bag.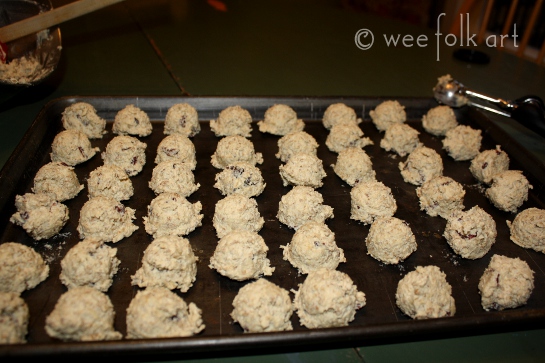 Over the years, my favorite cookie has changed. All the standards like peanut butter cookies, chocolate chip cookies made with milk chocolate, and oatmeal cookies with pecans, have held that place of honor. Right now, my "favoritest" cookie is the Grape-Nuts Cookie. My mom first made these 20 years ago. She got the recipe off the back of a Grape-Nuts box. They are crunchy AND chewy! Yum! This recipe makes 6 dozen cookies. Enough to fill your house with the wonderful smell of fresh baked cookies many times. Enjoy!
GRAPE-NUTS COOKIES – Makes 6 dozen
Ingredients:
1 1/2 c. flour
1 t. baking soda
1 1/2 c. (3 sticks) margarine or butter
2/3 c. firmly packed brown sugar
2/3 c. granulated sugar
1 egg
1 t. vanilla
2 c. Post Grape-Nuts cereal
2 c. oatmeal
1 c. dried fruit (cranberries, raisins, etc.)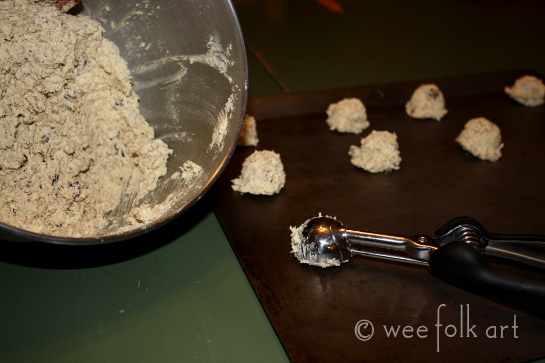 Directions:
Mix flour and baking soda in small bowl.

Beat margarine or butter in large bowl with electric mixer on medium speed to soften.

Gradually add sugars, beating until light and fluffy.

Beat in egg and vanilla.

Gradually add flour mixture, beating well after each addition.

Stir in cereal, oats and fruit.

Use a cookie scoop and place on an ungreased cookie sheets.

Bake in a 375 oven for 8-10 minutes or until lightly browned.

Cool 1 minute; remove from cookie sheets. Cool completely on wire racks.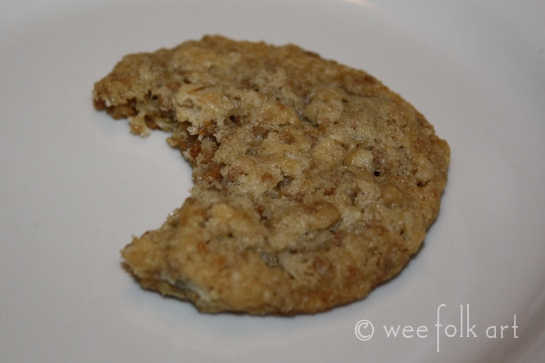 What cookies are you munching on these days? If you'd like to include a recipe, feel free to include it in our comments! Always looking for my next favorite cookie, hehe!