You should NEVER let me set foot in a yarn shop when I have other things to do. A few days before Drew, Meghan and the Little Lady came for a visit, I stopped at the shop to pick up some yarn I needed for another project. I had actually paid my bill, was getting ready to head out the door, when, out of the corner of my eye, I spied the directions for this hat. The free directions can be found HERE.


The shop owner had set it aside, along with some yarn, to take it home to knit for the shop. I had never seen Crystal Palace Tu Tu yarn. It was so darn cute, I bought the shop owners pile! The next day, I knitted it up. So, I had to burn the midnight oil but, it was a really fast knit. The TuTu yarn was fun to work with. When I was done, I decided it needed a little pom pom on the top. It turned out looking like a cupcake with a cherry on top 🙂


Meghan sent me these pics today. (Thank you Megs!) As you can see, despite a cold with a runny nose, the Little Lady looks cute as can be sportin' her new TuTu Cap.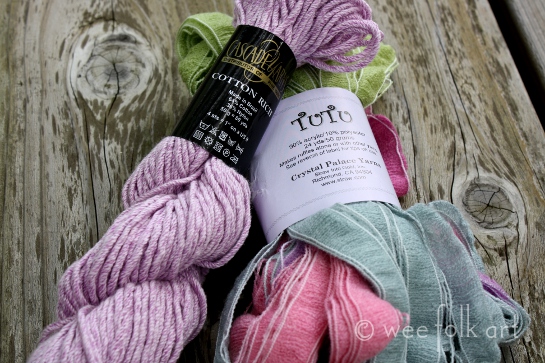 I used 1 skein of Cascade Yarns – Cotton Rich, and a very small amount of the Crystal Palace – TuTu hank. I'm thinking of making her a matching scarf, using the TuTu yarn instead of a fringe.