Materials Needed:
Water Color Paper
Oil Pastels or Crayons
Water Color Paints
Last week we completed a little mini-unit on weather.This is a topic we covered in much more detail last year… this year it was more of a review BUT the kids were interested in specifically learning about lightning. We checked out a couple books on lightning and How Ben Franklin Stole the Lightning plus a couple DVDs. Besides running around in our socks trying to shock each other 😉 we also tied our lightning studies into our art project for the week.
First we used oil pastels to create a landscape scene on a sheet of watercolor paper. You could use crayons if you don't have oil pastels.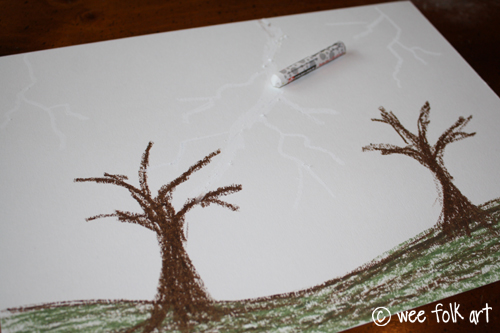 With the white oil pastel, press hard to make jagged lightning bolts in the sky. You want nice clean lines for the best effect.
Use very watered down watercolor paints in blues and grays to cover the sky. As you paint, your lightning images should pop out since the watercolor paints will not stick to the oil pastel or crayon images.
You can cover the entire image with the paints to give an overall night time effect or very stormy atmosphere to your painting. Let them dry flat.