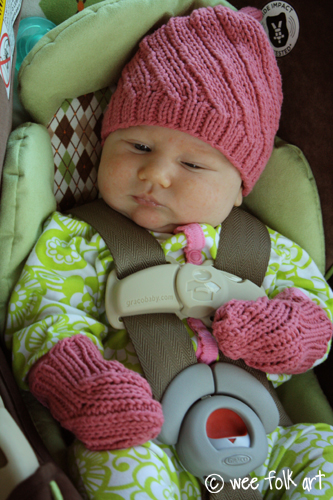 So awhile ago I made a Twirl and Tie hat for my little niece… while we were eagerly awaiting her arrival. The hat seems to be getting a lot of use and I heard through the grape vine… oh it would be so nice to have a pair of thumb-less mitts that matched. Hint, hint… sure no problem. Well… maybe a problem. I no longer have a newborn in the house myself, so sizing on the fly can be a bit tricky. I made some guess-timations, used some left over yarn and came up with these thumb-less mitts to match the Twirl and Tie Hat. Apparently they fit perfectly. Yeah! So here is a super simple, one sitting project if you would like to make thumb-less mittens to match the hat. The combination would make a lovely newborn set. FYI – I do not currently have plans to make regular mittens with this pattern.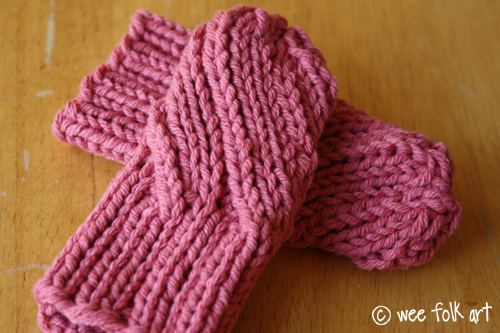 Materials
size 7 DPNs to be denser (the hat pattern calls for 8s)
small amount of Cotton Ease yarn
Cast on 24 sts – join to work in the round
K2, P1 ribbing for 12 rows
(SSK, K2, YO, K2) Repeat to end… work in this twirl pattern until the mitten measures 2.5inches
SSK around until only 3 sts remain
Cut yarn, pull through the 3 sts and tie off
Add this project to your Ravelry Queue.