The Woven Spider Wheel Stitch is a versatile stitch that I use often. It makes a circular, raised stitch appropriate for flowers, apples, polka dots, etc. It winds up being raised, giving it a wonderful 3-D effect. Obviously, I love this stitch, and although it might seem difficult, with a couple of tricks, you'll be creating perfect Woven Spider Wheel Stitches in no time… and having a blast doing it!
When embroidering on felt, I use 6 strands of floss. It you are embroidering the stitch on a lighter weight fabric, reduce the number of strands.
1. Draw a circle on your fabric, using a disappearing marker. I bought this wonderful circle gauge in the drafting/drawing section of our local craft store. It is worth every penny I paid. I use it for many projects. I drew my circle 5/16″.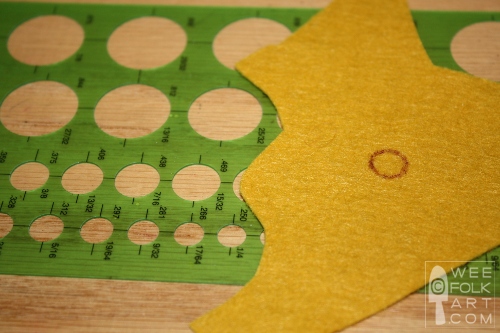 2. Evenly space 5 spokes. NOTE: If you are making a larger circle, increase the number of spokes you have, but always maintain an odd number of spokes.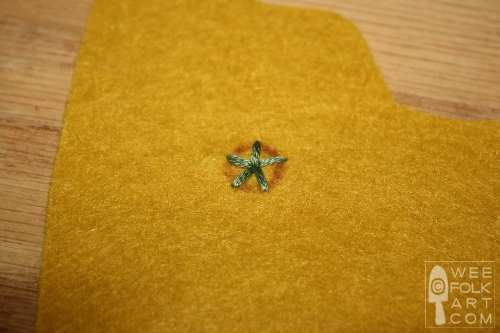 3. Bring your needle up through the center of the wheel. Being weaving with an under 1 spike, over another. Continue going around the circle making sure you keep the thread taut but not tight enough to pucker your work. HINT: Instead of using the needle point to lead your weave, turn the needle backwards and use the eye. The eye is not sharp and will slip over the fabric and thread without catching.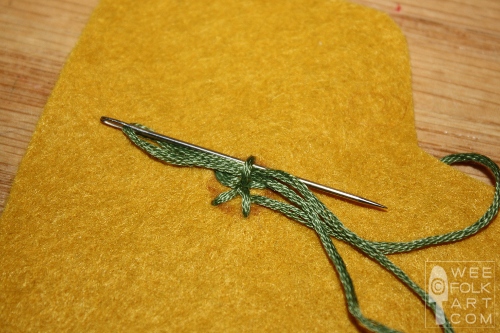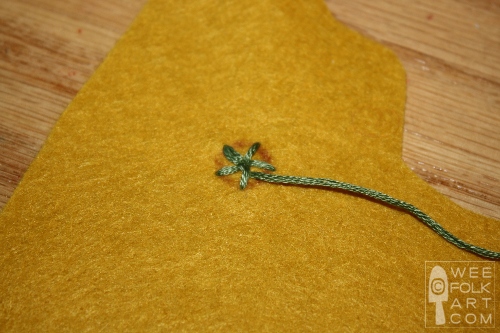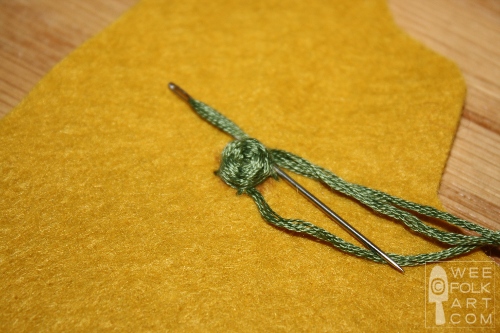 4. When you can no longer see the spokes, you are done weaving. (In the circle pictured, I went UNDER the spokes 26 times.)


5. Poke the needle under the circle to the back of the fabric and tie off.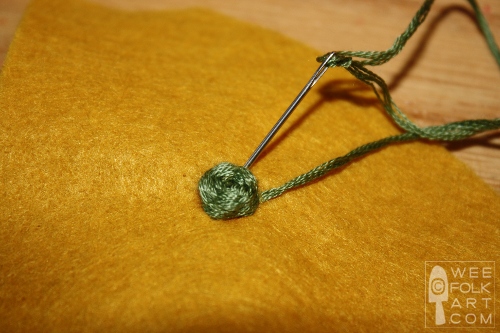 6. You now have a round, nicely raised Woven Spider Wheel Stitch! Easy, right?

I've used the stitch for apples…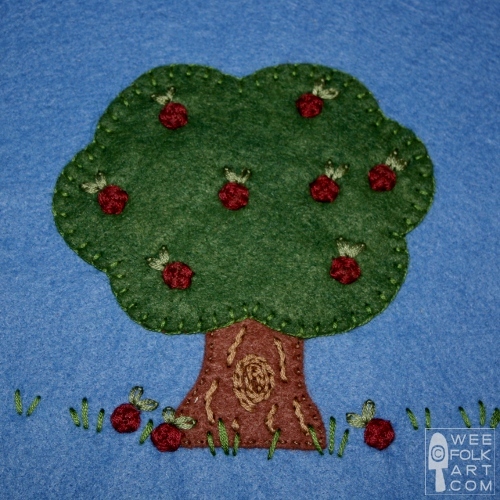 And flowers…

Note about patterns: We are sharing patterns we have designed and made for our own children, families and friends. Every effort is made to share information in a clear and accurate manner. We offer preemptive apologies for any mistakes that may be made. Please let us know via comments or emails if you stumble upon a mistake or if you encounter directions that leave you scratching your head! We will rectify the situation as soon as humanly possible!
https://www.weefolkart.com
Copyright © Wee Folk Art 2008 – 2009. All rights reserved.
All photos, text and patterns are copyright protected. You may not copy, reproduce or redistribute any material found on WeeFolkArt.com without written permission. Wee Folk Art retains all rights.