Early in March, I happened upon these adorable embroidery patterns from LiliPopo.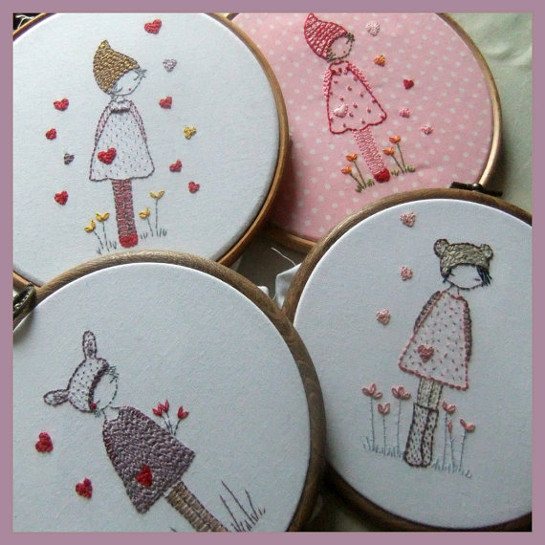 The girls and I promptly fell in love, and I purchased the PDF download from LiliPopo's Etsy Shop. As soon as I gathered a few supplies, Pixie, Fairy, their friend Sprite, Michelle and I had a wonderful evening of stitching. Embroidery is new to the girls, and it was wonderful watching them make their first few stitches. Magical!
Pixie hard at work… or is that hard at play? The girls just learned how to backstitch.
Fairy is moving right along, as Sprite gets a few pointers from me on how to deal with knotted threads! Dash those knotted threads!
Between snow storms and a family vacation, our embroidery group hasn't gotten back together… but I think we will be back on track this week. The girls are all anxious to learn more stitches.
I did finish mine, and it came out so cute!
Of course, when you are done stitching something, you have to decide what to do with it. I was making this little girl for Little Lady. After a discussion with LL's mom, we decided to turn it into a pillow. Because the little girl is a tall rectangle, and I want the center embroidery panel to be square, I decided to add a circular design around the girl. I will share the directions for making the Delicate 7″ Embroidered Ring in the next day or two.
Copyright © Wee Folk Art, LLC 2008-2014. All rights reserved.

Photos:
3-10-14, 3-15-14, 3-31-14, 4-4-14, blog photos
.