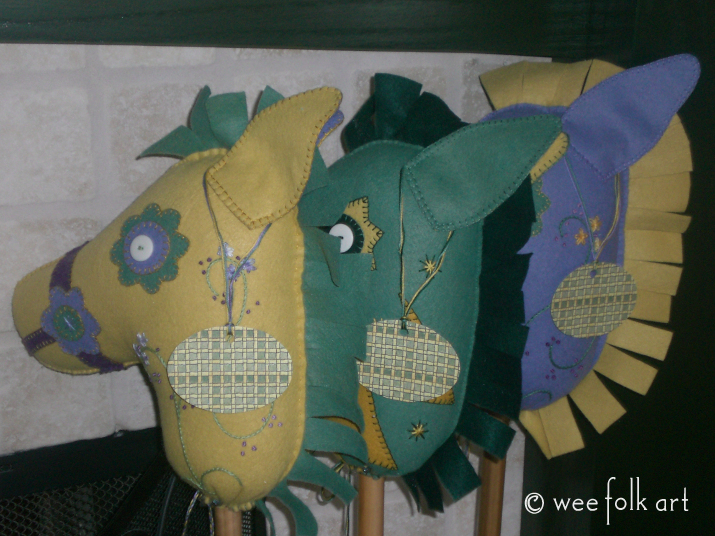 I am in the process of making my way through our entire blog. This summer we are celebrating our 6th Anniversary, and there are a LOT of old blog posts to go through. Because we are a crafting blog, with tutorials throughout, posts shared 6 years ago are just as relevant today. With Wee Folk Art's new format, and the wonderful new Galleries (you can access them all my clicking on the flower icons right under the large Wee Folk Art logo at the top of each page of the blog) it makes it easier to find all our past projects, HOWEVER, there are gems, like these hobby horses, that aren't in a Gallery because I never shared the tutorial!
You can see the original post with lots more photos HERE.
The wee ones have been playing with their hobby horses for 6 years but I forgot all about my plans to come back and write a tutorial. At the time, I did not take photos of the whole process, and I discovered that there are a few things I would change anyway, but a post-it note has gone up on my cupboard, which definitely betters the chances for completing this project!
I will try very hard to get these done so you have plenty of time to make them for… dare I say it… the holidays. Also, this is definitely the summer to make a gnome house for the Little Lady and the Little Guy, so you can FINALLY expect a tutorial on that!
If any of you can think of any other "unfinished" or "promised" but not "delivered" on projects, please let me know. I will try to finish some of those loose ends. BTW… while writing this, I realized I have never finished my "blanket stitch" tutorial. Up goes a post-in note 🙂