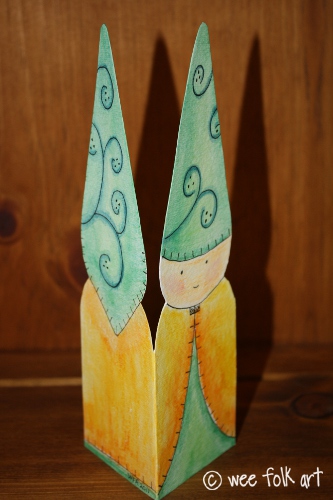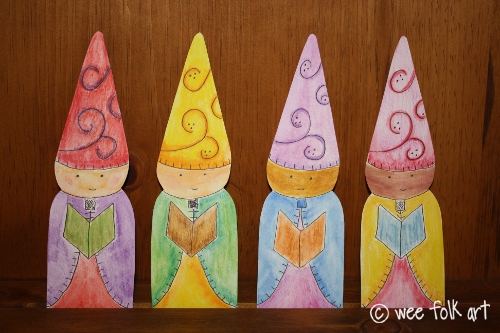 You know how we are always saying that our patterns are just a starting point? We encourage our readers to use them as is, but also want you to use your imagination to personalize our designs. Well… I hardly know what to say here, but I got this email from Bonnie, an avid WFA reader. It said:
Hi – Your bookmark/greeting card template gave me lots of ideas. So far, I have come up with about 40. Here is a sample of my imagination at play. (If you are interested in seeing the rest, please let me know via email. I do not have a blog, so I will have to send the pages one at a time. I am on dial-up & don't know how to send more than one. There are 13 pages. Sorry.) (((hugs))) Bonnie
This first "installment" was included in the email.
She included these 3 as her first installment.
1 – made from paint chips (you know – those paint samples?)
2 – made from scrapbook paper
3 – plastic canvas; 10-count, I think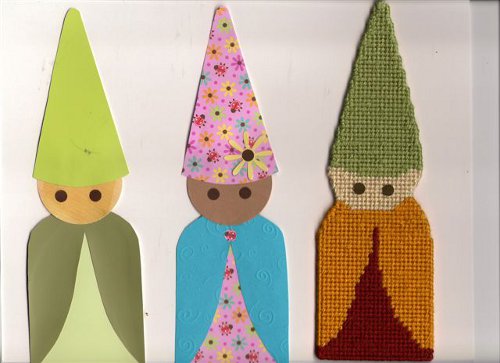 Okay, I was impressed and told her we would love to see her other endeavors. Bless her heart, she sent scans of all her projects… through dial-up no less! Well, they were just too impressive for Michelle and my eyes only, so after getting her permission, we are including ALL her gnomes. I asked her to do a little write-up on what made her take this on as a challenge, and here is her reply:
Oh, thank you! Well, what prompted my imagination…hmmmm.. For starters, I just love your gnome creations. Your artistry really appeals to me & when I saw the gnome bookmark, I knew I had to play around with it. Also, I like patterns & things to have multi-purposes. Once I got into the mode, the ideas just kept coming & coming. I would be working on one project & another one (or 2 or 3) would come to mind. I like to think outside the box by using different mediums & sometimes mixing them. I call these gnomie ideas: A-gnomie-lies. hahahahahaha Now the gnomies have run their course, I am off to find other challenges. Thank you for sharing your ideas, patterns & especially the gnomies. (((hugs))) Bonnie J.
So, for your viewing pleasure, I give you ALL of Bonnie's little creations. Remember, all of these were made using the pattern from our Gnome Bookmark and Greeting Card. The pattern can be found HERE and HERE.
These are made with Christmas cards. The one on the left has a little trim. The one on the right shows the inside of the card. Could use any greeting card, birthday card, etc.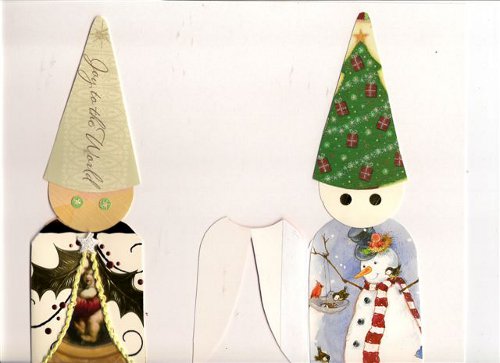 This is like a paper doll, only made from felt. Changeable cloak, beard, braids, etc. Could make any of the costumes featured on your site.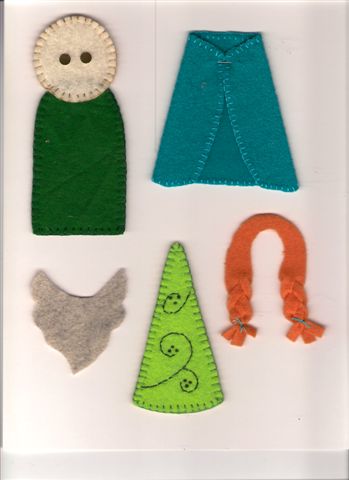 Santa & Elf. The eyes are punched from paint chips. I didn't get the bell for the tip of Santa's hat cause it wouldn't copy so well in the scanner.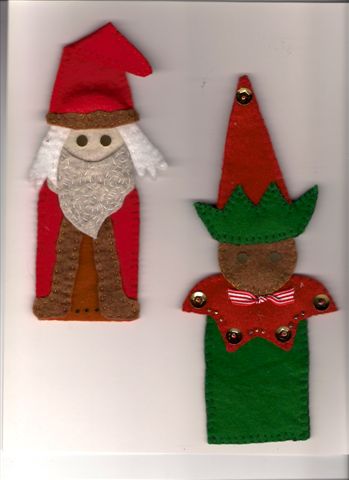 Ghost & Woodland Fairy. I love the colors of the fairy.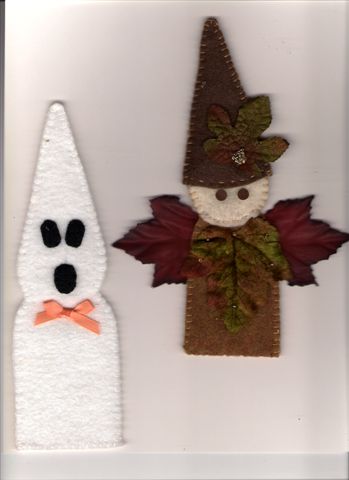 Taking the hat component & sometimes the head.
Ice cream cone – could also make a snowcone
watermelon slice
carrot
tussie-mussie – lace on top; flowers are punched from paint chips
candy corn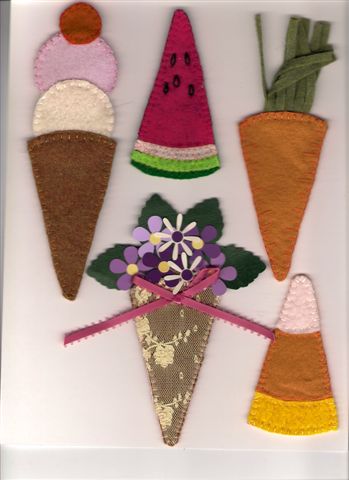 tree
slice of pizza
icicle – there is clear glitter glue on it but you can't see it
mushroom – my 10 yr. old grandson sewed the mushroom & I left his stitches just the way he did them
cornucopia – the fruits are paper punched; could use stickers, buttons, etc.
piece of pie – that white blob on top is sposed to be whipped topping. the crust is 2 narrow stripes twisted together.
safety cone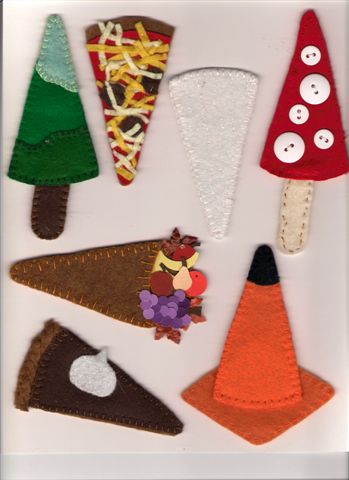 These would make cute ornies, party favors, could be made from paper, etc.
clown
hillbilly
leprechaun – clover is paper punched
wizard – on his hat are gold sequins & silver stars; his hair & beard is fake fur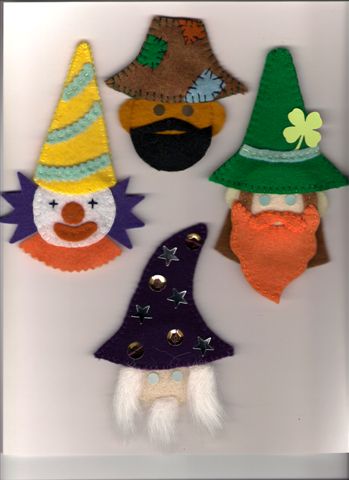 snowman
tomtem – Scandinavian elf
ghost
witch – that is a plastic spider dangling from her hat; hair is separated yarn
princess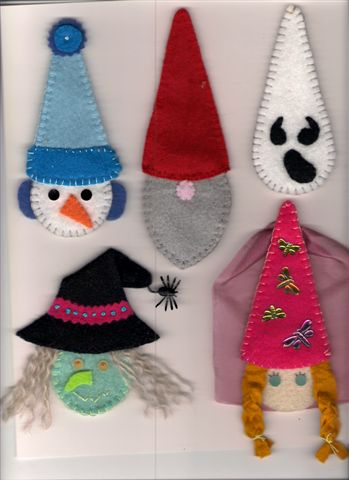 ok; these are not perfect but they would make cute dolls or beanbags.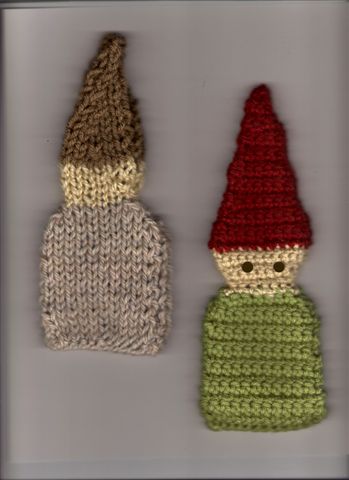 This is the original made so that 2 regular ones would fit on a page. I made a finger puppet out of it. Then I used the hat to make a clover & a shamrock from paint chips.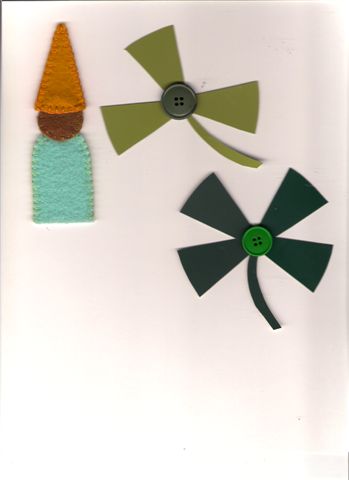 These are using mostly the little hat. the center of the star is the head shape from the large one.
Kiss – XOXO is punched from paper & mounted on ribbon
angel – the wings are paper punched & the bow is gold ribbon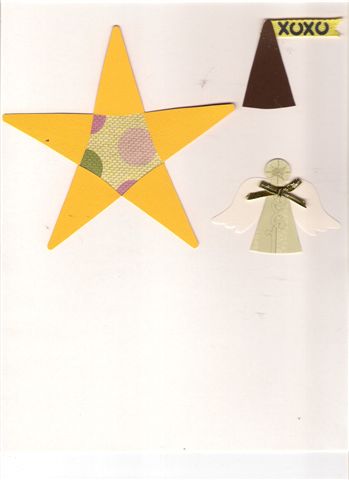 Large hat – party hat
paper hat
crownie – large head, small hat
fan
flower – large head for center
witch – large hat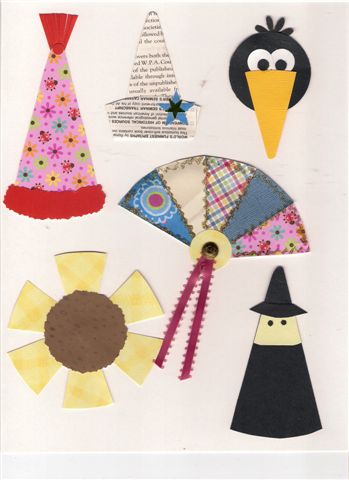 Toppers – the large one could be for appetizers or in a bouquet; the smaller one for cupcakes, etc.
Halloween cone
megaphone – put high school initials on it, etc.
Boo banner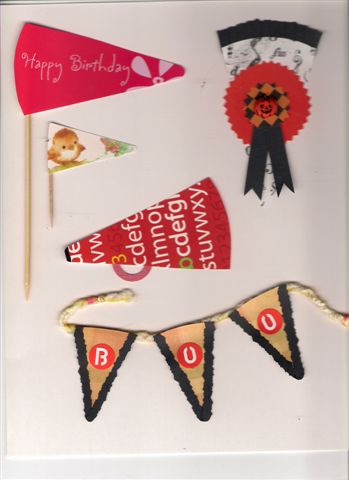 I cut 4 stencils from clear plastic, but I would rather have cut them from milk jug plastic. this could be used on gift bags, a quilt block, etc. It could also be cut out, sewn & stuffed for a soft doll.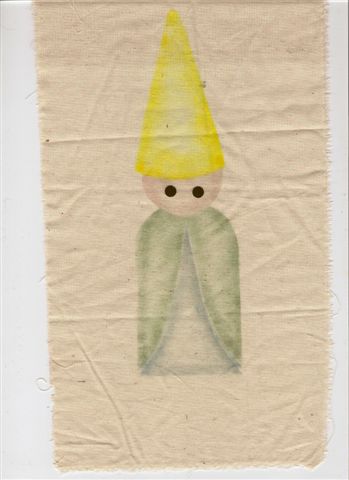 This card will stand on its own when opened. It could say any message: get well, happy birthday, etc.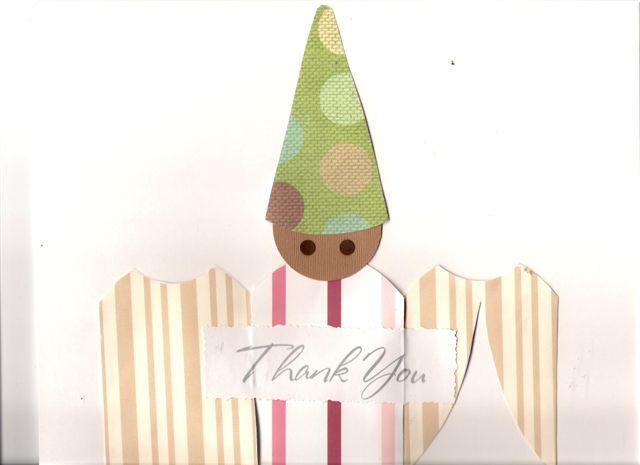 This is the last of the gnomie things & by far, my personal fave.
Top left: doorknob hanger. the leaf is paper punched. the handle is yarn. Tip: tie a knot in the ends of yarn, ribbon, etc., as they will grip the glue better & are less likely to pull out.
Top right: Santa hat; great for ornies, small gifts for guests, etc.
Bottom: Advent garland. Numbers are paper punched, using Tim Holtz Carnivale die. Candy canes are 4″ pieces of red & white chenielle stems, twisted together. Baker's twine bows (I just learned how to make my own – easy!) Lollipop is a fabric yoyo on a twig stick. (you can also use craft sticks, bamboo skewers, or a real paper lollipop stick.)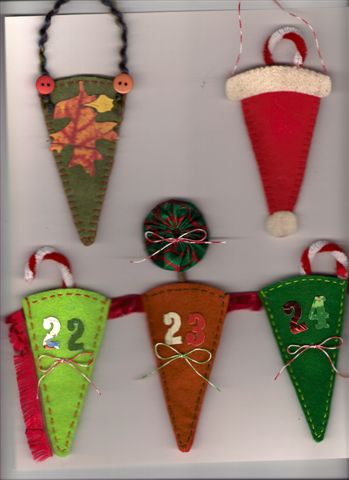 So, there you have it. If you loved our little guys, I'm sure you can find plenty in this collection to your creative juices flowing. Thanks so much, Bonnie, for sharing with us. We really were awed and impressed!