After I completed my stack of cute embroidered owls, I turned them into a throw pillow cover.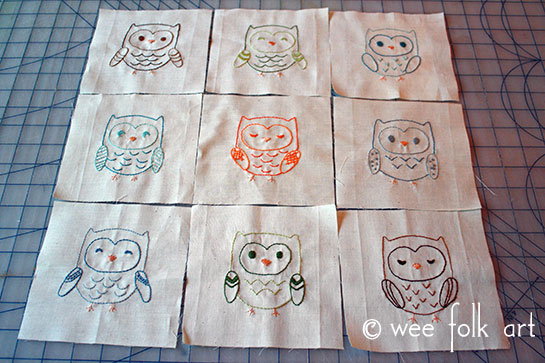 Materials:
1/2 yd quilt fabric
9 completed embroidered owls on muslin
18″ pillow form
thread
All seam allowances are 1/4."
First I trimmed each of my owls (you will need 9) into a neat 5.5″ square. I used this paper window to help me center the owls when I was cutting.
For the back and borders you will need 1/2 yd of fabric.
Cut one piece 18×10″ and another 18×15″ for the back.
Cut 4 strips 18×1.75″ for the borders. Cut two of those strips into 1.75×5.5″ strips (you will need 6).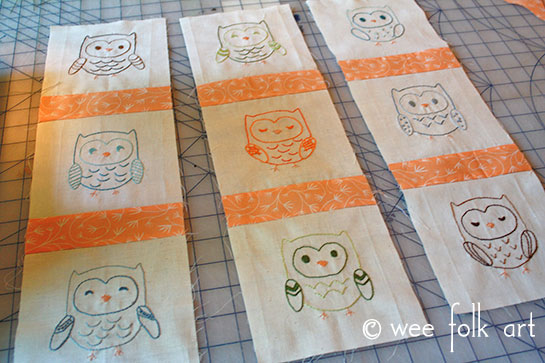 Decide how you want to arrange your owls. Sew each row together with a strip of the border fabric between each owl.
Iron all of your seams.
Sew your rows together with a strip of the long border fabric between each row.
Iron all of your seams.
Trim up the edges if needed. You should have an 18″ square.
The rest of this project is turning your pieced front into a long strip of fabric like our Super Easy Pillow Throw Pillow Covers. You may want to look over those directions before proceeding.
Take both backing pieces and turn one edge under twice and stitch in place. You should now have two pieces that are 18×9.5″ and 18×14.5."
Sew one backing piece, right sides together, to the top of your pillow front and the other on the bottom edge of your pillow front.
Lay your pillow case down with right sides together and the backing pieces overlapping by about 6″ towards the middle of you case. Pin and sew up both sides.
Flip your case right side out and stuff in your pillow form.