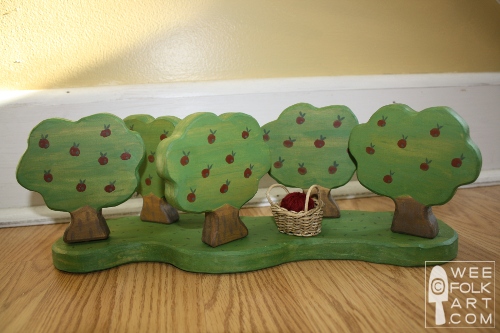 To make this apple orchard you will need to use a scroll saw, a dremel and a drill. I am a VERY novice woodworker, and have no tips or suggestions for how to use this equipment. I'm learning as I go, trying to be as careful as possible, but would not even begin to try to teach someone how to do this stuff. I'm having this total tension issue with the saw blades and keep breaking them. But I will get the hang of it, and I will get better.
So, here's the deal on the instructions. (Hmmm… think I'm giving a disclaimer!!!) Basically, I'm giving you the pattern that I designed. I'll tell you what I did, even share some lovely photos, BUT, this is not instructions on how to use the tools. I'm thoroughly enjoying this, and finding it easy, with delightful results. BUT PLEASE BE CAREFUL!
I used pine to make my apple orchard. Many of the wooden toys you buy are made out of hard woods like maple, walnut, cherry, etc. So far I've only worked with pine for several reasons. First, we had some in the garage. (Love raiding Tim's stash!!!) Second, it's a soft wood, and easier to work on for a beginner. Three, it's cheaper than the hard woods, so if you mess up, no great lost. Finally, I love primitive. Many things in my house are made of pine. I don't mind nicks and dings. As a matter of fact, I think it adds to the charm. And since I love the way the orchard looks and feels, I feel very okay with suggesting you use pine if you are a beginner.
So, if you're an experienced woodcrafter, you'll find this project easy peasy. If you're new to the craft, like I am, have fun, be careful, and don't get frustrated. You do not have to be exact or perfect for the end results to be lovely. So, if you want to give it a try… you can find the tutorial for the Wooden Apple Orchard HERE or in our FREE Open Patterns. Enjoy… BUT BE CAREFUL!