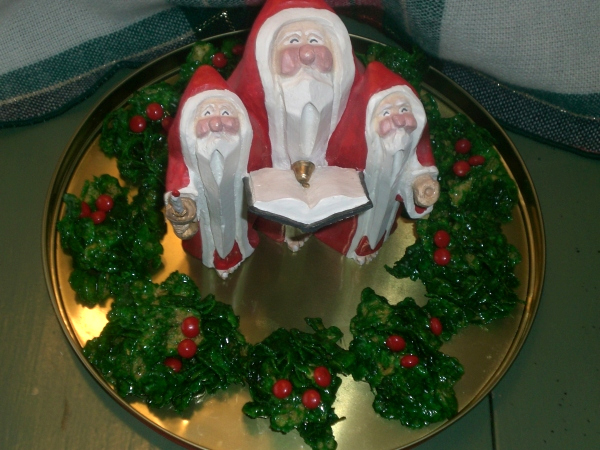 NOTE: There is still plenty of time to share your favorite Christmas cookie with us. Just mail us the recipe, photo if you have one, and a little "background" about the cookie. Also, if you'd like your blog shared, make sure to include your URL. Then email all the info to weefolkart@yahoo.com!
(First published 12-17-2008)
Every year we do a very informal family poll.
Question: If we can only make 3 cookies this year, what 3 do you want us to make?
Answer: There is always a variety of answers. I can be sure Michelle will include Russian teacakes, Tim … kiss cookies, Liz…snicker doodles, Drew … pecan tassies, Meghan … rum balls, etc. BUT I can guarantee you, that among their top 3 "must have" cookies, every one of them will request wreath cookies. Now, I'm not proud of wreath cookies. The recipe is an off shot of your basic Rice Crispy Treat. Melt some margarine and marshmallows, toss in enough green food coloring to tint Lake Michigan, then mix with cornflakes, and there you have it folks. Not a stroll down Epicure Lane! It does, however, appeal to the plebeian tastes in all of us!
So, to honor our most requested Christmas cookie recipe … I give you the Wreath Cookie! (FYI … at the point of sounding crass … please remember, what goes in green, comes out green! I like to point this out when we are bringing treats to a nursing home or distributing to young children. This is the result of copious amounts of green food coloring, not an intestinal malfunction!)
Wreath Cookies
Ingredients:
1 stick margarine
1 tablespoon green food coloring
30 large marshmallows
8 cups corn flakes
cinnamon candy (Red Hots)
Directions:
Melt margarine and marshmallows over medium heat. Add coloring. Remove from heat and add corn flakes. Coat cornflakes then drop by spoonfuls onto wax paper. Add candies, 3 on each. Work fast! Do not bake. (Tip: It's easiest if you have two people working together; 1 to drop by spoonfuls, the other to form and add candies.)