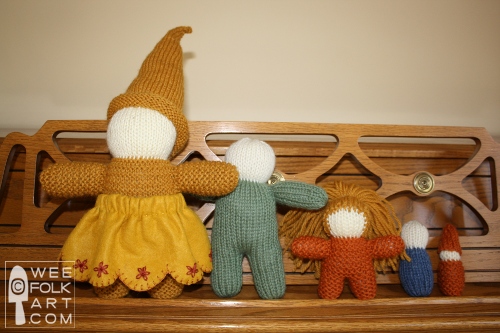 As a child, it never failed, when you returned to school after any break or vacation, your teacher was sure to say, "I would like you to write an essay titled, "What I did on my vacation". This was usually followed by a collective groan, except for Margo. Margo was the class know-it-all who actually enjoyed homework. As a matter of fact, when you asked Margo what she did do on her vacation, her list usually included writing an essay on what she did on her vacation. She liked to get a jump on things. For the rest of us, this task was tedious enough to ALMOST make us wish we hadn't gone on vacation in the first place!
So, here I am, back from vacation, feeling like I should be writing on essay on What I Did on Spring Break. Well, lucky for me, no one is grading this, and although it will take me a few days to get back into my normal routine, I'm actually excited to share my adventures… at least my crafting adventures. So, here goes…
For some time now, Michelle and I have been talking about creating an all purpose doll pattern. Just a basic pattern in multiple sizes, that can be adorned in various ways to meet our needs. I spent the week pouring through my old patterns and books, visiting many websites, and unraveling many unsatisfying attempts. Finally, I put together an easy, very versatile pattern, that can be used in many ways, and can be made in many sizes. (The largest size is still on my needles, so it is not pictured!)
We begin with the basic doll: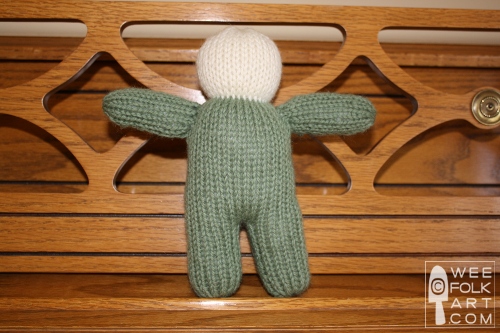 You can add a little hair:
You can add gnome hats: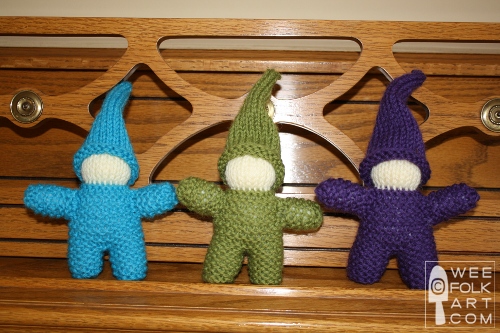 You can even make them removable clothing:
Over the next few months, we will start with the basic doll pattern, and share many variations. We will be making clothing, adding faces to some, and all sorts of fun hairdos. We will even be turning them into some animals! Tomorrow I will share the basic pattern that can be used to make:
Daddy – 12″
Mommy – 10″
Child – 8″
Toddler – 5″
Baby – 4″
Dolly – 3″
So, there you have it… my crafty doings over break! Hope everyone had a lovely week, missed you all, and it's nice to be back!