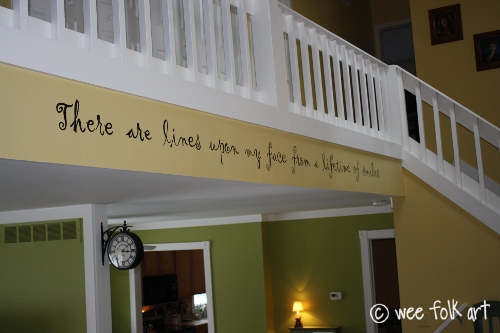 There have been times in my life when I had so much "stuff" on my walls that it was hard to notice anything in particular. It was my "clutter stage". Now, I'm just the opposite. Maybe it is because our lives are so "cluttered" right now, being in the "sandwich" generation, that I yearn for simplicity in my decorating. It has been fun experimenting with new colors and new soulful expressions. "Writing" on walls is a way to express individuality in a simple, not cluttered manner. So, find a wall (think of all the possibilities in children's rooms, too) and let's get started.
Materials:
paint
#10 round paint brush
tape
computer print out banner
wax free tracing paper
Of course, the first step is to decide on what you want to write on a wall. It might be a full phrase or just a word. I picked the phrase "There are lines upon my face from a lifetime of smiles" from the song "Beautiful in My Eyes" by Joshua Kadison…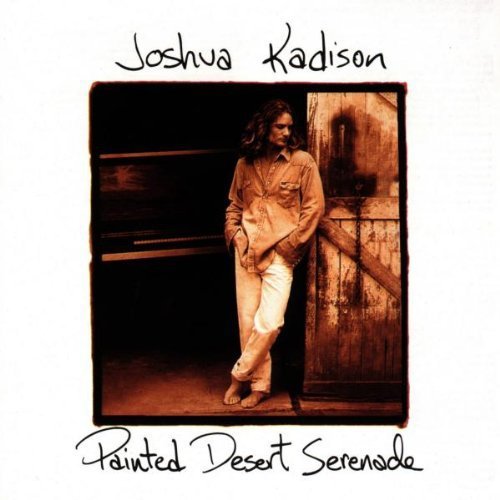 Next… to the computer. If you have a computer that lets you make banners, perfect! If not you can still print your words and tape them together. I have the program Personal Publisher. I was able to design the banner, then tape the pages together. Determine how big you want your words to be and play with fonts and sizes until you come up with the size right for your space. My phrase is printed in the font Gigi and the size is 400. I added an extra space between the words.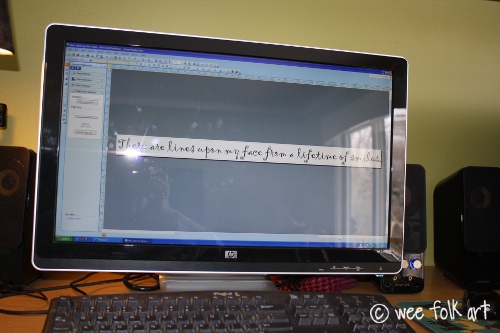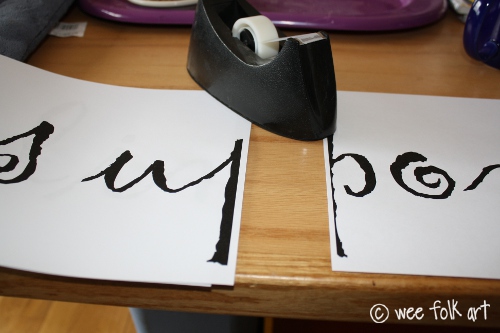 Position the banner on the wall you will be painting. Center the banner vertically and horizontally to your space. Tape the banner in place along the top. Leave the sides and bottom hanging free.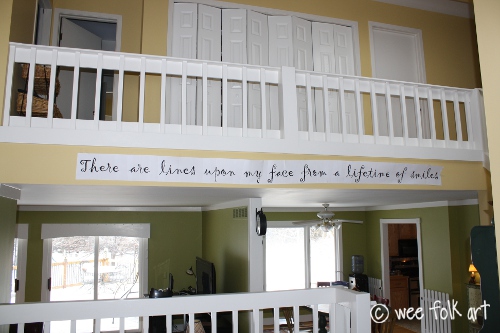 Place the tracing paper under your banner and trace each letter. Note: to begin with I traced on the outside of each letter. I decided instead to just trace down the middle of the letters and freehand the words. (In the second photo down you can see I traced around the "t" and "h" then through the center of the rest of the letters.) If I was doing larger letters, I would have continued tracing around each letter then "fill in" with paint.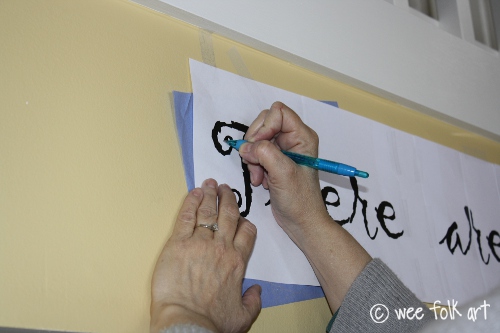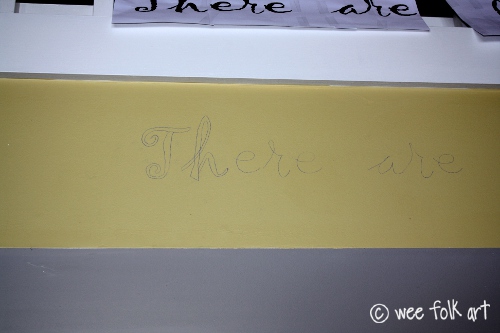 Since I was was going to freehand paint the words instead of filling in, I taped the phrase above my work so I could look at the shape of the letters.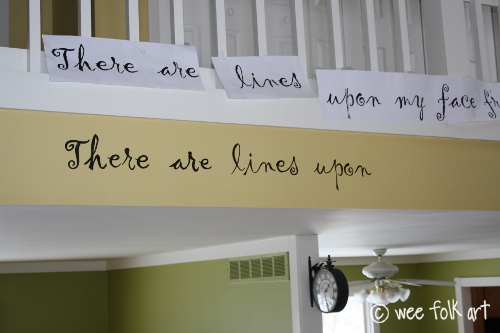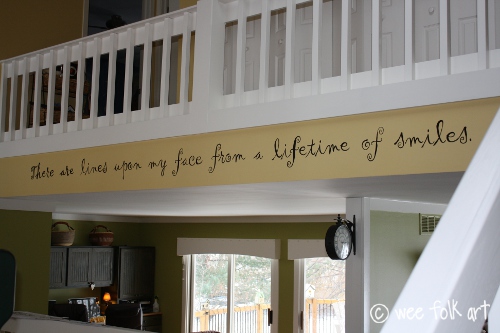 NOTE: My letters are NOT perfect. Each letter is unique. If it is important to have the letters uniform here are a couple of suggestions.
-Print your words on card stock of freezer paper. Using an Exacto knife of small, pointy scissors, cut out the letters making a stencil. Now you can tape the banner to the wall and stencil your words.
-There are many companies today that make vinyl letters that will adhere to your walls. If you go to Etsy and search "vinyl decor wall lettering" you will find tons of expressions ready to press on your walls. There are even shops that will take special requests.
Whichever way you go, have some fun, and do a little at home graffiti!


All photos, text and patterns are copyright protected. You may not copy, reproduce or redistribute any material found on WeeFolkArt.com without written permission. Wee Folk Art retains all rights.