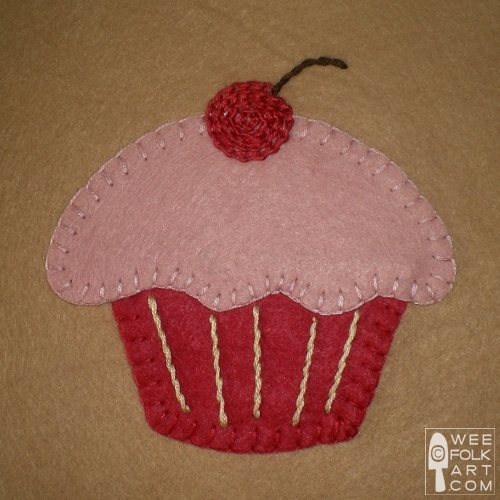 Often when I'm sitting around doodling, I draw cupcakes. (Second only to my old dog, Fred, doodle wise!) I'm not sure if it's because they are relatively easy to draw, because I'm hungry, or because they are just so darn cute! Anyway, it only makes sense that it would be one of my first block appliques. Easy to make, and with the popularity of cupcakes today, I'm sure you can find many places to "stick it". As with all other block appliques, this is sized to fit on a 6" x 6" block, but you can enlarge or reduce its size to fit your needs. There are 2 different options for adding the cherry on top. You can either cut out a piece of felt and blanket stitch it on, or like the picture above, use a chain stitch to completely fill in the circle. I started on the outside of the circle and embroidered my way in! I want to make a set of contour clip barrettes for the girls for Easter, and cupcakes will definitely be on a set. I'll include directions after I make a pair. In the mean time, you can get the directions for the Cupcake Block Applique here. Enjoy!
Note about patterns: We are sharing patterns we have designed and made for our own children, families and friends. Every effort is made to share information in a clear and accurate manner. We offer preemptive apologies for any mistakes that may be made. Please let us know via comments or emails if you stumble upon a mistake or if you encounter directions that leave your scratching your head! We will rectify the situation as soon as humanly possible!
Copyright © Wee Folk Art 2008 – 2009. All rights reserved.