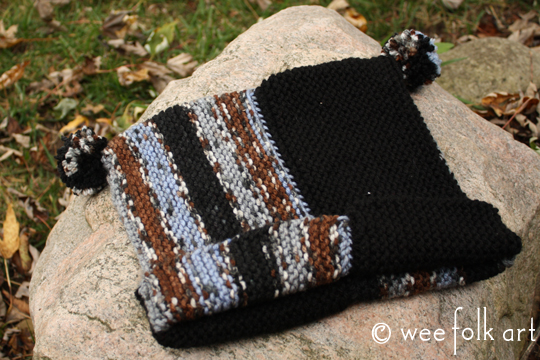 Have you been working on your knit blocks for your Block-Work hat? My kids are going to be completing the ones that they have been working on for the last couple weeks, this week in class. I've updated the pattern below to include all the finishing directions.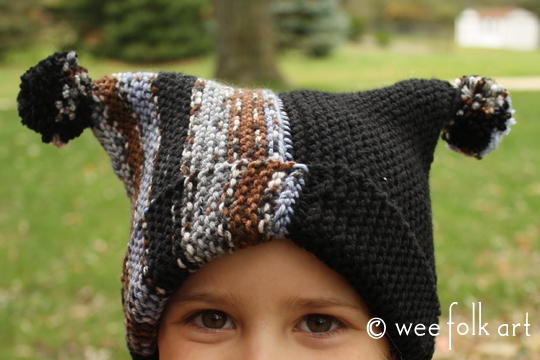 I designed this hat project as part of our Newbie Knitting series. It is purposefully made of many repeating blocks to help us review everything we have learned so far. This hat requires you to complete casting on, knitting, binding off and seaming multiple times. For this project you will need to make 4 rectangular blocks. Two will be completed in a solid color yarn, two in a multi-colored yarn.
It is a one size fits most.
Click here to add the Block-Work Hat to your Ravelry Queue.
Materials:
One skein Deborah Norville Collection Everyday Soft Worsted Prints Yarn and
one skein Deborah Norville Collection Everyday Soft Worsted Solid Yarn in a color to match
or 2 skeins of worsted weight yarn
size 8 needles
Yarn needle
Directions:
Cast On 40 stitches.
Knit 4 and 1/2 inches.
Bind Off. Leave yourself a 18-24″ tail for seaming later.
(make 4 total, 2 solid color, 2 multi-color)
When you have completed all 4 blocks, sew them long sides together in a solid, multi, solid, multi pattern. Then sew the outside two seams together to form a complete a circle. Lay the hat flat and seam up the top edge. Make 2 pom-poms (click here for Pom-Pom making directions), one for each corner. Thread one of the long tie yarns from the pom-pom onto your yarn needle. Pull it through to the back. Do the same with the other tail. Flip the hat inside out and tie a knot to hold the pom-pom on. Trim the yarn, repeat for the other pom-pom. Flip the hat right side out and fold up the brim approximately an inch. Congrats on completing your first hat!