NOTE: There is still plenty of time to share your favorite Christmas cookie with us. Just mail us the recipe, photo if you have one, and a little "background" about the cookie. Also, if you'd like your blog shared, make sure to include your URL. Then email all the info to weefolkart@yahoo.com!
Today we are sharing our very first Christmas Cookie recipe sent in by Christy from Sweet Tidings. During the month of December we hope to share many Christmas Cookie Recipes. As a matter of fact, over the next year we hope to share many different recipes, often with the help from our readers. Michelle is working on creating a new data base to organize our recipes, and has created an adorable button… which will be finished tonight… that you can proudly display on your blog showing your recipe was featured on Wee Folk Art!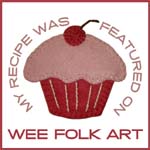 So, if you've ever shared a recipe in the past or if you do in the future, just grab the button. It will be available with our other buttons which you can access HERE or on the left column of our blog, under MORE WEEFOLKART, just click on SHARE and it will take you to the buttons. So, without further ado, here is our first Cookie Recipe, Christmas Butter Cookies. Thank you, Christy. And make sure to pay a visit to her blog, Sweet Tidings, and wish her a HAPPY HOLIDAY!  
I got all excited when I saw your Christmas cookie post and I just
have to share two of my fave cookie recipes! BTW, I am a secret
cookie monster. No cookies is safe when I'm around, hehehe
One of my fave treats are danish butter cookies packaged in those cute
tin containers. However I wished the cookies were richer and more
butter-y in taste and would match the cuteness of the tin containers
they were in. So I searched the Internet for a butter cookie recipes
to kitchen test. This recipe turns out great every time (although I
can't anymore remember where I got it from) and is so lovely to use
with those whimsical Christmas cookie stampers and presses. This
recipe would make a delightful gift. Just be in the lookout for cute
cookie tins and containers to put them in. To package the cookies, I
also highly recommend this clip-art project from Martha Stewart:
Christmas Butter Cookies
Ingredients:
* 1 cup butter
* 1 cup sugar
* 1 egg
* 2 1/2 cups all purpose flour
* 2 tablespoons orange juice
* 1 tablespoon vanilla
* 1 tsp baking powder
Combine 1 cup butter, sugar and egg in large mixer bowl.Beat at medium
speed, scraping bowl often, until creamy (1 to 2 minutes). Reduce
speed to low; add flour, orange juice,1 tablespoon vanilla and baking
powder. Beat until well mixed (1 to 2 minutes).
Divide dough into thirds; wrap in plastic food wrap.
Refrigerate until firm (2 to 3 hours or overnight).
Heat oven to 400°. Roll out dough on lightly floured surface,one-third
at a time (keeping remaining dough refrigerated), to 1/8 to 1/4-inch
thickness. Cut with 2-inch cookie cutters. Place 1 inch apart onto
ungreased cookie sheets. Bake for 6 to 10 minutes or until edges are
lightly browned. Let stand 1 minute; remove from cookie sheets. Cool
completely.
Yield: 3 dozen cookies