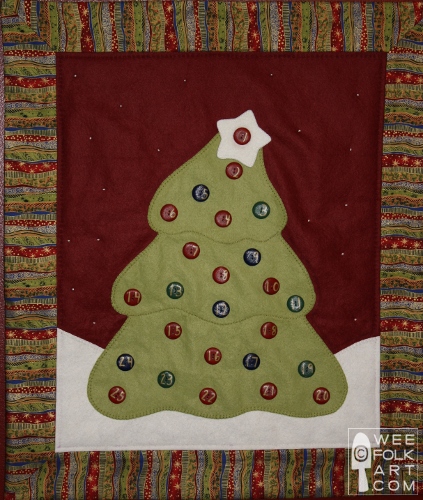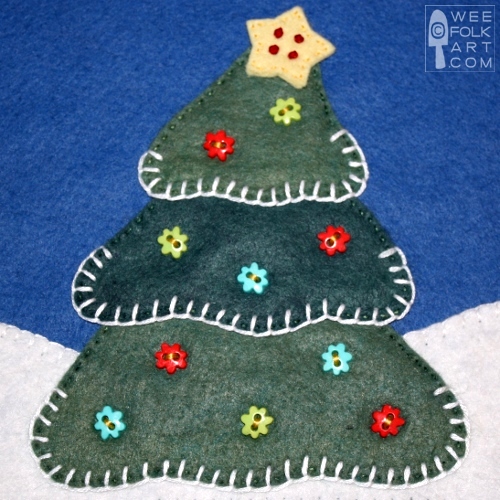 After a week of talking about it, via the Advent Tree Kit Giveaway, we are now sharing the directions and patterns so you can make your own. The Advent Tree is yet another variation of the Christmas Tree Applique Block. Oh so long ago, we talked about all the various ways the basic applique blocks could be used. So far we've used the Christmas Tree Applique Block to make the applique, a Christmas card, our Wooden Pine Forest and now, enlarged 325%, our Advent Tree. We do have a couple of other projects we will be doing over the next couple of weeks using the Christmas Tree Applique Block.
But for now, you can make this heirloom Advent Calendar, which literally, could be in your family for generations. The directions list the felt and floss I used. Julie, at Prairie Point Junction, has put together a kit with the exact amount of felt, floss and wooden buttons you will need. She also has some of the other items you will need for making your Advent Tree. Although the project itself isn't a "massive" project, like a quilt, if you are new to crafting or pressed for time, you'll want to start right away to have it done in time for Christmas.
So, without further ado… the pattern and directions for the Advent Tree can be found HERE or with our FREE patterns. Enjoy!