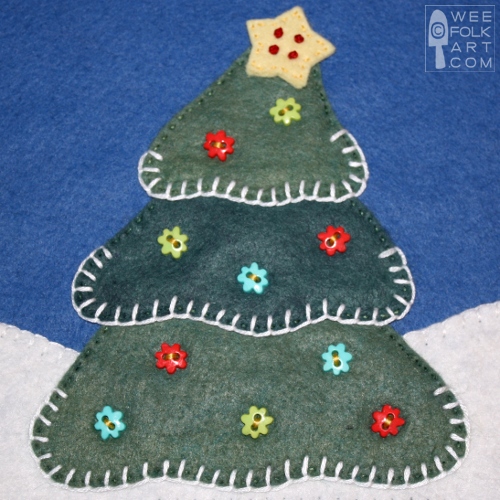 Here is our second variation of our Christmas Tree Applique Block. Because art is suppose to imitate life… we've mixed our Wooden Pine Forest in with our Wooden Autumn Forest! (We will have a winter scene closer to Christmas with snow and decorations!) But for now, it is still autumn in the Thicket!
As far as the pattern goes, when you start with a simple design, there are so many different things you can do with it! I used the outside shape of our Christmas Tree Applique Block for our small trees, and I enlarged the pattern for the larger trees. Both sizes are included on our pattern,
along with the star and the birds. For directions for cutting out the wood, painting and finishing, follow the general directions of our Wooden Apple Orchard.
Here are a couple of notes that pertain to the Wooden Pine Forest. When laying out the patterns on your wood, fit the birds and stars around the trees. Trying to cut the little pieces out of little pieces of wood is both difficult and more dangerous. So, trace them near your trees, and cut out the small pieces first. That way you have a larger piece of wood to hold on to.
Next, we drilled holes in the tops of the two large pine trees so pegs could be fitted into them. This is an optional step but we wanted to be able to add stars for Christmas and birds for the remainder of of the year. This means your birds will have permanent pegs in them. So, we cut rings of a tree branch, then drilled a hole in the middle to hold the birds. Perfect!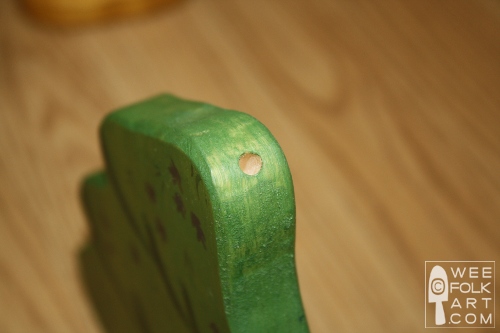 Finally, as always I used milk paint. There is information about it found in the general directions found with the Wooden Apple Orchard. To create the tiers of the trees, I darkened my green paint with a little black and made free form "swishes". They do not need to be perfect. They simply need to imply shape. The bird's bodies have 1 coat of milk paint. I let the paint dry, lightly drew on the wings, then painted the wings with a second coat of the same paint. The second coat caused the wings to get that dark.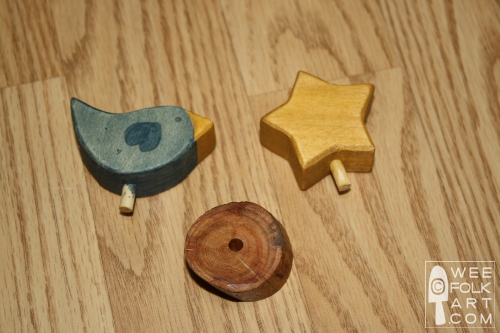 If you are interested in crafting your own Wooden Pine Forest, the pattern for the trees, birds and stars can be found HERE. General directions for working with wood can be found in the Wooden Apple Orchard directions. Enjoy!