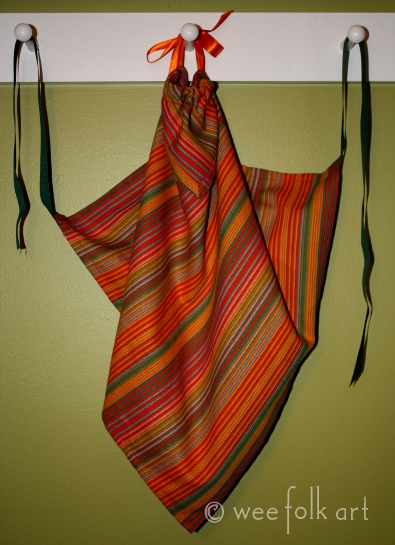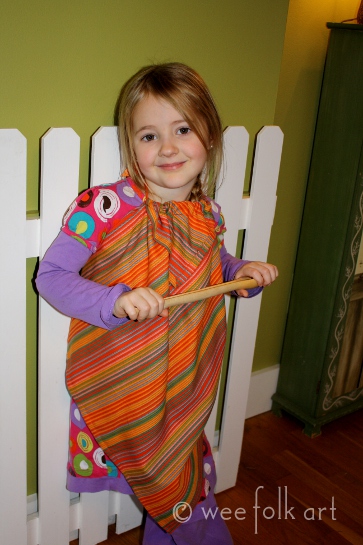 Even if you possess the most rudimentary sewing skills, this project will be a breeze for you. Just in time for the holidays, this is perhaps the simplest apron you'll ever make! Let the kids wear them for cookie making or wrap them up as gifts for all the wee ones in your life. Because you begin with a finished square napkin (mine was a 21″ x 21″ napkin from Pier One), there's no cutting out or turning under seams. It is a one size fits most children. I love this design because the apron covers the child all the way to the neck. Too often aprons hang down in front allowing food stuff to fall behind the apron defeating their purpose. This apron is really so fast to make, it will probably take you longer to read this tutorial than actually make the apron 😉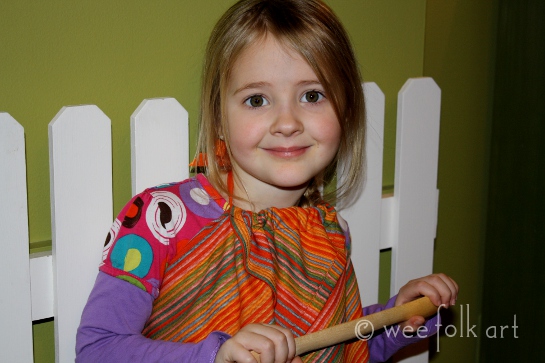 Start out by picking a spectacular napkin!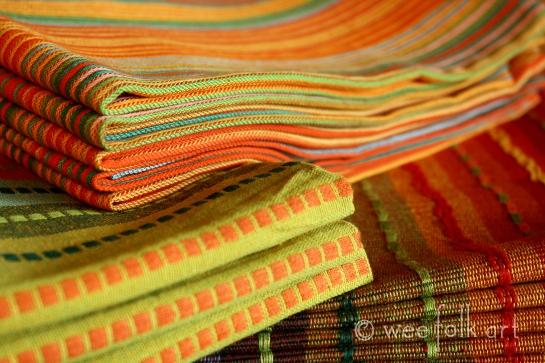 Then, pick a corner… any corner. Turn the corner down on a diagonal so the two sides of the triangle are 8″ long. NOTE: If you get a woven napkin like mine, the front and back are both finished. If your napkin is finished on both sides, fold the corner so you have front sides of the fabric together. When the apron is done, you will see the decorative triangle. If the backside of the napkin is yucky, fold the corner so you have the back sides of the fabric together. When the apron is done, the triangle will be on the inside, unseen.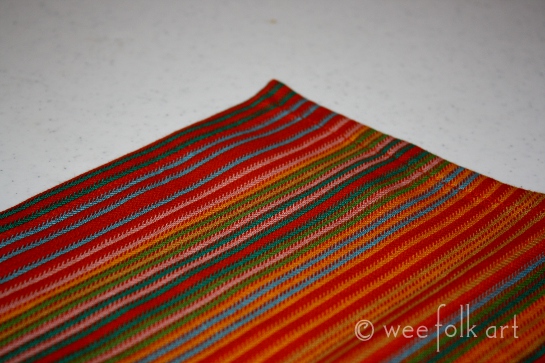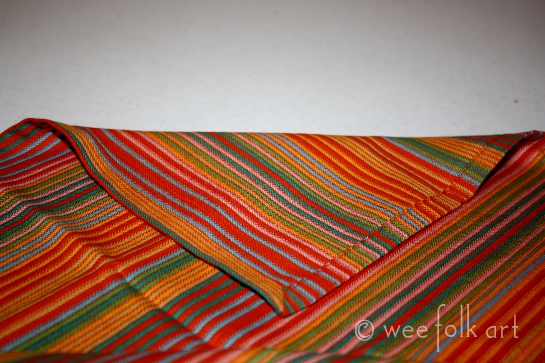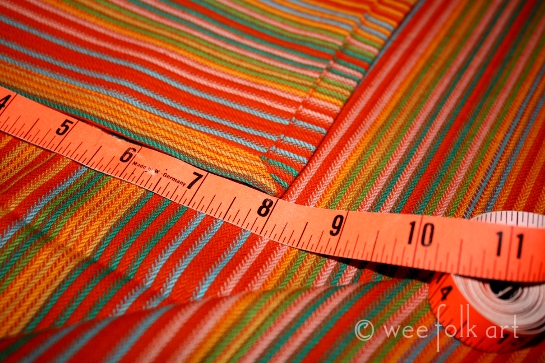 You will be sewing a seam that will create a casing along the fold. This seam should be as wide as your neck ribbon plus a quarter inch. My neck ribbon was 1/2″ X 28″. I made my casing 3/4″ wide. Make sure to reinforce the start and end of your seam so it doesn't come undone. NOTE: I made this apron using ribbon in my stash. If you are buying ribbon, I suggest you use grosgrain ribbon over satin ribbon. It holds its shape and stays tied better.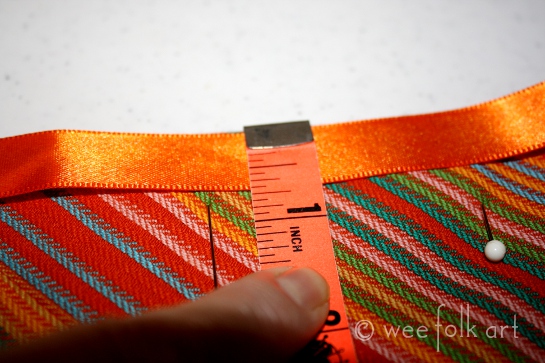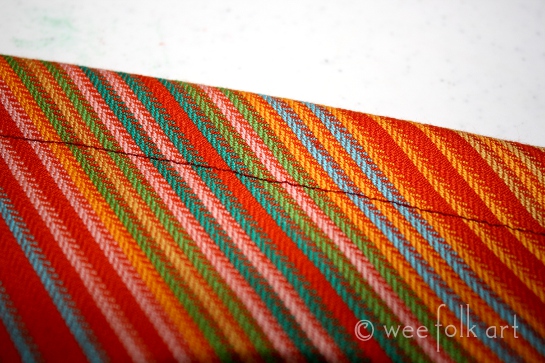 Using a safety pin, slide the ribbon through the casing. Center the ribbon so the ties are the same length.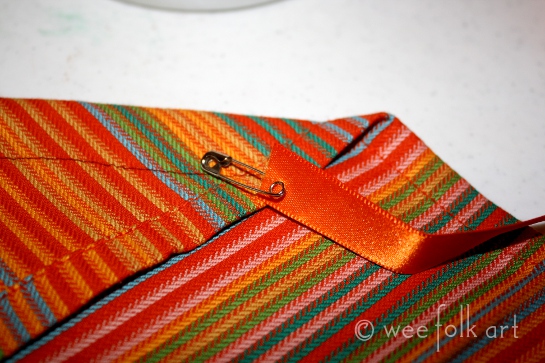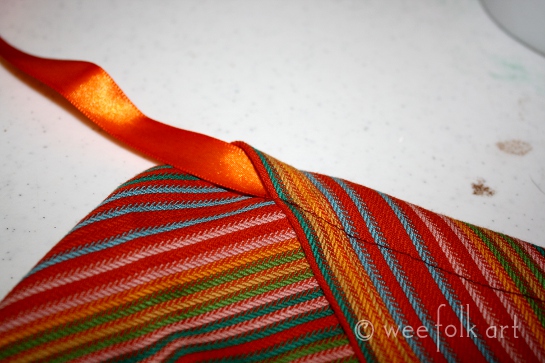 To prevent the ribbon from coming out, sew a small perpendicular seam in the center of the casing.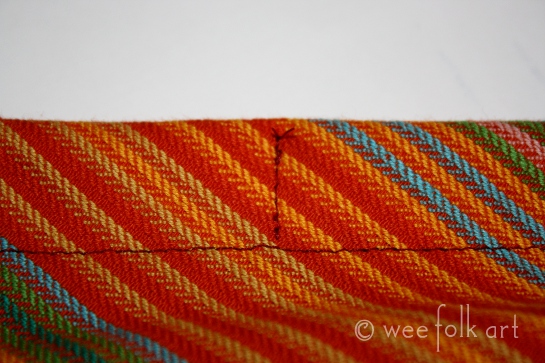 To sew on the side ties, pin a ribbon to the back of a side corner, overlapping the back by 1″. (I made each side tie with 1″ x 24″ ribbon.)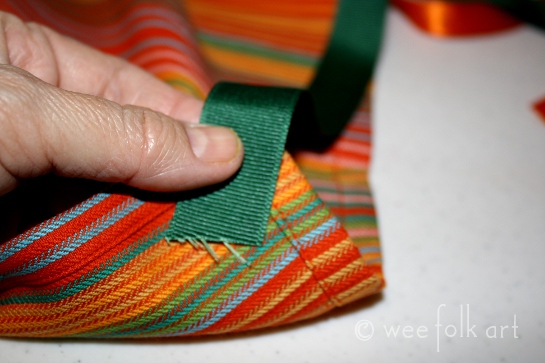 From the right side of the napkin, sew the ribbon to the apron. The seam should be close to the folded edges of the corner, and the seam should be as long as the ribbon. (The seam will be a right angle following the corner.) From the backside, trim the ribbon to prevent unraveling.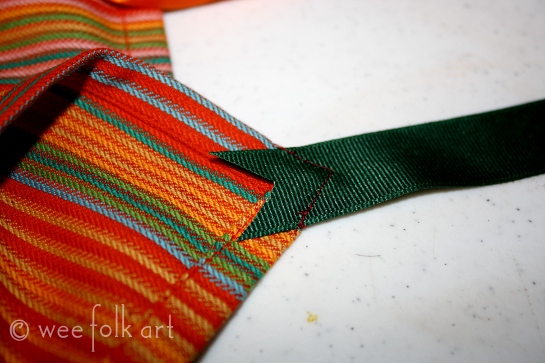 To prevent unraveling of all 4 ties, cut the ends on a diagonal.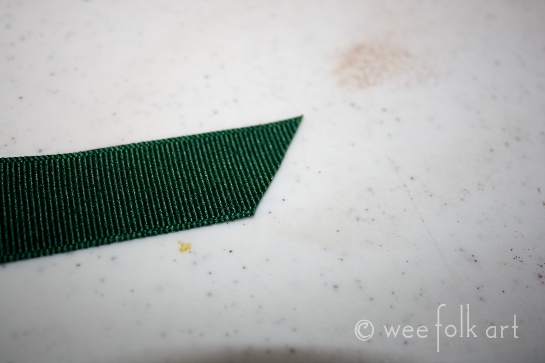 And that's all there is to it! If you have a young sewer in your family, this is a great project for them. Now… running along and do some baking with the munchkins 🙂