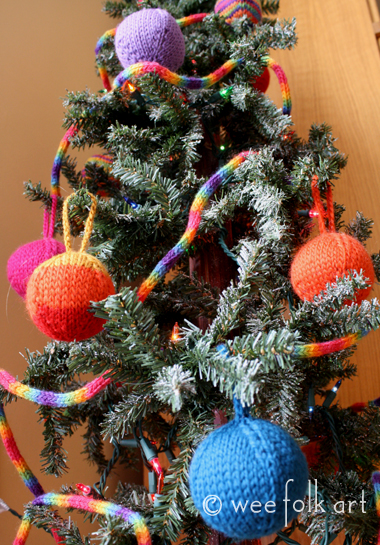 We have this little "Charlie Brown" Christmas tree in our family room. The big one, with all the bells and whistles is in the living room centered in the big front window. It is beautiful and holds all our fancy ornaments but we like all of our nooks and crannies to be decked out for the holidays. Our family room is much smaller but we do manage to squeeze in a little tree by the fireplace. A fun thing about this little tree is that it changes themes each year, usually featuring handmade ornaments. This year it is my yarn tree!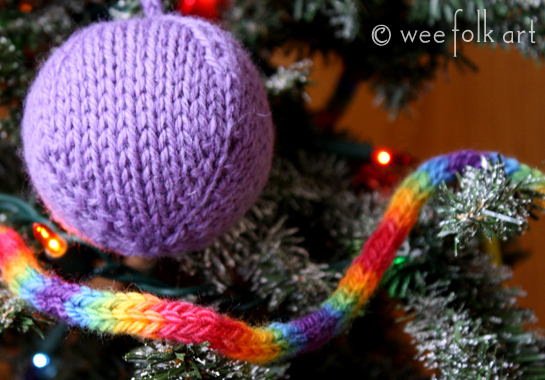 Do you recognize the garland? It is the finished I-cord chain Tree Garland that I blogged about earlier this fall. One skein was enough to drape the little tree. I'm also addicted to making these little knitted ornament balls. The pattern is available in the book Handknit Holidays (which I got from my library) or you can download if for free from Canadian Living. I can knit the smaller size in about an hour. So my quiet time in the evenings as of late has been spent turning out these festive, fun, ornaments. I can't seem to stop knitting them.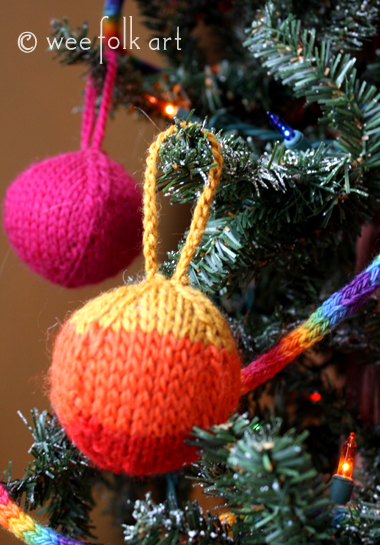 Everyone I know will probably be getting one this year. I've played with stripes, polka-dots and other patterns… but to start with I needed a rainbow. I have been stash busting my 100% wool yarn bits and am loving the bright but non-traditional Christmas palette.