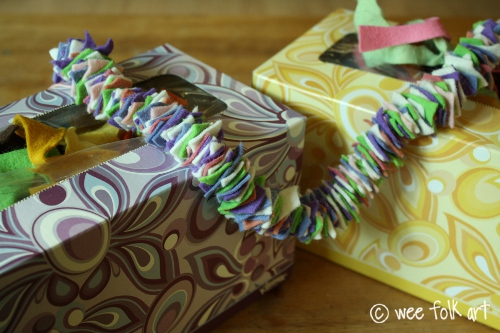 Although it may not seem like it since we still post most weekdays, Michelle and I have been able to direct our attention away from the blog the past few weeks and we've tackled other projects with gusto. Obviously, there has been a decrease in the number of projects we have been sharing, so we are delighted that our online friends still drop by to visit us 🙂 It really is heart warming. Thanks for hanging out with us!
Couple of notes… FIRST… the A Child's Dream giveaway for the Hopscotch Game closes tonight at 9:00 pm EST. If you haven't signed up yet, and would like to, jump over HERE and enter.
Next, we were planning on doing a giveaway every week this summer with small giveaways from Bella Luna Toys and A Child's Dream. We decided, instead of spreading out the giveaway over the summer, we are going to do just 2 giveaways, by combining the toys into 2 larger giveaways. There will be one at the beginning of July and one at the beginning of August, so watch for them.
Finally… I have been crafting with wool for 3 years. I have been saving every scrap with the idea of "doing something" with the scraps. So far I haven't, and the mountain of felt scraps was growing and threatening to take over our house.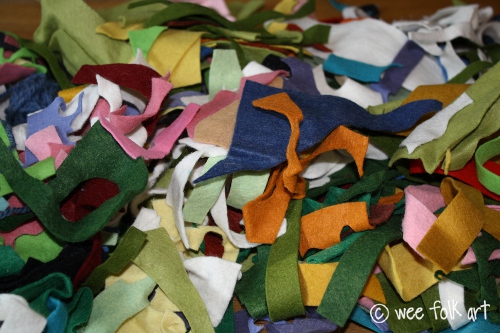 Then, this past winter, I got a cold… a really bad cold that lasted 6 weeks. That, my friends, is a whole lot of Kleenex! As I emptied one box and opened the next, I started using the empty box as the receptacle for my used Kleenex. Worked great! After all those years of leaving a disgusting Kleenex trail everywhere I went, I finally came up with a neat way to deal with prolific amounts of mucous!
Anyway… that did give me an idea… and I now keep an empty Kleenex box on my crafting table, and all my felt scraps can be dropped in the box. When full, they can neatly be stacked. And as Tim would say… "But to what end?" I don't have a good come back. I'm not sure what to do with them, but I know someday I am going to be glad I have them! We have made little garlands and wreathes for the gnome house, and I have visions of a woodland scene felt mosaic. But I need some help justifying to Tim why I insist upon squirreling away these precious little scraps. Anyone out there with any good ideas of what to do with felt scraps? I would love a viable justification, and wouldn't mind actually doing something with them all 🙂
Have a lovely weekend everyone 🙂