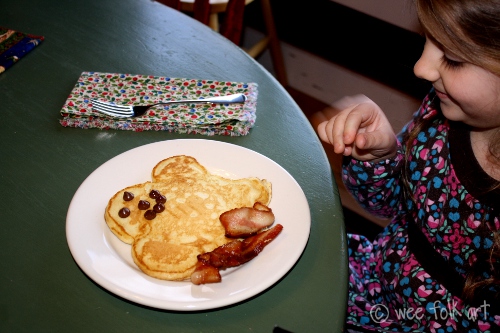 Every family has their favorite traditional foods they make for Christmas. In Michelle's house, Christmas breakfast always includes a birthday cake for Baby Jesus. Although pancake men are not a part of our holiday celebration, the children enjoyed them just the same 🙂
In the book Christmas in the Big Woods,
"For Christmas breakfast Ma made each child a pancake man. All the children held their plates next to the stove and watched while Ma made their pancake men one by one out of the pancake batter. Peter ate his right away, but the girls ate theirs slowly to make them last."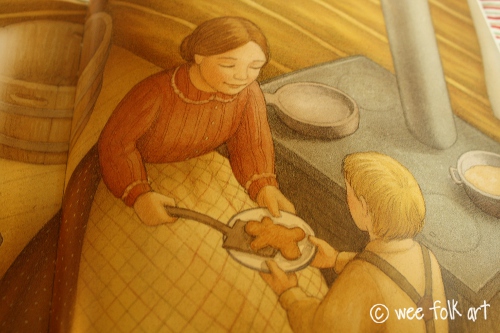 Not a shocker that you could have changed out Peter's name for Bug, and the above statements would be true! Bug tends to devour the things he loves to eat, barely coming up for air, while the girls tend to savour their treats!
Below is the recipe I always use to make pancakes from scratch: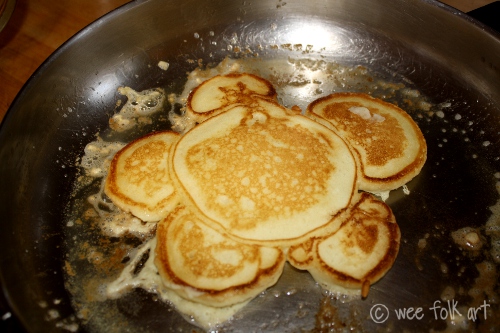 INGREDIENTS
1 1/4 c. flour
1 T. baking powder
1 T. sugar
1/2 t. salt
1 beaten egg
1 c. milk
2 T. melted butter or margarine
DIRECTIONS
Mix flour with baking powder, sugar, and salt and set aside.
Combine egg, milk, and butter and add to dry ingredients, stirring just until combined; do not over mix! The batter will be lumpy.
Heat a lightly greased griddle or skillet over medium heat (375*F – 400*F). The griddle is ready when a few drops of water bubble and dance across the surface.
For each pancake man, pour about 1/8 cup batter onto hot griddle. Then pour the head, legs and arms. Cook pancakes until surface is covered with bubbles and appear dry around the edges. Turn and cook other side until golden brown.
Optional: Add chocolate chip or raisin eyes, nose and mouth.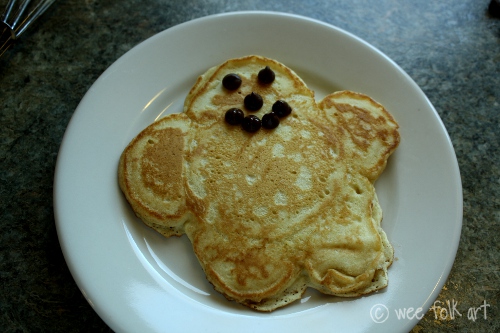 We like to sever our pancakes with melt butter mixed with heated maple syrup. Yum!