This is the way to fold a single piece of paper to become an 8 page booklet. Children can make their own as soon as they can neatly fold a piece of paper. The steps are included below.
Materials:
1 piece 8 1/2" x 11" piece of paper
scissors
rubber cement (optional) (Do not use water based glues or they will curl the edges of your booklet)
NOTE: When giving directions, I will explain each step of folding. After I make the fold, I will open the paper, and mark with a pencil the fold I just made, so it can easily be viewed.
1] Fold lengthwise, then open.


2] Fold widthwise.


3] With the paper folded widthwise, bring one 8 1/2" edge up to the middle and fold.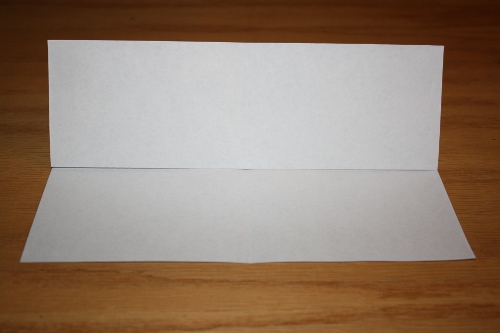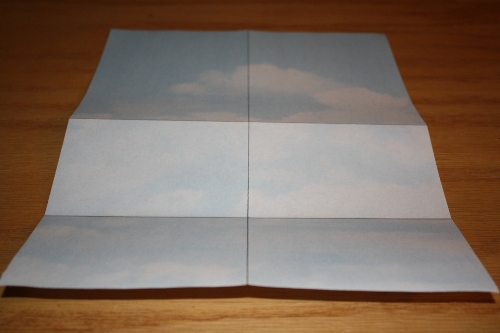 4] Bring the other 8 1/2" edge to the middle and fold.

5] Open the paper so it is only fold once widthwise. Cut the paper fron the fold to the crease line. You will be cutting along the center lengthwise fold. This will make a cut in the middle of the paper.


6] Gluing is optional, but I find it gives a more finished look to the booklet. To glue, open the paper, and place a layer of rubber cement alone either inside edge of the 8 1/2" edges. Fold the paper lengthwise and the two 8 1/2" edges will be glued shut.


7] Looking at the picture above, notice I wrote the word FRONT on one section. This will become the front of the booklet. To fold the paper into the booklet shape, hold the 2 short edges of the paper and stand the paper up on the open edges, and push it together, accordian style, so only 2 sections are visible.


8] Finally, fold the booklet in half, so the section with the word FRONT is on top. Make sure the folds are firmly creased. The booklet is now ready to be used as a book, journal or notepad.
Note about patterns: We are sharing patterns we have designed and made for our own children, families and friends. Every effort is made to share information in a clear and accurate manner. We offer preemptive apologies for any mistakes that may be made. Please let us know via comments or emails if you stumble upon a mistake or if you encounter directions that leave you scratching your head! We will rectify the situation as soon as humanly possible!
https://www.weefolkart.com
Copyright © Wee Folk Art 2008 – 2009. All rights reserved.
All photos, text and patterns are copyright protected. You may not copy, reproduce or redistribute any material found on WeeFolkArt.com without written permission. Wee Folk Art retains all rights.