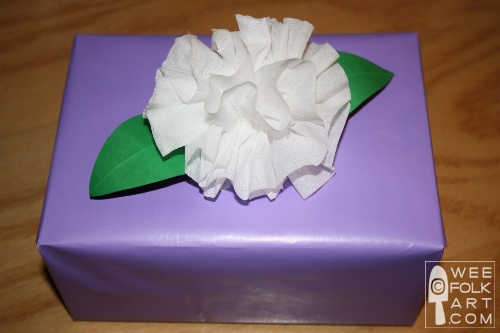 I don't know exactly what made me think about this the other day, but when Tim and I were talking and it occurred to me that I couldn't remember the last time I'd seen a "Just Married" sign on the back of a car or the ubiquitous Kleenex Carnations from our youth plastered all over it. Oh, I'm sure there are still people that do this, I just haven't seen it. When two of our children got married, no one got together to decorate their car. Sure, today many people rent Limos or Hummers, but it was our "Get Away" car that was decorated and otherwise goodnaturedly vandalized by your attendants. I remember having flower making parties and filling garbage bags full of Kleenex Carnations. Assuming making a Kleenex Carnation was like riding a bike, even though I hadn't made one in a long time, I was relatively certain I'd be able to. And, of course, it came right back to me. They're so easy to make, what's their to forget? But then I had these Kleenex Carnations, with no big plans for them, and thought, "I need to wrap a Mother's Day gift", so there you have it. And, because my general feeling is… "If it's worth doing, it's worth blogging about" I threw together a tutorial on making Kleenex Carnations.
This was one of the first crafts I every learned to do, probably around 6 years old, I thought it was magical how you could take a flat piece of unassuming Kleenex, and turn it into a beautiful flower. If you would like, just substitute 3 or 4 pieces of tissue paper, white or colored, and cut into 8″ squares, pile them together and treat them like a Kleenex. Great craft to do with children.
The tutorial can be found HERE or with our FREE Patterns. Enjoy! And…

HAPPY MOTHER'S DAY!