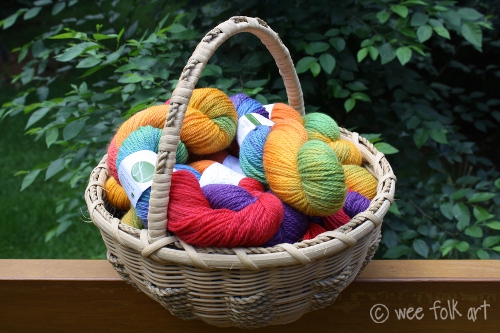 My mom bought a basket full of this yarn (Lorna's Laces Green Line Dk which has been sadly discontinued), with no real project in mind. I've been stealing skeins of it (shhh) here and there to make some Christmas tree garland. It is a simple 4sts I-Cord. The quick rainbow color switches work up beautifully this way and although I have miles to go… I am not growing bored of the color-way.
I-Cord Tutorial aka Christmas Tree Garland (Ravelry link)
Making an I-Cord is very easy. If you can knit at all, you can do it. You need two double pointed needles (alternatively you can use a knitting hoop or spool). I am making my garland on size 8 needles using a DK weight yarn… you can of course play with you needle size and yarn weight.
Cast on 3-6 stitches depending on the weight of your yarn and how thick you would like your cord to be. After playing with it, I chose to work with 4 sts. Knit across, do not turn.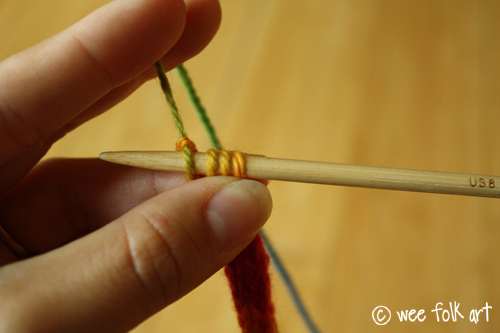 Instead, slide your 4 sts down to the opposite side of the needle, keeping the yarn to the back.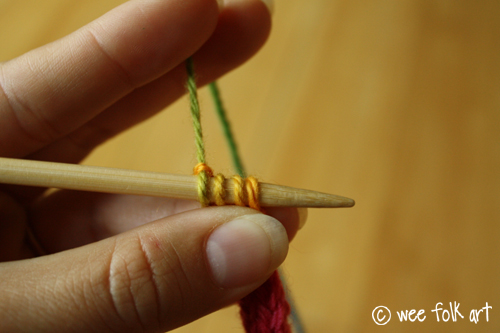 Bring the yarn across the back and knit another row, pulling the first stitch tight to eliminate any gap across the 4 sts.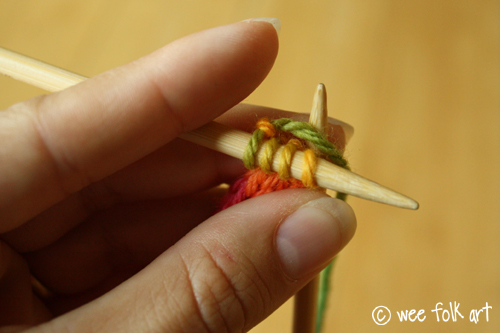 Continue in this manner (ie sliding after each row without turning) until you reach your desired length. You can either bind off as normal or cut the tail and pull through all 4 sts and tie off.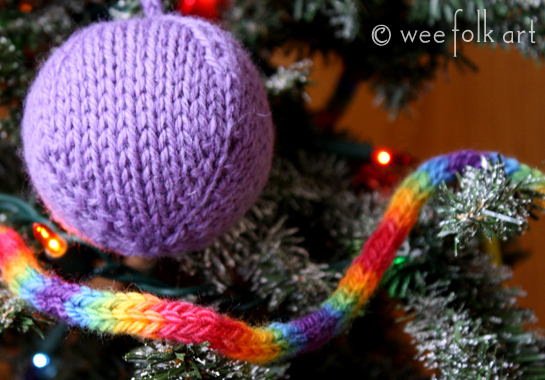 To make it into Christmas Tree Garland you will need to make several yards of it… well many yards of it if it is a big tree and you want lots of coverage. This is a great way to show off some of your favorite fun or funky yarns and add some wooly goodness to your holiday decor. To help break it up, have a lot of different family members add a few inches which will add to the charm and truly make it a family keepsake.