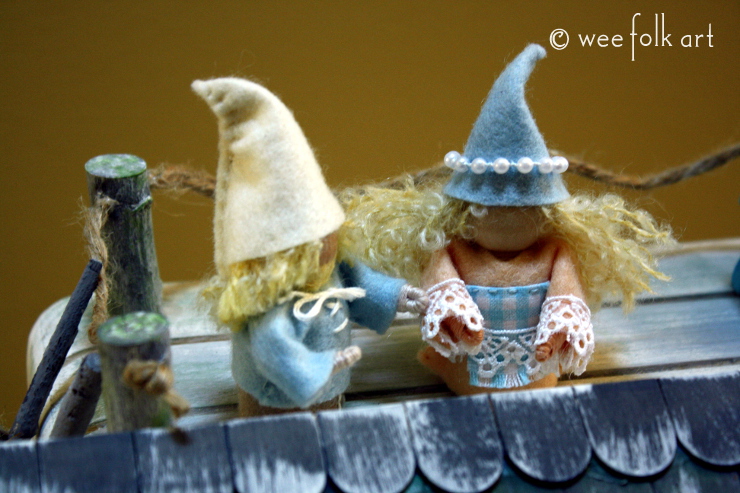 Along the eastern seaboard, just south of a sleepy little human fishing village, there lives a colony of gnomes. Their wee cove was protected from threatening storms and overly inquisitive humans hundreds of years ago by several very powerful sea fairies. Here, in Hidden Cove, not much changes from century to century and the gnomes live out their lives raising their families and enjoying the company of the other village gnomes and local animals.
While out on an adventure with a friend, Kristoff meet his lovely bride, Caleen, in one of the Prairie Villages to the west. Although Caleen was fearful of moving so far away from home, when she saw the ocean for the first time she had to admit it was a spectacular site to see!
Caleen couldn't help but wonder if life would be so different here. She asked Kristoff about it.
Kristoff just smiled. He knew there were many surprises awaiting Caleen. He looked forward to sharing each and every one with her! 
---
Over the next several weeks we will be sharing tutorials to make everything here except for the fence and chairs. Plus, Caleen will be busy making lovelies for inside of the house including a mattress, quilts, baskets, books for the shelves and all the other niceties that make a house a home. Also, we will be introducing everyone to few of her new friends. We hope you join us and create your own seaside gnome house. And, as you can well imagine, there will be oh so many stories to share!
---
Kristoff and Calleen's house began its life as a crate washed ashore.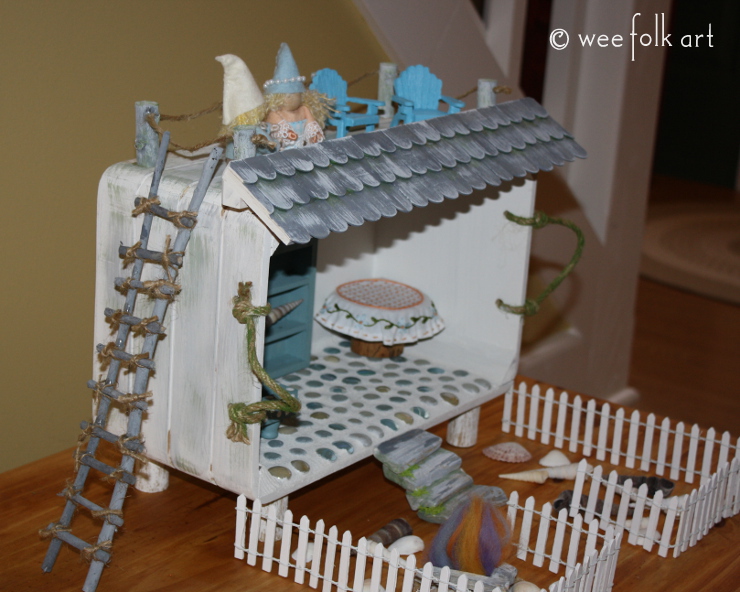 Like most seaside cottages, Kristoff built his raised above the ground.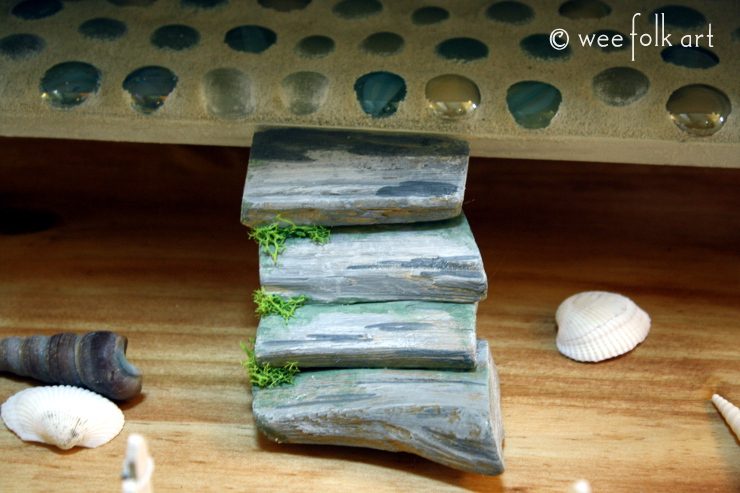 The deck chairs*, a gift from his city cousins, is a perfect place to sit outside at night, listening to the ocean and gazing at the stars.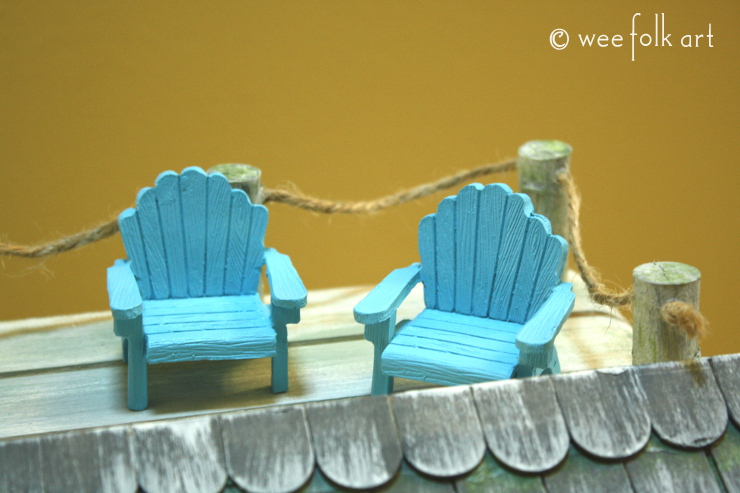 Kristoff collected sea glass and and tiled the cottage floor.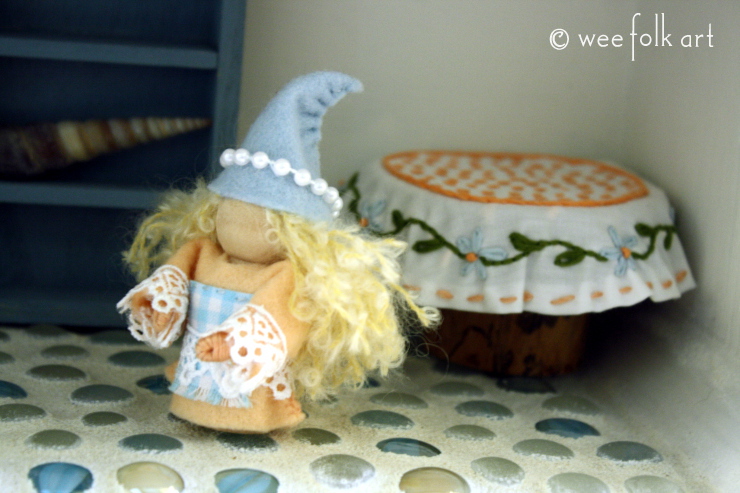 Calleen cooks outside and Kristoff keeps a fire burning all day long. They also love to sit around it at night, especially when friends come by.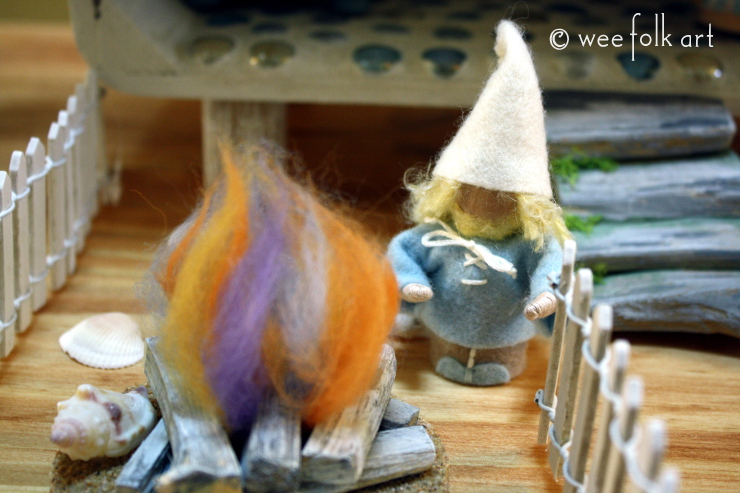 The hardest part of building the house was making a roof. It took Kristoff a long time to shape all of the shingles.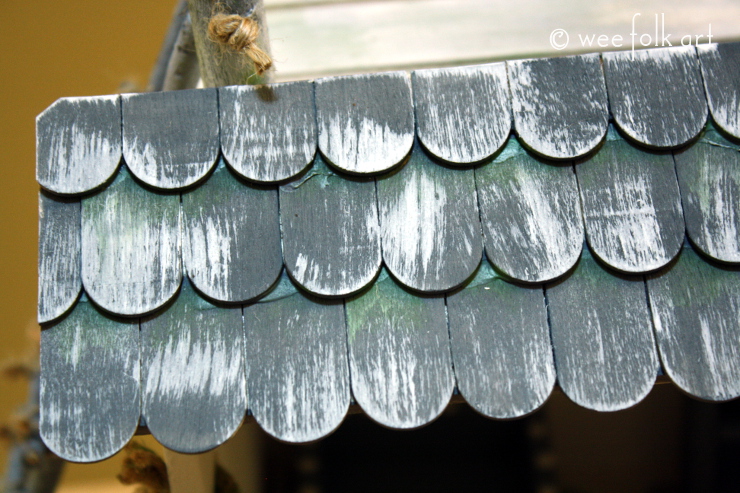 A home fit for a newly wed couple!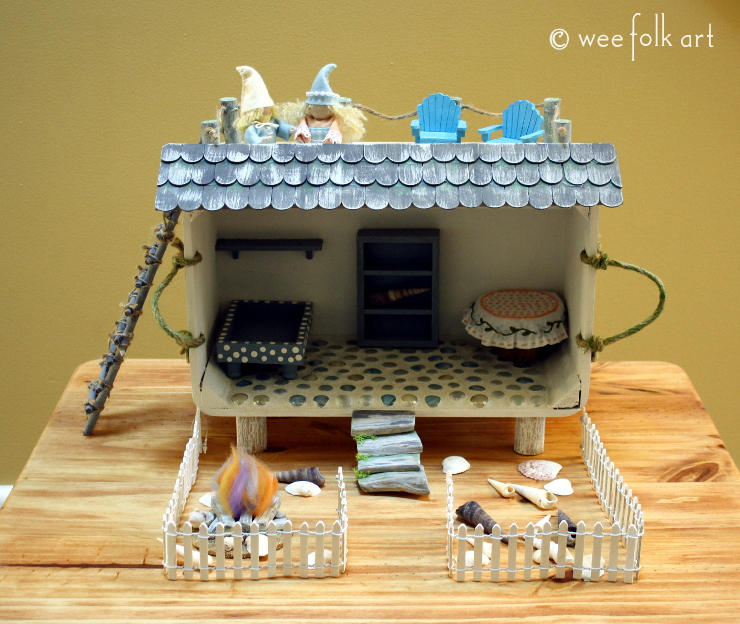 ---