We would like to take a moment to introduce you all to our awesome sponsors. We invite you to spend a little time this morning and stop by each of their sites, if you haven't had a chance to already. They each offer wonderful products that we know you will enjoy.
---
FEATURED SPONSORS
---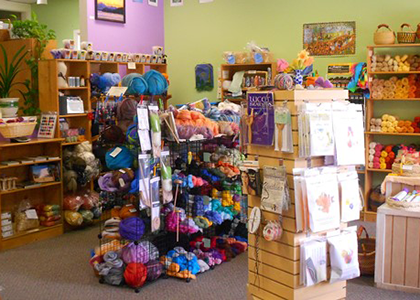 A Child's Dream is a family-operated business with a big heart and commitment to providing outstanding service and quick order turnaround so you can get busy crafting and creating.
We offer irresistible supplies for natural art, crafts, and creative wonder all in one colorful shop. Our collection is Waldorf-inspired and includes an abundant array of 100% wool felt, felting wool and natural fiber doll making supplies including each of Joy's Waldorf Dolls' doll making patterns and kits along with pretty much everything else you might need to sew soft and natural dolls in the style of your own choosing.
At A Child's Dream you'll find a complete assortment of wood peg dolls and all the materials for making the sweet wood peg dolls taught at Wee Folk Art and in the popular books Making Peg Dolls and Felt Craft. Also available are plain wood beads in eight sizes and cotton chenille pipe-cleaners both of which when combined with our wool felt and embroidery floss are used to fashion the little pipe cleaner dolls described in the books Forest Fairy Crafts and Felt Wee Folk.
You too are invited to shop with us and whether doing so in person, online or by phone we are here to serve and sincerely hope our beautiful materials bring a smile to your face and the faces of the children in your life as you and they craft to make dreams come true!
Shop: http://www.achildsdream.com/

Facebook: https://www.facebook.com/achildsdream

Pinterest: http://www.pinterest.com/achildsdreampin/

Etsy: http://www.etsy.com/shop/achildsdream
---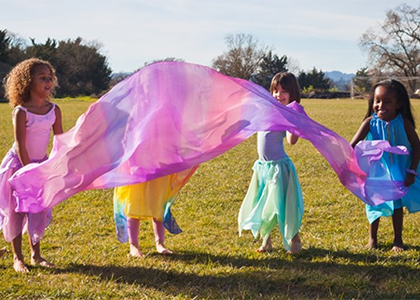 Sarah Lee, creator of Sarah's Silks, smiles while reflecting on her oldest son's early childhood days. "Mom, I am a turtle today. I NEED some green to wear."  "I need some wings to fly today – blue ones!"   Or, "Logan is doing a play with me. She is the princess and I am the knight.   We need some pink, purple and red colors."
"First I reached for an old silk scarf.  My son loved the smooth, silky feel. (Finally something he didn't declare itchy!). Soon I found myself dying squares of silks to support his play."
"I discovered silks serve as wonderful props for almost any make-believe game.  I began to think about my fellow Waldorf families searching for natural toys to enhance open ended play, and the idea evolved for a line of silk play items."  
Twenty years later, Sarah's Silks are found in homes across the world.
Sarah's Silks is celebrating 20 years of creating silks for imaginative play. Some favorites are our rainbow playsilks, streamers, crowns, soft swords and silk canopies.
Shop: http://sarahssilks.com/

Blog: http://sarahssilks.com/blog

Facebook: https://www.facebook.com/sarahssilks

Twitter: https://twitter.com/sarahssilks

Pinterest: https://pinterest.com/sarahssilks/
---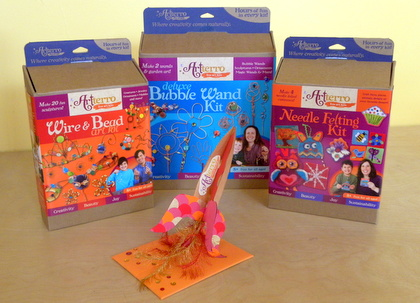 Here at Artterro we make Eco Art Kits, and there's nothing else quite like them on the market. In 2008, I was shopping for a craft kit for my young sons, and noticed lots of uninspiring projects, cheap materials and wasteful packaging. I decided to make a high-quality, eco-friendly, engaging art kit so that parents would have a convenient way to bring art into the home and have a great time as a family. With the help of my business partner, Jennifer Conn and the rest of our team in Madison, the Artterro line now includes 11 titles that make it easy to explore needle felting, decoupage, art journaling and more. Each kit is assembled by hand in Madison, and contains beautiful, inspiring materials. An ideas sheet gives inspiration but never dictates what your final product will look like. Our mission is to bring creativity into people's lives by offering fun projects with quality, sustainable materials and provide friends and families a wonderful art experience. We also love to write about kids and creativity, and the joys and challenges of owning a sustainable business at our blog, and we truly enjoy connecting with our customers and friends on Facebook, Twitter and Pinterest. I hope you enjoy our kits as much as my family does!
~ Forrest Espinoza, Founder & CEO Artterro
Shop: http://artterro.com/

Blog: http://blog.artterro.com/

Facebook: http://www.facebook.com/pages/Artterro-creative-art-kits/51012797691?ref=ts

Twitter: http://twitter.com/Artterro
---
Bella Luna Toys has been offering families a magical collection of the highest quality natural Waldorf toys, art supplies, games, and crafts since 2002. Owned and operated by Sarah Baldwin, an experienced Waldorf teacher, author, and mother of two Waldorf graduates, every product selected for sale at Bella Luna Toys is chosen for its quality, sensory experience, and play value. Waldorf toys are playthings that will nourish a child's senses and ignite the imagination.
At Bella Luna Toys, you will find nothing plastic or battery-operated. The only toys that make noise are real musical instruments! When choosing products to offer for sale at Bella Luna Toys, Sarah asks herself the following questions: * Is it beautiful? * Is it eco-friendly? * Was it ethically made? * Would I have put this in my classroom? * Would I have given this to my own children? If she can't answer yes to these questions, you won't find it for sale at Bella Luna Toys.
Sarah produces a popular weekly video series, "Sunday With Sarah" on which she shares her experience on such topics such as childhood, parenting, Waldorf education, and the importance of play; as well as sharing craft and cooking how-to's. You can find Sarah's videos on her blog "Moon Child" (moonchildblog.com).
Read Kimara's interview with Sarah Baldwin on Wee Folk Art here: https://weefolkart.com/content/interview-sarah-baldwin-bella-luna-toys
Shop: http://www.bellalunatoys.com/

Blog: http://blog.bellalunatoys.com/

Facebook: http://www.facebook.com/pages/Bella-Luna-Toys/145241852017

Twitter: http://twitter.com/bellalunatoys

YouTube: https://www.youtube.com/user/bellalunatoys/videos

Pinterest: http://pinterest.com/bellalunatoys/
---
BASIC SPONSORS
---

Imagine entering a shop with handcrafted toys and other items, inspired by Waldorf schools, and created from natural materials by crafters and artists from all over the world. Our shops are online, but that shop exists as the Waldorf on Etsy team.
We are Waldorf parents, Waldorf teachers, homeschoolers, Waldorf alumni and we are inspired by the beautiful, natural toys that are the tradition in Waldorf schools. We come from the mountains of California, the farms of New England, towns in the Midwest, as well as Australia, Kenya, the British Isles, Chile, France . . . We have more than 250 members from across the globe.
Our individual shops offer a plethora of toys that will inspire a child's imagination, as well as other Waldorf inspired art and items. We have sweet, huggable Waldorf dolls in every style imaginable and huggable creatures as well. Our shops include lovely items for the nature table, like needle-felted animals, fairies and gnomes. Spend hours storytelling with finger puppets, peg dolls and fairy tale dolls. Our favorite materials are wool, wood, silk and cotton.
Some of our shops include wearables like crafting aprons, birthday crowns, and flower hairclips and headbands. We have soft and natural playthings for babies and Waldorf fairies and toys that teach children about nature, the seasons, the weather and the world.
We are like so many parents who take a natural approach to parenting; most of us started out by making toys for our own children. Please take some time to explore our individual shops and see how Waldorf has inspired and united us.
---

I aspire to share my enthusiasm for the beautiful way of the Waldorf education which enhances the flow of loving communication between children and their parents and caretakers. My creations are inspired by this wonderful way of life that my three daughters are experiencing which is very different from the way I experienced my life before I knew of the Waldorf ideals. I bless each creation that I make with the prayer that it will bring happiness and gentleness to people and their children throughout the world.
I believe we can make a difference and help humanity. and therefore our entire world, if we spread the Love and Gentleness everywhere we can.
I hope you will enjoy my creations as much as I enjoyed making them and join me to make our mutual prayers reach our globe and heal our world.
As of today, my creations have reached people in the USA, Germany, Ireland, England, Australia, Norway, Japan, Switzerland, France and Canada. Some of these creations were purchased by kindergartens and schools, so I believe many children enjoy them.
The inspiration for my work come from beautiful images that have captured my imagination and from personal requests of my customers throughout the world who have asked for custom made orders. You are very welcome to browse through my shop and see the imagination and inspiration of myself and others who have enjoyed these items.
Shop: http://www.etsy.com/shop/darialvovsky

Facebook: https://www.facebook.com/ArtOfFelting
---

Welcome to Casey's Wood Products, a small family owned business on the coast of Maine.  We've been helping customers make their crafting dreams come true for over 25 years.  We offer super-fast service and take pride in our diverse selection of natural wood pieces and our competitive and fair pricing.  We purchase much of our stock from mills that are manufacturing right here in Maine, and also work with local craftsman to make one-of-a kind cutouts and custom plaques for that special project.  We look forward to helping you nurture your family's creativity with our fun and functional wooden pieces and Wee Folk Art's fantastic ideas!
---

Handmade Toys and Treasures for the Natural Home. For years, Donni's Magic Onions blog  has shared her family's special magic with millions of readers. Now, her new Magic Onions Shop brings that same brand of enchantment into your home with gorgeous eco-friendly and nature-inspired handmade treasures… everything is made with love to delight and charm and will fill your home with happiness.
Donni's craft is needle felting. She starts with a big bunch of colorful, un-spun wool that resembles cotton candy and she sculpts it using a tiny felting needle. She pokes the wool hundreds of times until it takes on a shape. The sharp needle has tiny barbs, which grabs the wool fibers and interlocks them, tighter and tighter, making a firmly felted piece of magic. She loves the gorgeous colors of the wool, the warmth of it, the noise the needle makes as she works and the unlimited possibilities of the things she can create. Kids adore the tactile softness of needle felted toys and the wonderful texture of felted goodies brings and earthy warmth into the home.
Along with the treasures Donni makes, The Magic Onions shop is packed full of DIY crafting kits for adults and children. Try one of the delightful needle felting kits and learn to needle felt sweet creations like toadstools or pumpkins or felted acorns. The Magic Onions store is also the home of The Magic Craft Box, putting a whole new perspective on seasonal crafting with children. There should be NO bored kids this summer!
And, of course, The Magic Onions Shop has the most delightful Fairy Garden Kits.
In Donni's words, "I love what I do and I am wonderfully aware of how lucky I am to have been able to craft a business that allows me to follow my passion, every day. And I am proud of the goods I create… they are eco-friendly, made from natural and sustainable materials and good for the earth… and, of course,  full of magic!"
Shop: http://themagiconions.com/shop/

Blog: http://www.themagiconions.com/

Pinterest: http://pinterest.com/themagiconions/

Facebook: https://www.facebook.com/MagicOnions
---
Prairie Point Junction is a brick and mortar quilt shop located in Cozad, Nebraska.  In addition to delighting quilters in the Midwest with 3,500 bolts of cotton fabric and quilting supplies, the shop also dedicates a special area of the shop to wools and wool felts.  Best known online as Prairie Point Junction  –  Home of Wool Felt Central, they stock 108 colors of wool blend felt as well as a variety of 100% wool plaids, textures, and tweeds.  You'll also find plenty of inspiration with a wealth of patterns, kits, bundles and coordinating colors of DMC floss.
The staff at Prairie Point Junction all quilt and craft, so they are well versed and able to answer questions ranging from product selection to advice about particular projects.  Give them a call, they'll be happy to talk you through the process.  They are also speedy-quick about shipping your orders.  Most orders placed prior to 2:00 central time will ship the same day!
At this time, their shopping cart is set-up to calculate shipping with the U.S. and Canada only. The gals know that we have many Wee Folk Art followers from all corners of the globe.  To order from another country, choose Canada as your shipping destination.  Mention in the special instructions at check-out that you found Prairie Point Junction via Wee Folk Art, and they'll be happy to e-mail you regarding shipping options for your specific country.  You'll then be able to choose the shipping option that best fits your needs and budget.
Want to stay in touch with Prairie Point Junction?  They send an e-mail newsletter every Friday morning announcing new products and Deals of the Week.  Sign up on the home page of their site at prairiepointjunction.com
Shop: http://prairiepointjunction.com/

Facebook: https://www.facebook.com/pages/Prairie-Point-Junction-home-of-Wool-Felt-Central/174256712622127?ref=hl

Pinterest: http://www.pinterest.com/prairiepoint/

Blog: http://www.woolfeltcentral.blogspot.com/

Instagram: http://instagram.com/prairiepointjunction

Flickr: https://flickr.com/photos/prairiepointjunction/
---

Welcome to Open Ended Creations: Where the imagination and mind of the child is a playground to be enjoyed.
We invite you to consider putting a different kind of toy in your home. A Waldorf Inspired Creation. Curvy boards are teeter totters, balance beams, slides, and… anything else your child can dream up. This unlimited range of possibilities is what makes Curvy Boards an ideal learning toy for 21st century learning skills.
In a world where computers "know" all the facts, it is the imagination, innovation, and creativity of the human mind that has value. It is said that rocking helps to develop a child's sense of balance and the brain to sort sensory impressions. The value in any toy is not what the toy can do, but what the child can do with it.
If you ask to ask what it is, you know it's going to require some imagination. It will send them outdoors, get their bodies moving and inspire their minds to start racing – and that's a lot more than you can say about most toys today.
Made from 9 layers of poplar plywood, sanded smooth, and finished with varnish. Each board is handmade so no two are alike, each board offers its unique design from nature. Choose from 3 styles. Natural, Golden Oak & Walnut.
Shop: https://www.etsy.com/shop/openendedcreations
Youtube: http://www.youtube.com/watch?v=DlgvwsB0sjI
---

We are Little Spruce Organics, a family owned and operated online shop that offers a unique selection of organic woolens and organic cotton apparel for the entire family, organic cloth diapering products, natural wooden toys, and natural products for the home.  We are committed to carrying apparel and cloth diapering products made from natural, certified organic fibers, and toys that are safe for children and that encourage imaginative play.
Shop: http://www.littlespruceorganics.com/
Blog: http://littlespruce.wordpress.com/
Facebook: http://www.facebook.com/#!/pages/Little-Spruce-Organics-Organic-Baby-Clothing-Natural-Toys/141655595895331
Twitter: http://twitter.com/#!/littlespruce
---

Oak Meadow was founded in 1975 by Bonnie and Lawrence Williams, and since then Oak Meadow has grown into a thriving organization serving thousands of families and hundreds of schools around the world. The founding philosophy has remained consistent throughout years of growth, and today their progressive, experiential curriculum sets the standard for a meaningful home-based education.
Oak Meadow's curriculum for kindergarten to grade 12 can be used independently or by enrolling in Oak Meadow's fully accredited distance learning school. The flexible, child-centered, nature-based approach allows families to set their own natural rhythm of learning and encourages creativity, critical thinking, and intellectual development through hands-on activities and interdisciplinary projects.
The high school program offers options such as dual enrollment, Advanced Placement and technology courses through Johns Hopkins CTY Online, music courses through Berklee College of Music, and life experience credit. The freedom to craft one's own learning encourages students to follow their interests, passions, and dreams.
Oak Meadow is committed to supporting families in their choice to homeschool. Visit oakmeadow.com or call 802-251-7250 to speak with an experienced and friendly Educational Counselor for more information.
Website: http://oakmeadow.com/
Blog: http://oakmeadowblogs.com/
Facebook: https://www.facebook.com/oakmeadow
Twitter: https://twitter.com/OakMeadowBuzz