I am beyond thrilled that last year I began painting. I will never be an exceptional painter, but finally picking up a paint brush fulfilled an unrequited dream and the time I've spend drawing and painting fills me with so much pleasure it is hard to believe I waited until I was 60 to begin in earnest. And, of course, what fun is joy if you can't share it with others? So several friends have now joined me on my journey, and as I expected, has amplified my enjoyment beyond belief.
Yesterday we got together to do a very loosy goosey painting, and as always, I was amazed at how uniquely different each of our paintings turned out.
I began by getting out a ton of supplies. You never know, right?
The table was ready, the coffee made.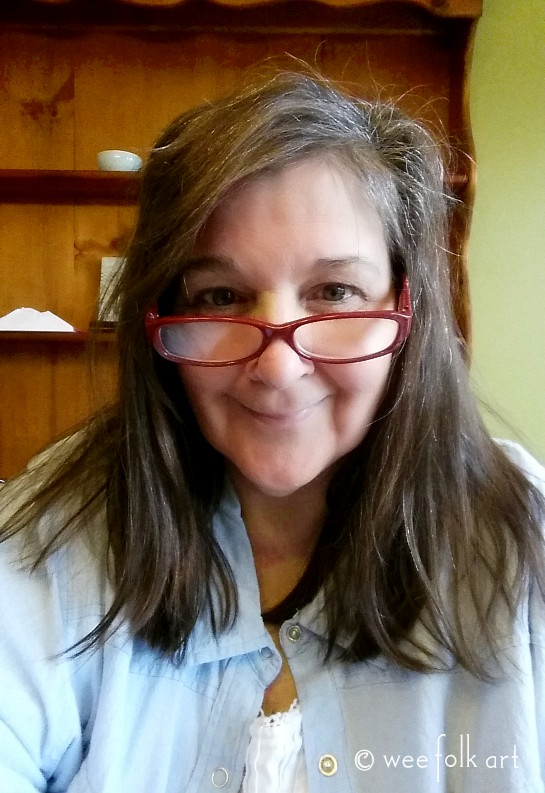 I've got my denim shirt on… looking all artsy… just waiting for them to show up. ASIDE: These days, when I see photos of myself, I am in awe of the gray in my hair. Okay, I'll admit, they are a bit wild and crazy, with a mind of their own… like me… but I'm really loving them. They look like strands of silver running through my dark brown hair. I know, I'm a bit odd 😉
Finally they arrive. Don't they look like the kind of friends you would like to paint with? Okay, doesn't hurt that they brought a little Kahlua for our morning coffee!
Because this was not a tutorial, but rather a day of creating with friends, I did not take photos as we went along. If you are interested on how we did this, here is a quick description.
Using acrylic paints and heavy paper… we used 140 pound watercolor paper… make bold curvy strips across your page. Be free and loose. Don't worry about "staying in the lines".

Allow the paint to dry between each step. We used a hairdryer to speed the process.

When the paint has dried, go back and embellish your stripes. You can add dots, swirls, stripes, etc.

Sketch out a design. You can do this directly on the page you just painted or if you feel more comfortable, sketch a design on another piece of paper and transfer the design to your painted page. The easiest way to do this is to simply cover the back of your sketch with pencil lead using the side of the pencil lead in broad strokes. Then, position your sketch on your painted page, design side up, and trace your design on your painting. Press hard enough so you can see the design, but it does not need to be dark… just dark enough that you can barely see it.

Using a brush, trace your design using black paint. I like to take very sweeping brush strokes and go over the design twice, intentionally not following the previous line exactly. My friends opted to do a more controlled line with the black.

Using white acrylic, paint between your border and your design. Don't worry if you can see the painting underneath. It actually adds to the interest of the painting. This really makes the design pop!

Finally, embellish just the inside of your design. I used white gel pens. My friend Linda used white pens and paint and my friend Colette highlighted her design with a black markers. Do whatever you like.
​
Here is Linda's finished painting. I love the colors. I think my favorite part is the leaves. I love how she outlined the leaves right up against the black paint. It is such a dramatic effect.
And her is Colette… being all silly 🙂 I love how free and open she is with her work. She hemmed and hawed about whether or not she wanted a border and decided she would use a border as long as she didn't have to stay within the lines. Love the relax feel it creates.
After they left… the tablecloth was covered in paint and laughter. I don't plan to remove either!
---