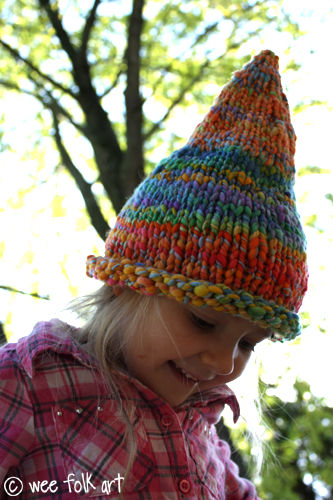 Yes, as some of you have asked. I did get a spinning wheel for my birthday. An early gift from my hubby (my birthday is not until the end of the month). If you are curious about which wheel and why… I got a Majacraft Pioneer. I had a chance to try Maple's Majacraft Suzie Pro and it was just heavenly. So smooth, so sturdy, so natural feeling. The Pioneer is the entry level wheel for Majacraft but can use almost all of the accessories and should be able to do everything I want (it comes with a great range of ratios). I also love it's simple lines and light finish that just blends in with my bamboo floors. It looks perfectly at home in my family room (fyi… Pioneer has been recently updated with honey finish instead of the cream wash). It is not fussy and very easy to use. I'm very happy with my choice… although Fairy is still a bit bummed that I didn't get the Ladybug.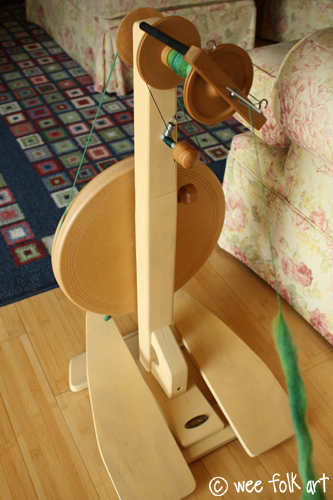 I have spun every bit of fiber I've been able to get my hands on in the last week or so since I got my wheel. I am enthralled with the whole process. My first few skeins were fairly bulky and a bit uneven… but beautiful just the same. I needed a project to showcase these special skeins.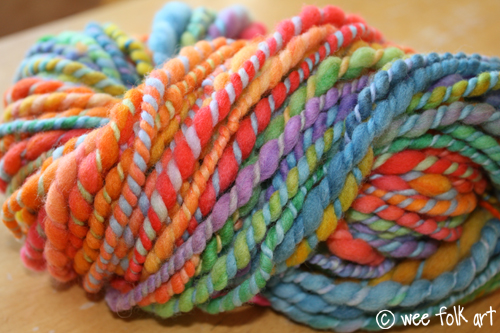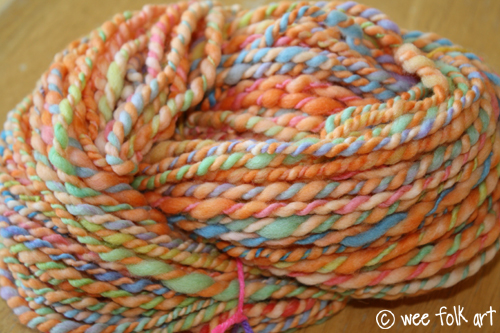 I pulled out some large needles and just started playing with the yarn. This is what I ended up with… a fun Pointed Pixie (or Gnome) Hat.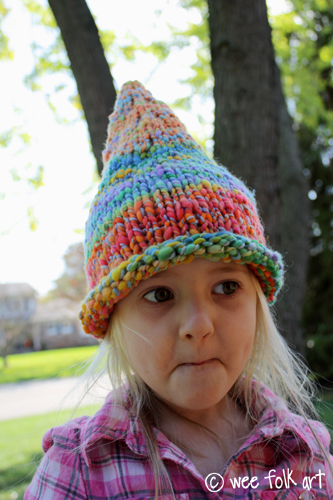 Gauge is huge… 5 stitches in stockinette = 2 inches
Super Bulky Yarn (5wpi) or two strands of yarn held together to get the guage (not exactly sure on length… maybe 50-70 yards). Using the super bulky yarn gave the hat a sturdy structure and it really stands up and keeps it's shape well.
Set of 5 Size 13 DPNs (opt circular… switch to DPNs when it gets too small)
Sizes Child Small, Med, Large (if you need to adjust the sizing more, use multiples of 4 and keep in mind that with a gauge this large a little change makes a big difference).
Shown in size Med… both girls modeling the same hat. I think Fairy won ownership of this one.
Click here to add this pattern to your Ravelry queue.
CO 40, (44, 48)
Using 4 needles, place 10, (11, 12) sts on each needle. Knit with the 5th needle… or place markers every 10 (11, 12) sts.
Join in the round, careful not to twist. Work in stockinette stitch.
This hat has a rolled edge brim.
Knit to 4.75, (5.25, 6) inches from edge (you might want a bit more if your edge is rolling a lot).
Next row decrease at both ends of each needle (or before and after each marker) by knitting 2 together (ie K2tog, K 6, K2tog for the small). You will decrease 8 sts ending up with 32, (36, 40) sts left.
Knit 6 rows.
Decrease again at both ends of each needle by K2tog. You will have 24, (28, 32) sts left.
Knit 5 rows.
Decrease again at both ends of each needle by K2tog. You will have 16, (20, 24) sts left.
Knit 4 rows.
Decrease again at both ends of each needle by K2tog. You will have 8, (12, 16) sts left.
Knit 3 rows.
K2tog across the row. You will have 4, (6, 8) sts left.
Small and Med Knit 2 rows, cut yarn, pull through the stitches and tie off. Weave in ends.
Large knit 2 rows, K2tog again, Knit 1 row, cut yarn, pull through the stitches and tie off. Weave in ends.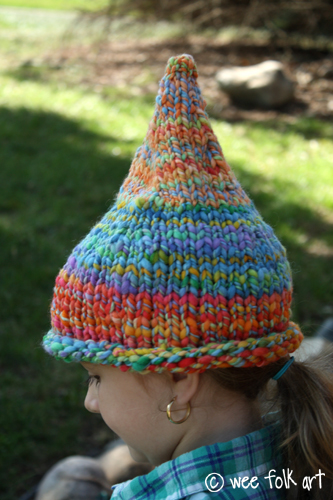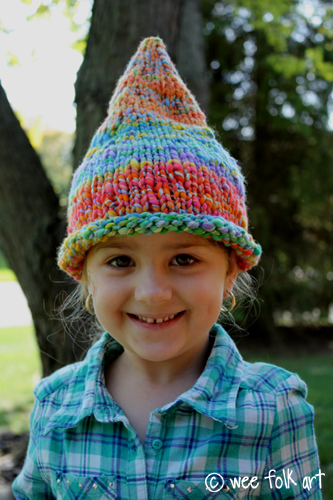 Note about patterns: We are sharing patterns we have designed and made for our own children, families and friends. Every effort is made to share information in a clear and accurate manner. We offer preemptive apologies for any mistakes that may be made. Please let us know via comments or emails if you stumble upon a mistake or if you encounter directions that leave your scratching your head! We will rectify the situation as soon as humanly possible!
Copyright@Wee Folk Art 2008. All rights reserved.