Puddles and Ponds Activity Guide
Click here for the Puddles and Ponds Schedule and Book List.
The science experiments can be found in Nature in a Nutshell or One Small Square Pond. Use Can You Hear It for your art and music appreciation.
Make a Weather Chart to use daily. This chart should have space so that you can record your weather observations and daily temperature high (and low if you would like) for 4-5 weeks. You should work on making observations such as sunny, rainy, cloudy, windy, etc. Be sure to do it at the same time every day, preferably in the afternoon to get a more accurate high temperature recording. To take it a step further, you can then place daily temperatures on a line graph and/or use a bar graph to chart the number of sunny, rainy, cloudy, or windy days. You can get some good weather charting resources here.
Go cloud watching. Take a blanket to the park or just to your backyard. Lie down and watch the clouds for 15-20 minutes. Try to find pictures in the cloud forms. This is a great time to practice story telling with your children. Try it again at another time of day. We have some amazingly beautiful sunsets when the clouds look all pink and purple. When looking up at the sky, be sure to never look directly at the sun.
Play in the rain. As long as there is no lighting, send the kids out when it is raining. Most kids love donning their rain coats and rain boots. Not raining? Use a sprinkler to make your own rainy day. Let you kids play with an umbrella (there is something super fun about an umbrella) in the sprinkler or make mud puddles with the hose to splash in.
Put together a storm safety kit and plan for your family. Here is a link to a list of what you might want to include in your storm safety kit.
Make your own rainbow with a hose. Turn on your hose, stand with your back to the sun, use your thumb to make the water spray in droplets. You should be able to see a rainbow through the water mist. Click here for more details and other rainbow activities.
Make a Pond Journal to record your weekly observations. You can decorate the cover of a store bought journal, make your own journal with printer paper and a construction paper cover or print out several froggie journal pages and bind them together. Use your journal to make weekly observations about your Pond Square.
Wet Feather Experiment can be found in the Don't Ducks Get Wet Book.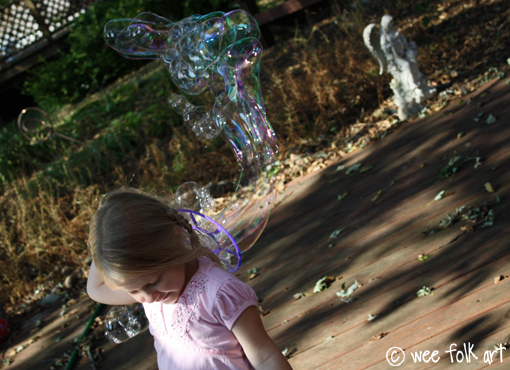 Go outside and have fun with bubbles. Here are some Homemade Bubble recipes or store bought is fine. There is something magical about bubbles in the summer.
Practice Story Telling using A Boy, a Dog, and a Frog by Mercer Meyer. This sweet book series does not have any text. The stories are told through the illustrations. Take turns with your child making up the story to go with the pictures. If you would like to take it one step further, have your child illustrate their own wordless book.
Make the Turtles on a Log snack. This is a variation the traditional "Ants on a Log" snack. Clean and cut celery into 4″ long sticks. Have your kids fill the crevice with peanut butter (or cream cheese if you are allergic to nuts)… or better yet use our Apple Stacker filling. Since my kids don't like raisins, we place several peanuts on top of the peanut butter as Turtles on a Log but of course you can use raisins or other dried fruit if you would prefer.
Poetry for this Unit:
Rain Clouds
By Elizabeth-Ellen Long

Along a road
Not built by man
There winds a silent
Caravan
Of camel-clouds
Whose humped gray backs
Are weighted down
With heavy packs
Of long-awaited,
Precious rain
To make the old earth
Young again,
And dress her shabby
Fields and hills
In green grass silk
With wild-flower frills.

A Dragonfly
By Eleanor Farjeon

When the heat of the summer
Made drowsy the land,
A dragonfly came
And sat on my hand.

With its blue-joined body,
And wings like spun glass,
It lit on my fingers
As thought they were grass.
Copyright © Wee Folk Art, LLC 2008-2012. All rights reserved. This guide is part of our Homeschool Companion Series and is available for non-profit use only.
www.WeeFolkArt.com