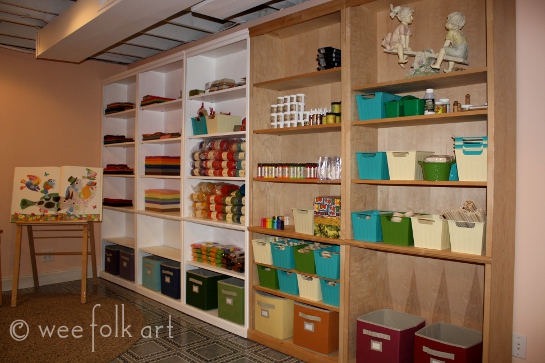 While we were off on "Spring Break", we were busy getting everything "near" ready for our shop's opening. Over the next two weeks we will be giving you sneak peeks of the products we will be selling and sharing our hopes and dreams for the shop and our blog.
To begin with, we will be selling kits for some of our projects. These kits will include most of the materials needed to complete a project and the written directions. These will not always be "complete" kits. You may need to supply glue, paint or "stuffing". These are items you usually have around the house and their omission will help keep down the cost of the kits.
We will also be selling many of the materials used in our kits separately, and other materials that we use frequently in our own crafting. Basically, our hope is to make to easy for you to craft along with us 🙂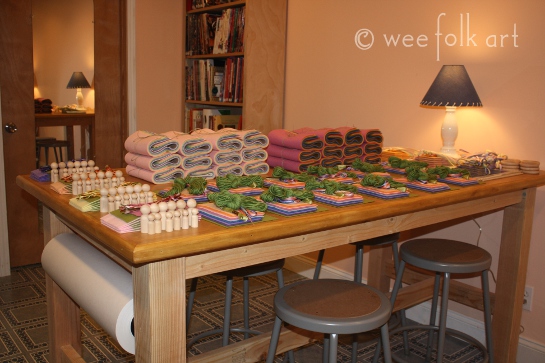 Although we are excited about taking this next step with Wee Folk Art, neither Michelle nor I want this to become a full time endeavor. Besides the time spent with family, friends and running our households, we are also involved in other professional pursuits. All exciting, but we don't want to spread ourselves too thin. We mentioned this before… we plan to treat our shop like a farmers market where you sell your wares 1 day a week. In the beginning, our shop will be open only on Mondays. We will also have a limited amount of materials for sale. Again, just like a farmers market where you load up your car and sell until you are sold out, our shop will have limited quantities.
Since neither Michelle nor I have had an online shop, we want to start small and slow, work the bugs out as we go along, and grow the shop in a way that makes sense. Think of these first couple months as our "Beta test" phase. We will be looking for lots of feedback and suggestions. We really want to create a shop tailored to the needs of our readers.
Incase you are concerned, we will continue to offer our patterns for FREE. It is still our desire, you could even call it our mission, to help everyone that is interested, to create quality projects for children and the home, that are made with mostly all natural materials. We feel that by keeping our patterns FREE, we won't excluded anyone from experiencing the joy of creating.
We are hopeful, however, that if you have enjoyed Wee Folk Art and all the FREE materials we have shared in the past, and that we will continue to share, that you support us by buying the crafting materials necessary to complete our projects from us. We hope this will be a win-win situation. First, you get quality materials for crafting, and second, we can receive a modest compensation for the time we put into sharing our designs with you 🙂
Here are four of the Kits that will be available in our shop. Some of the patterns will be reworks of previous projects, usually with more details, others will be brand new. We will be sharing others over the next two weeks.
Flower Fairies – Available in 4 colors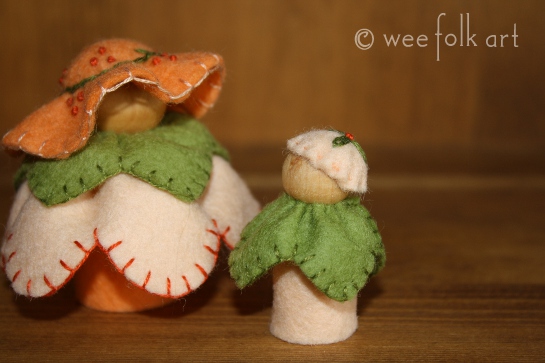 Spring Flower Garland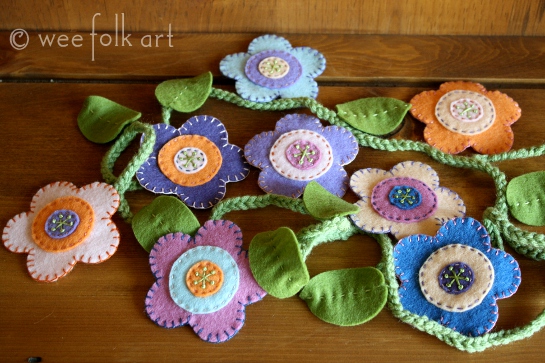 Fairy Rings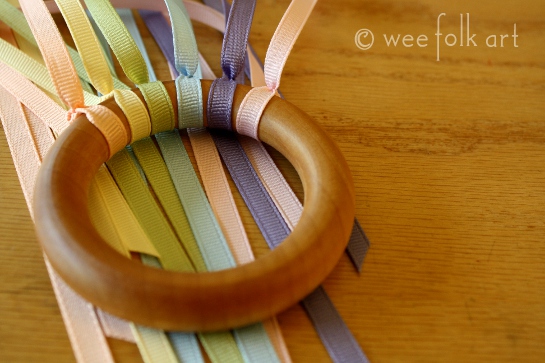 Flower Fairy Wands – Available in 4 colors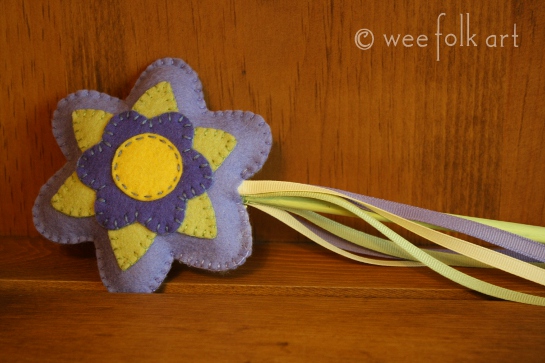 The Grand Opening of the shop will be Monday, April 23. We are getting very excited. We hope over the next couple of weeks we can get you excited as well. We will be having a Grand Opening giveaway… including a couple projects that I have made 🙂 More to come…