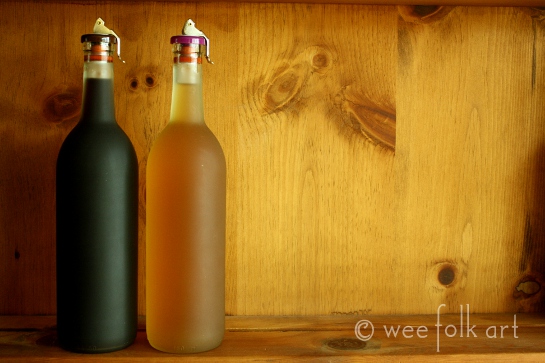 We are trying something new this year… and I must admit I'm a little bit nervous. As a family, we decided that we wanted to simplify Christmas and focus on the joy of being together. So, for the first time ever, the adults are not exchanging gifts. Gulp and Yikes! I am not buying my babies gifts! Again, Gulp and Yikes! We can, however, make something small for one another… jars of jam, a tin of shortbread, or in our case, homemade liqueurs.
Actually, there is a reason we went this route. First off… I was going to make a "six pack" of unusual jams and jellies for each family. I had visions of jalapeno jelly, apple butter and tomato jam. Well, summer came and went with nothing to show for it! (Uh, I did get as far as to buy lovely tall canning jars… I'll be ready next year 🙂 Anyway, I needed a Plan B.
My father helped me formulate Plan B. Soon after I was married, my father started making his own Kahlua. A month or two before Christmas, he'd make up a batch, and give a bottle to each family as a gift. He did this for many years, until his disease, frontal lobe dementia, robbed him of his normal routines. Sadly, as each year goes by, my dad slips farther and farther away from us. There is now little left of the father I knew, but I decided to carry on his tradition, thereby including him in our celebration, even in this small way.
So, with the help of my trusty sidekick, Timothy, we made a batch of Kahlua. I swear it was an accident, although I've been accused otherwise, but I miscalculated, and we made twice as much as we needed. Oops! Something tells me it won't go to waste! We also found and made a recipe for a Butterscotch Liquor that I can't wait to taste!
So, this Christmas, things will be a little different. Hopefully, as a family, we will take joy in our new tradition, simplifying, and perhaps add another tradition that has its roots in an old tradition started by my dad 🙂
BTW… Before anyone asks… We bought our bottles and bottle tops online from Quality Wine and Ale Supply. We purchased the assorted wine bottle collection and the expansion stoppers. They look so pretty lined up on my cabinet!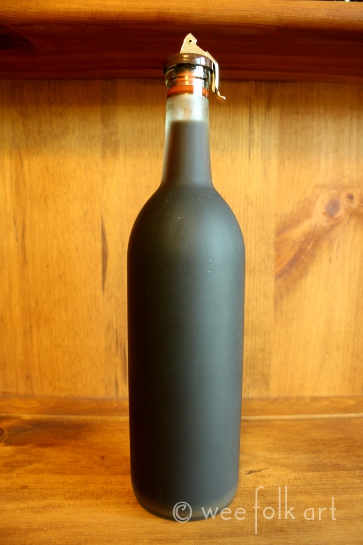 KAHLUA – Makes 1/2 gallon

Ingredients:
2 cups boiling water
3 cups sugar
1/3 cup instant coffee
1 fifth 100 proof vodka
1 tablespoon pure vanilla extract (very important not to use imitation vanilla)

Directions:
Combine boiling water with instant coffee. As soon as the coffee dissolves, add sugar. Allow to cool to room temp. Add vodka and vanilla. Pour the mixture into a big bottle (at least 1/2 gallon jug) and cover. Set aside for at least 30 days. Shake the bottle each day. Keep tightly closed.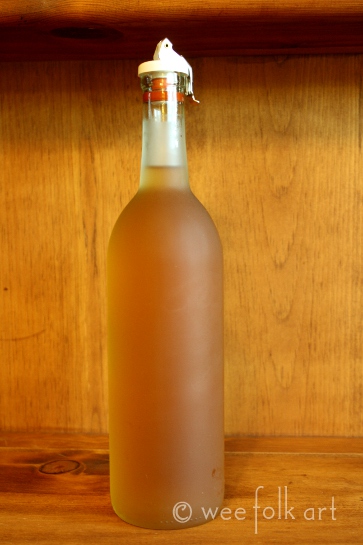 BUTTERSCOTCH LIQUEUR – 1 Quart

Ingredients:
1 cup sugar
1 cup water
1/2 cup brandy
1 cup 100 proof vodka
1/2 teaspoon butterscotch flavored extract

Directions:
Bring sugar and water to boil in a saucepan over medium-high heat stirring constantly. When the sugar water mixture turns clear, remove from heat. Cool to room temp. Add brandy, vodka, and extract. Pour the mixture into a 1 quart container and cover. Set aside for at least 30 days. Shake the bottle each day. Keep tightly closed.