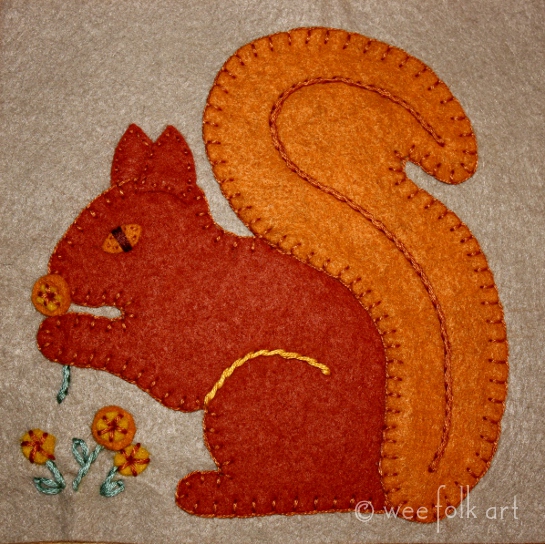 A couple of weeks ago I got a request for a squirrel applique. I realized it has been a while since I added any new applique blocks. Yikes! I really can't believe I haven't included a squirrel sooner. Our backyard is teaming with wildlife… totally encouraged by us. We provide year round water and food for our little friends. In our green belt we have stacks of branches and brush for animals to make their homes. We have birdhouses throughout our yard for nesting. We even certified our garden with The National Wildlife Federation. BTW.. If you are interested in certifying your backyard, check out their program HERE. It is a wonderful nature study to do with your family.
Anyway, back to the squirrels 🙂 Although many people try to keep squirrels out of their feeders, they are welcomed in our yard. Providing them with sunflowers is a small price to pay for the constant entertainment they provide. So, in celebration of our furry friends, I have created a Squirrel Applique Block. As always, it was designed to fit a 6″ x 6″ block, but it can be reduced or enlarged to meet your needs. The pattern for the block can be found HERE. Enjoy!
https://www.weefolkart.com
Copyright © Wee Folk Art 2008 – 2009. All rights reserved.
All photos, text and patterns are copyright protected. You may not copy, reproduce or redistribute any material found on WeeFolkArt.com without written permission. Wee Folk Art retains all rights.